Ashley Madison
User friendly interface
8.0 or 10
Customer service
8.0 or 10
Number of members
8.0 or 10
Quality of profils
8.0 or 10
Saferty & Anti Scam
8.0 or 10
Value for Money
7.0 or 10
Application
Free Plan available
Premium plans
Ashley Madison
Ashley Madison is a dating site for people who want to cheat or have extramarital affairs. You read that right. As funny as it sounds, it's the truth that nobody wants to face.
Some people need more than the commitments they have with people. And Ashley Madison tenders that service because if they don't, no one will. That does not mean it's not the appropriate site for single people; you will only have to be clear about what you want out of your relationship. If you're looking for commitment, we advise you to look elsewhere.
Ashley Madison is a discreet website that values privacy and user data. It has made several steps to build a safe system ever since the cyber-attack incident in 2015. The site got hit by a huge data breach in 2015, and it exposed user's data. However, the site has worked so hard to restore their trust and improve security.
So, if you're all about that fast life, stolen water tastes sweeter to you. You should be on Ashley Madison; the website's motto says, "Life is short. Have an affair".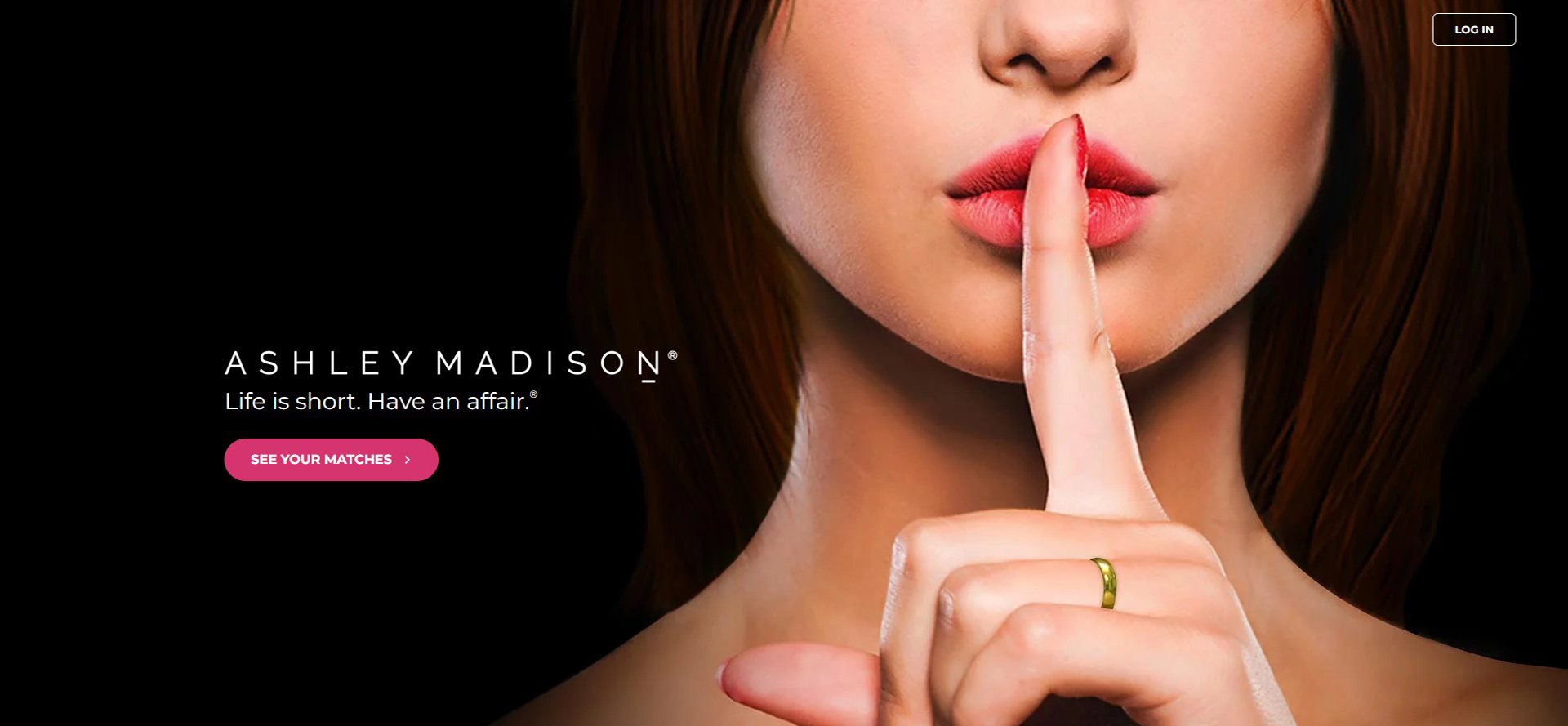 Ashley Madison Review
Ashley Madison appears to be a great site for the niche it chose that boasts of a large membership base. The users on Ashley Madison number up to several million, although we cannot provide the exact figure.
People prefer this site because it works like a very active community of people in a relationship or married but needs some outside feeling. The site appears to have more female users than males, and it's easy to find a fling on Ashley Madison. Users are there for only one thing, so that allows the confidence of getting anybody.
On evaluating the site, the interface is pretty interactive and can be used by anyone. The pages are designed in ways that show you what to do and exactly how to do it. An example of that is the wink icon under users' profile pictures. Without a doubt, when you see such a button, you know what it does and why you may need to use it. It allows for discreet and anonymous usage, so you don't have to worry about your spouse or partner spotting you on the site if they happen to use it too. Just kidding.
You, however, need to be wary of scammers and fake profiles, plus Ashley Madison is a bit pricey. It charges users by subscription and credits, and it may be hard to keep track of your spending.
Member Structure
Members
1 000 000 from USA
Members activity
1 400 000 active weekly
Members join to find casual dating and explore polyamory
Majority of the members are aged 25-34 years old
The site claims to have members from all over the world
How does Ashley Madison dating work?
Ashley Madison is only particular about matching people who want to have extramarital affairs. You can explore Ashley Madison profiles to find people that catch your fancy. You'll hardly find a site like Ashley Madison with an active user base and operates with such discretion.
In case you and your partner want to explore polyamory, it's fine. Create separate profiles and explore several people you feel may be a perfect fit for some erotic encounter. Ashley Madison dating is ecstatic and swift, and you can easily find people from the United States, Brazil, and Spain.
Signing up at Ashley Madison
Signing up on Ashley Madison is swift and does not require much information. This helps to keep important users' information unavailable before we even discuss safety. All that's required is your unique username, marital or relationship status, zip code, location, and a dummy email.
The site advises you not to use your work or personal email to avoid having information that could be traced to you by a third party. A rule of thumb when using dating or adult sites should be to use alternate information for everything just to be on the safe side.
You'll have to give specific details about your appearance, and you should do that at your discretion or know what line not to cross to avoid giving too much away. Signing up should not take you up to five minutes. Viola! You're online searching for sexy people to have a nice time with. Your partner does not have to know about it.
Profiles quality
Profiles may not exactly tell what you want to know. But if you're upfront about what you're looking for, you should find users that suit your preference easily. You need to be careful of fake profiles and scammers likewise.
They are so easy to tell once you can see beyond their fake profiles. Chat with verified accounts and look for red flags that may signify that it could be a fake account.
However, if you can gain a user's trust, they should be able to share their real pictures with you. Because many people tend not to post their pictures at all to protect their identity.
Ashley Madison profiles come from diverse backgrounds, and you can find anyone for some quick phone or long-term if you both plan to keep it as discreet as possible. However, exploring profiles may not be so easy if you don't have a premium membership. You'll need a premium membership and credits to use some important features on the site.
Ashley Madison app and mobile version
Ashley Madison app is available for users on Android and iOS devices. It may be convenient to use, but most users give bad reviews about the app. The app is notorious for showing spammy ads and weird bot messages. If the app does not seem like something you'll go for, the mobile version of the site can be decent for use.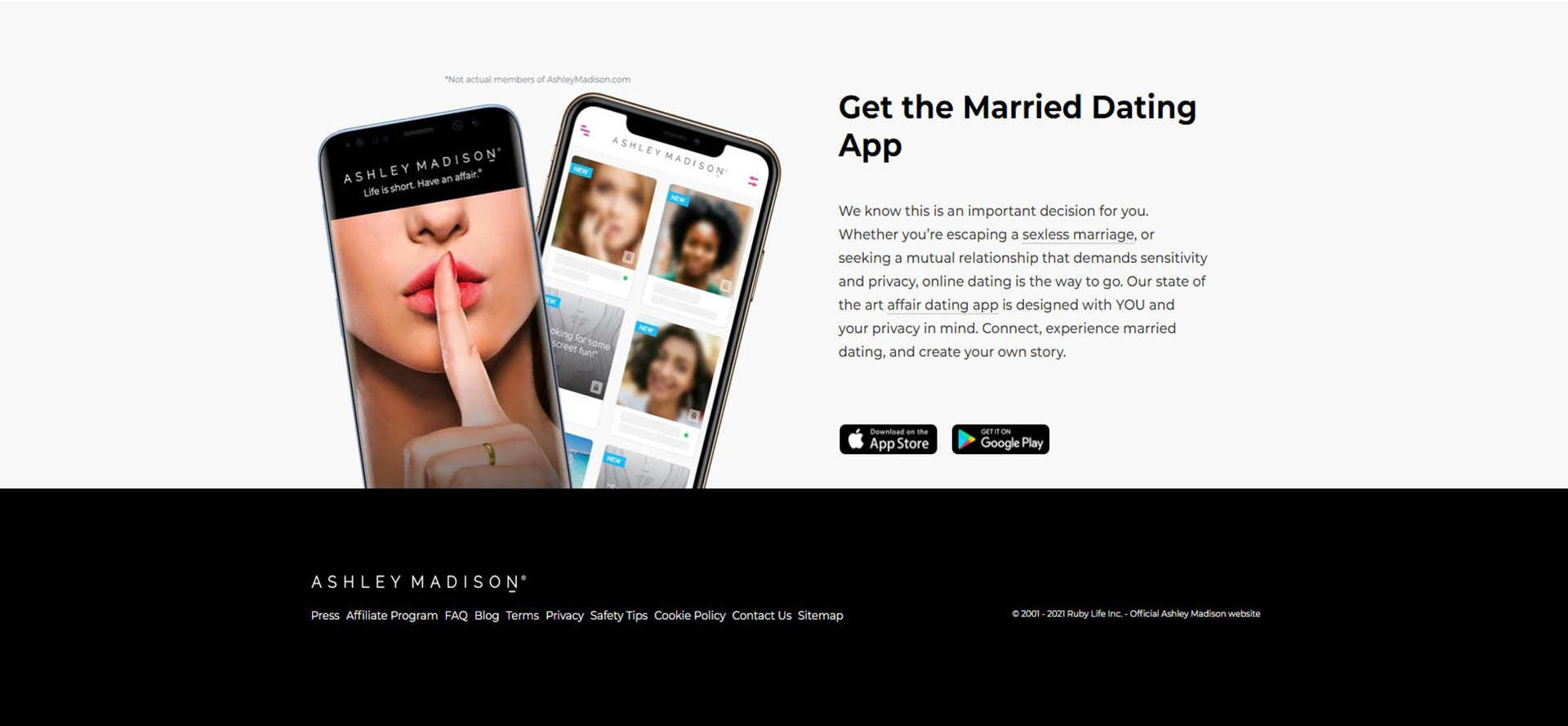 General communications and sending messages
Ashley Madison messages cost you credits. You cannot communicate with other people without credits. However, some special features allow women to initiate chats for free. The message plus is also a free trial feature that allows you to text people with who you have been in contact for free.
Ashley Madison Cost
Ashley Madison uses a credit system, where you need to buy credits and then use it to send, open and read messages or virtual gifts. Women get some features like initiating a chat for free, but men need to pay for that feature. To get the most out of Ashley Madison, you may need to pay some dollars.
Is it free?
Ashley Madison's free membership is only friendly to women, and it helps the website to have a large number of female users. It mostly means access to almost all features, but men may need to pay for the important features. The most you get out of a free account is access to view profiles, pictures and send winks.
Is it worth paying for?
Yes, it is worth paying for if you're really looking to hook up with people outside your marriage. Payment on Ashley Madison allows you to access all features, and all you have to own a premium account is to buy credits.
Promo codes and other promotions
You can get coupon codes for Ashley Madison memberships from other channels, but we currently do not have any. You can subscribe to us to get updated when we have discounts and promotions ongoing.
Pros
Free for women
Non-judgemental dating site for casual relationships
Secure and anonymous with anonymous payment options
Very active community
Cons
Not for people looking for long-term relationships
No set monthly subscription
Potential for scamming or extortion
Conclusion
Ashley Madison is one of the smoothest you will probably ever get outside your marriage. Everyone on the website knows what they are there for and sure know how to keep it discreet. It's a safe place to find hookups and you can stay in communication with your lovelies as long as you both want it.
FAQ
Does Ashley Madison have a free trial?
Ashley Madison offers a free trial. Its free trial is named message plus and allows users to message other members freely for 30 days. After 30 days, your card is automatically debited.
Does Ashley Madison have an app?
Ashley Madison app is available on Android and iPhones. However, Ashley Madison reviews the app so low because of its spammy tendencies. A better option may be the mobile version of the site.
Is it safe?
Ashley Madison is safe to use and has procedures that ensure user safety. Since the data breach of 2015, the website has made an effort, and now it's a decent place for your outside marriage escapades. Ashley Madison waits for you to sign up.
Where can I contact Ashley Madison?
Ashley Madison customer service is available to receive your inquiries and support you. You can contact them via call or email. Their channels across various social media platforms can also be great options.
How effective is Ashley Madison?
Ashley Madison is effective at what it does. It is a networking site for people looking for something outside their commitment. It's popular for that because it's excellent at it.
What regions does Ashley Madison operate in?
Ashley Madison operates worldwide. It has more users in specific areas like the US, Canada, and Spain. But regardless of where you are from, you'll be able to find people from your location who are looking to hook up with you.