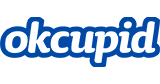 OkCupid
User friendly interface
8.0 or 10
Customer service
9.0 or 10
Number of members
10 or 10
Quality of profils
8.0 or 10
Saferty & Anti Scam
7.0 or 10
Value for Money
7.0 or 10
Application
Free Plan available
Premium plans
OkCupid
OkCupid also referred to as OKC, is an online dating platform that was founded on January 19, 2004. The platform was founded by four former Harvard students – Sam Yagan, Chris Coyne, Max Krohn, and Christian Rudder. The platform witnessed constant growth and a high influx of user registrations instantly. This caught the eye of today's largest online dating company, Match Group; a company that owns other major online dating platforms such as Tinder, Plenty of Fish, and over 40 others! So, in 2011, Match Group acquired OkCupid for $50 million!
OkCupid is based in the United States but operates internationally. In this review, we'll be taking a look at this global company; assessing its effectiveness in helping users find compatible partners. And at the end of the review, you would understand the history and operations of OkCupid that have developed the company into one of the biggest online dating platforms of all time! Let's get to it!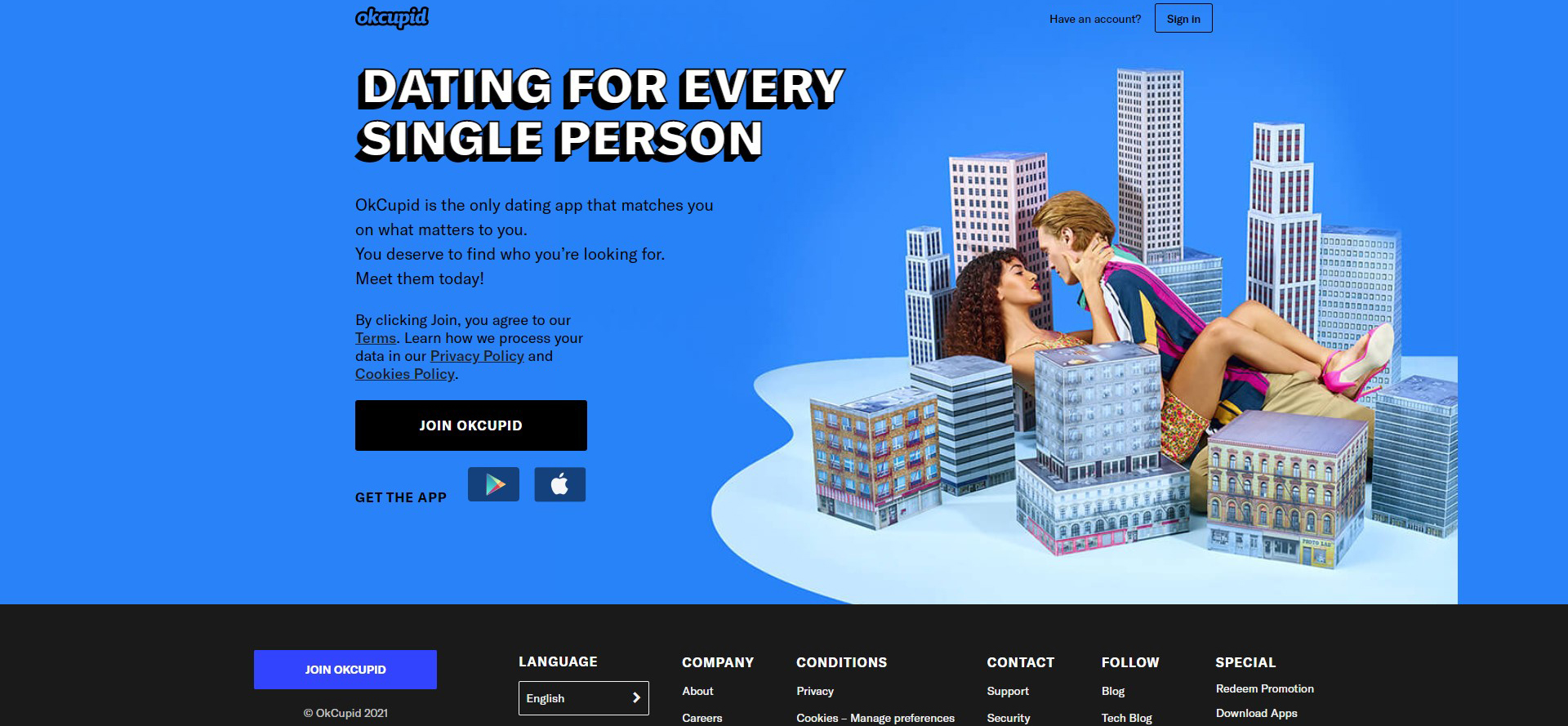 OkCupid Review
OkCupid matches members using multiple-choice questions. These questions cover the main areas that determine a person's romance and sexual orientation. With the users having direct involvement in defining their interests, not to mention OkCupid's top-tier algorithm in the mix, the matching process is super easy and almost instant after signing up on the platform.
In 2007, three years after the company's launch, OkCupid was listed in Time Magazine's 2007 Top 10 dating websites. This was a result of the company's matching system and data shared with users to increase their chances of finding partners. These tips were especially appreciated when co-founder Christian Rudder shared the following in 2009:
Around 33% of female OkCupid users rated as the most physically attractive by male OkCupid users received about 67% of all the messages sent by male users across the platform.
Male OkCupid users who are rated as attractive by female OkCupid users got 11 times more messages than the lowest-rated male OkCupid users.
The male OkCupid users that were medium-rated got 4 times more messages than the lowest-rated male OkCupid users.
OkCupid also carries out tests to improve its services! On January 15, 2013, they had the "Love is Blind Day" test where users' profile pictures were temporarily removed. After the profile pictures were restored, they discovered that many people who got involved in conversations with other users without seeing a picture began cutting conversations.
In another test, OkCupid's original algorithm values were ignored. This algorithm defines the level of compatibility between users. Instead, they reported random numbers to users; pairs of people who wouldn't normally have been considered compatible by the algorithm were matched. Still, these people bonded and connected well! These tests are some of the reasons why OkCupid's success rate is mighty impressive!
Member Structure
Members
5,000,000 from USA
Members activity
5,500,000 active weekly
Members join to find long-lasting relationships and casual dating
Majority of the members are aged 25-34 years old
The site claims to have members from all over the world
How does OkCupid dating work?
OkCupid works in a simple structure of having users sign up and find partners. Let's do a walkthrough of the sign-up process now!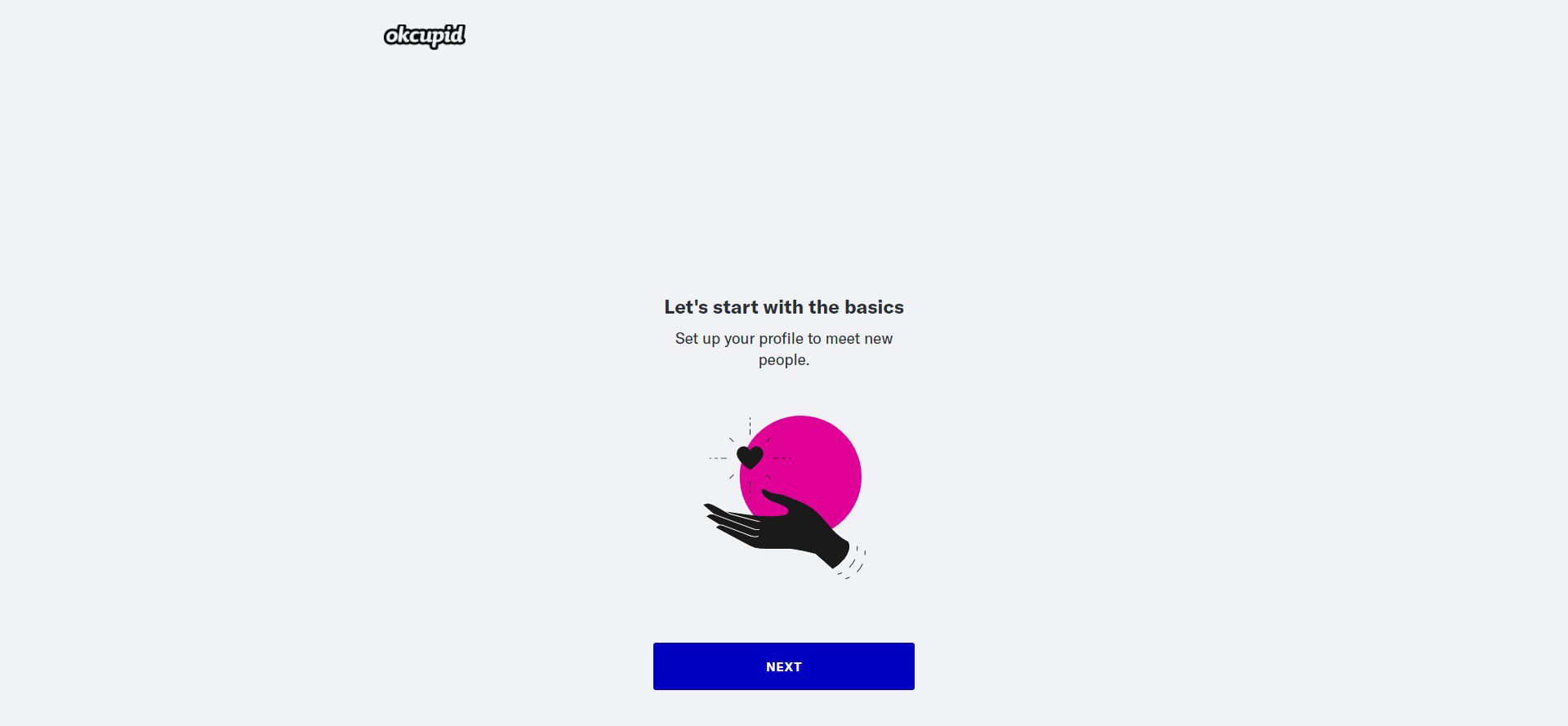 Signing up at OkCupid
To sign up on OkCupid, follow the simple steps below:
Launch the OkCupid app or visit the official website.
Click on the "Join OkCupid" button.
Input your email address and preferred secret password. Tap the "Sign up" button and on subsequent pages, add some basic info about yourself.
Upload a display picture.
Answer a few more questions.
Input and verify your mobile number.
Profiles quality
The extensive sign-up process results in quality OkCupid profiles that are honest, relevant, and accurate. This way, you can have a pretty good insight into the looks, attributes, and lifestyle of anyone you meet via OkCupid's chat platform.
OkCupid app and mobile version
OkCupid mobile apps exist and they're as fluid as the website. The apps can perform every task that the website does and so you can connect with people whether using a PC or a mobile phone. OkCupid apps are available for both iOS and Android OS devices.
General communications and sending messages
So OkCupid connects compatible people with ease and allows connections on the go via a website or apps using your phone. These combine to ensure easy general communications and sending of messages!
OkCupid Cost
OkCupid is a freemium platform, meaning users can use OkCupid free of charge but would have to pay a premium to access some VIP features. For OkCupid, there are two premium packages as seen below:
This includes all features that come with using OkCupid for free plus:
No ads.
Unlimited likes.
Set filters, known as "Dealbreakers", that show you matches that fit certain criteria.
At one go, see all your intros.
This includes all features that come with OkCupid Basic plus:
See relevant answers to your match's public question irrespective of whether or not you've answered it. This helps you say all the right things.
See every user interested in you.
Is it worth paying for?
Your OkCupid success rate would greatly increase if you opt for either the Basic or Premium version. So, if you're willing to take no chances in finding a partner, it's worth it. However, if your wooing game is immaculate, you might go ahead with the free version.
Promo codes and other promotions
OkCupid can be generous sometimes with their promo codes and other special promotions that would give you premium features for free or at a lower price. So please be on the lookout for these valuable OkCupid promo codes!
Pros
Messaging is free
Extensive search features
Supports non-monogamy
Lots of active members daily
Cons
Advertising on the website and in the app
Have to pay to get full functionality
No video chat
Conclusion
OkCupid has been in the online dating industry for the longest time and has managed to maintain relevance. This is proof of the amazing ethics that run within the company and its efficiency in giving the users what they want. So, if you want a relationship with someone out there, feel free to try out OkCupid.
This review is a result of intense research and is designed to update you with accurate and relevant information on all you need to know to utilize OkCupid to the max! If you have any unanswered questions, kindly check out the FAQ section below. We'll draw the curtains here – thanks for reading!
FAQ
Does OkCupid have a free trial?
OkCupid is a freemium online dating platform. So, you can use the platform for free for as long as you want. This, however, comes with limited features.
Does OkCupid have an app?
OkCupid has mobile apps for both Android and iOS devices. They are amazing alternatives to OkCupid's website. To get the app on your phone, please visit your app store.
Is it safe?
OkCupid is a reputable company owned by another reputable company – Match Group. Your data is safe with the company and is only used for verification purposes. Kindly contact OkCupid customer services for any specific questions on data security.
Where can I contact OkCupid?
You can contact OkCupid customer services if you have any questions regarding the platform. They're available 24/7 and would respond to your query as soon as possible. Contact them via email or the OkCupid platform.
How effective is OkCupid?
OkCupid utilizes algorithms and input from users to match compatible partners. This makes OkCupid one of the most effective online dating sites in operation today. But don't just take our word for it; try OkCupid out yourself!
What regions does OkCupid operate in?
OkCupid is based in the United States. However, the company operates in a long list of countries around the world. You can visit OkCupid to check if your country is supported by the platform. Good luck!