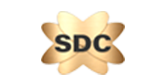 SDC
User friendly interface
8.0 or 10
Customer service
7.0 or 10
Number of members
8.0 or 10
Quality of profils
9.0 or 10
Saferty & Anti Scam
7.0 or 10
Value for Money
8.0 or 10
Application
Free Plan available
Premium plans
SDC (Swingers Date Club)
Swingers Date Club is an online dating site for swingers, erotic adventurers, and all forms of BDSM lovers. Launched in 1999. This dating site now has over 3 million active members.
Swingers Date Club (or better referred to by its acronym, SDC) is an online community for those looking for some special type of 'fun' such as hookups, one-time sex, causal relationships, and couple excitement.
SDC dating site is also a home for lesbianism, bisexuality, voyeurism, etc. Some of the site's particular properties are several members, swinging parties that can move forward to physically controlled environments, speed dating, and private messaging.
Both singles and couples are welcome to join this online dating site as they can all push the boundaries of fun and intimacy to the extreme wild side with SDC dating.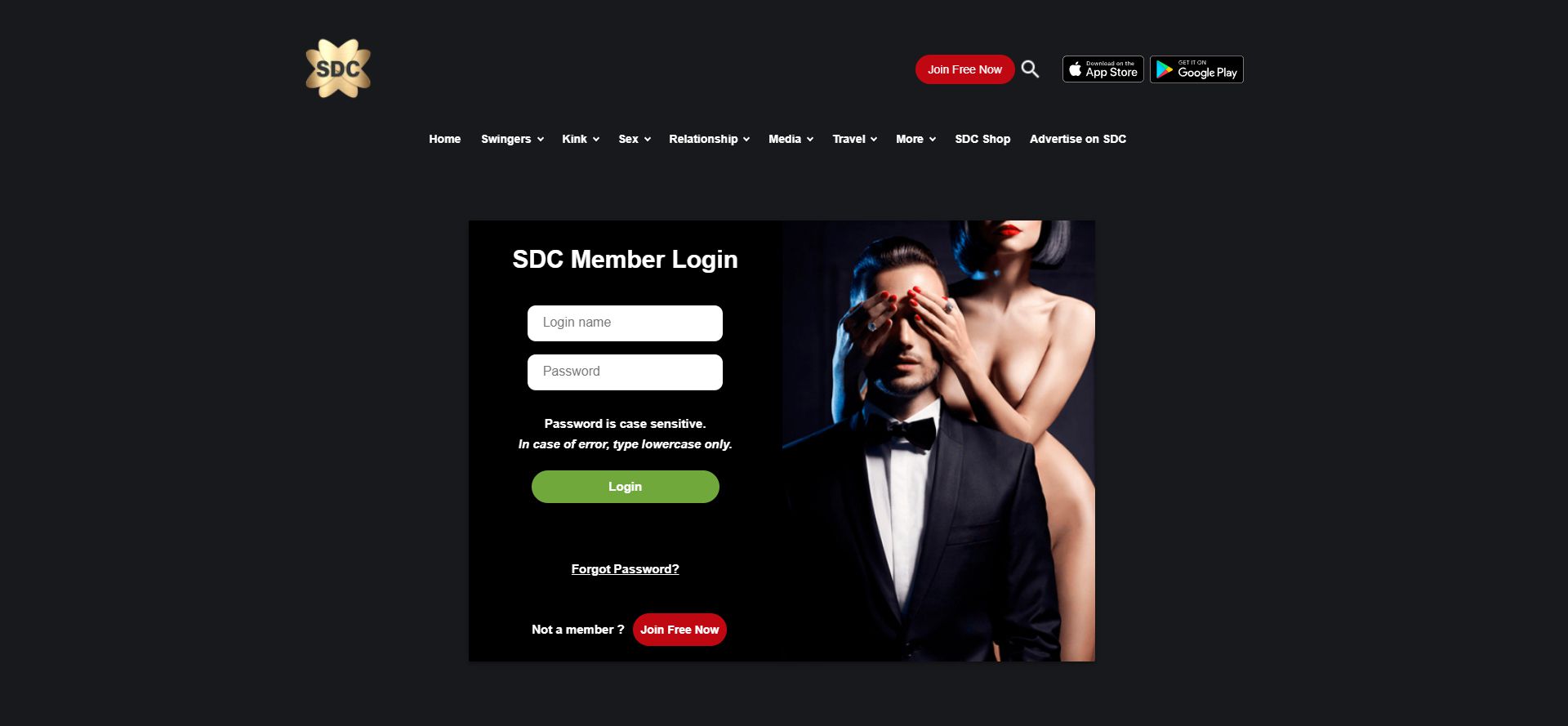 SDC Review
One statement sums up all of SDC reviews — it is the leading online community for swingers. Singles and couples that are interested primarily in swinging activities as well as BDSM, threesome, or other wild sexual adventures can enjoy it best with the SDC dating site/app. All members can also find their spot with the SDC match search. The search tab makes it super easy to locate like minds, people with similar interests, or your other preferences in the twinkle of an eye. SDC hookups are also made easy for speed dating lovers. By mentioning where you are and what type of person you are interested people can hit you up for a hot, casual fling and sexual exploration at will.
The site also has an online shop and blog that allows members to showcase their products and services in terms of sex toys, lingerie, sexual write-ups, and other sex-related items. Regarding SDC success rates, they are topping the charts. However, their website is a little outdated considering there has been little to no update since its launch in 1999.
Visit Site
Members Structure
Members
12 000 000 from USA
Members activity
3 000 000 active weekly
Members join to find serious or casual dating
Majority of the members are aged 25-34 years old
The site claims to have members from all over the world
How Does SDC Work?
SDC works similarly to any online dating site. It has a simple mobile and desktop interface with an interactive system that makes it easy for users to relate with each other with just a few swipes and clicks.
Though SDC does not match you to any other member, it allows you to put down your information and look for other members using the SDC match search tab. There is an SDC mobile app for IOS and Android devices, as well as a web interface.
Signing Up at SDC
Regardless of how much you want to be part of the SDC community, you cannot enjoy the features until you go through the SDC sign-up process. The steps below present how you can successfully register with an SDC dating site/app:
Go to SDC's official website or download their mobile app (available on both IOS and Android devices).
You'll see SDC login and sign up, click on the sign-up button.
Specify your swing status (straight or bisexual) and who you are searching for (couples or straight).
On the next page, write a headline and a short description of yourself and what you are looking for. Be as creative and original as you can be.
Upload a beautiful, clear photo of yourself.
You'll then be presented with several options. Choose one that best describes your personality and appearance.
Another set of options will be presented to you. Choose the options that describe what you are comfortable with sexually and what you aren't.
Enter your email address and verify.
Welcome to SDC dating.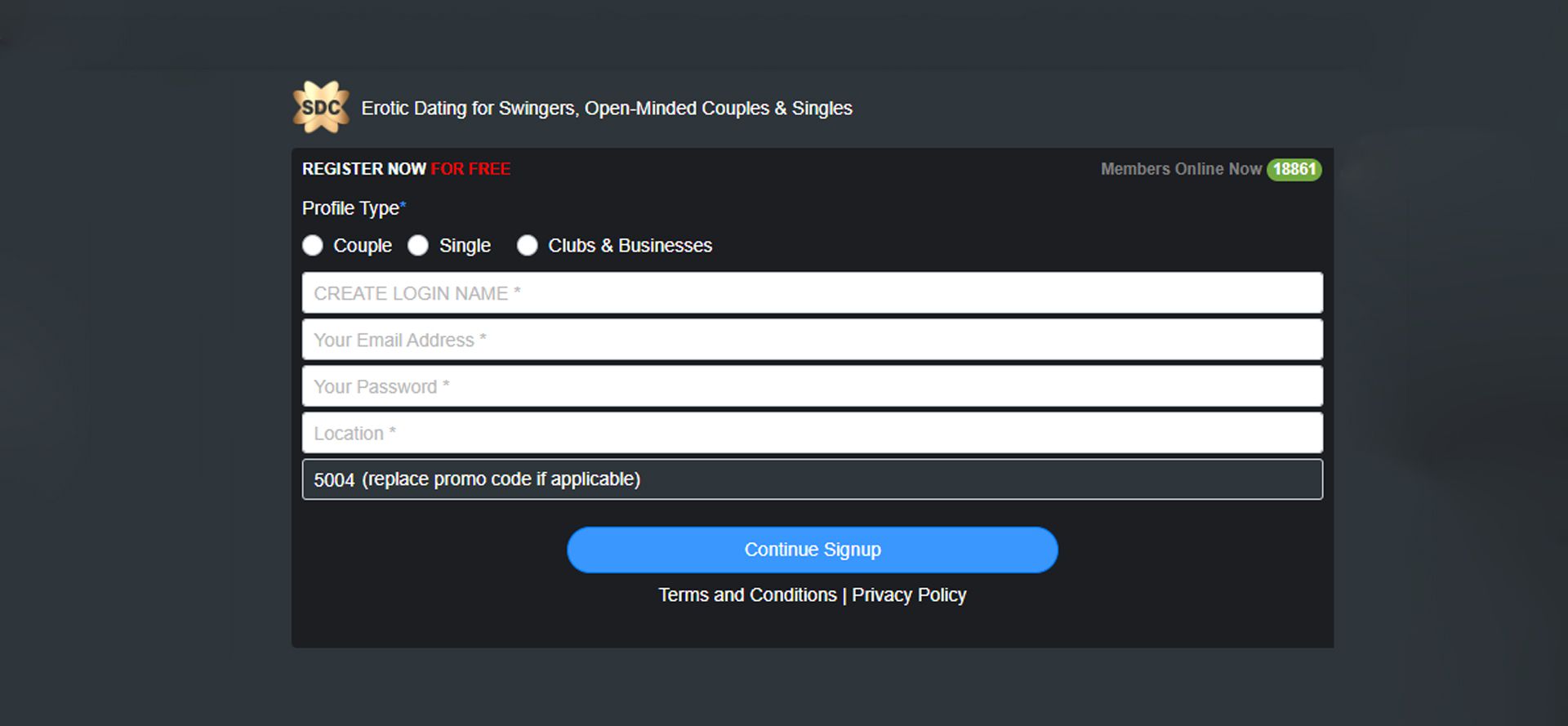 Profile Quality
It's highly difficult to find SDC scammers or a fraud profile on the site. The precautions to eradicate fraud and catfishes are strict and numerous. First, every member has to verify his or her email address before becoming an accepted SDC profile on their database.
Also before entering into any hosted swinging party, you have to go through another set of simple but strict screening sessions. Members are also allowed to report suspicious profiles to SDC customer services or any other SDC authority.
Some of the activities that can be alarming are asking for financial information during active SDC messages, having fake names with fake pictures, and so on. The SDC's profile Quality is top-notch.
SDC App and Mobile Version
When it comes to the SDC app, it is a little funky and has a similar interface as its mobile web interface. However, there are some functions on the app that is restricted to anyone that has only the SDC free account. That means members might have to upgrade to the SDC premium account to access all the functions on the app. Things you can do on the SDC app version include SDC messaging, sign-up, travel booking, hosting an event or party, party reservations, speed dating, and so much more.
General Communications and Sending Messages
SDC also allows for effective and quality private messaging and group communications. However, members are allowed to turn on or off their messages. With a green tick located at the top of each profile, anyone will know if a member wants to be messages or not.
Other ways to communicate on the SDC dating app is to send party and event invites to people you are interested in, join a chat room, or like their profile to get their attention.
SDC Costs
SDC is a free dating site – at least it has a free package that allows its members to enjoy many of its features for free. However, advanced features might require an upgrade to more SDC premium packages. Though SDC offers no refund on any of the paid packages, most SDC users end up renewing their subscriptions.
Is It Free?
If you can refer to SDC's trial version as free – then it is. Everyone has access to a 7-days free trial mode with restrictions to find out if he or she likes to use SDC. However, most free users always end up paying for the other packages. Some of the things you can do on the trial version include:
Read chats between other members in the chat room.
Receive members' validation of your profile.
View the first photo of every profile.
Receive instant messages but cannot send.
Read blogs posted by other swingers.
Is It Worth Paying For?
SDC is worth paying for because immediately an upgrade is made, all the restrictions will be uplifted. The user will finally be able to:
Read and send chats in the chat room.
Use the webcam in the chat room.
Contact other members.
Validate members and receive members' validation.
View all the photos of every profile.
Receive and send instant messages.
Update or change your profile.
Read blogs posted by other swingers as well as post blogs.
Below is a table with the prices of the SDC membership plan
SDC Starter
1 month
29.95$ / 29.95$ per month
SDC Classic
3 month
54.94$ / 19.98$ per month
SDC Premium
6 month
99.96$ / 16.66$ per month
SDC Comfort
12 month
150.00$ / 12.50$ per month
Promo Code and Other Promotions
SDC does not offer any promotion or discount for subscriptions lower than the premium subscription. The SDC promo code is in form of a bracelet that the user will wear on their wrist. Having this bracelet allows you access to certain perks and discounts. To apply for the bracelet, simply 'Apply for SDC promo' on your account.
Pros
Large members' base
Swinging vacations offered
Options for private parties and events
Excellent quality of profiles
Cons
Unavailability of video chat
No moneyback policies
The site interface is tricky at first glance
Conclusion
SDC is not your typical dating site. It is an online community for swingers, hookers, erotic adventurers, couples who are into BDSM, threesome, and other wild sexual explorations. Its success rate is almost 10 in 10, especially for the upgraded account. That's why despite some of the cons like the no-refund policy, limited free features, no match-making, and so on, SDC is still widely used among swingers.
FAQ
Does SDC have a free trial?
SDC has a 7-day free trial for all members. However, during these 7 days, most of the features will be restricted to use. After then, the user will be required to subscribe to any of the four paid subscriptions.
Does SDC have an app?
SDC has an active mobile application. It is available for both Android and iOS devices for free on their app stores. All features allowed on the desktop interface are also accessible through the mobile app.
Is it safe?
Fraud occurs very rarely on SDC and this makes it a very safe community. The verification process is simple and strict which makes it difficult for con artists to sneak in. The exchange of financial information is also restricted on the platform.
Where can I contact SDC?
The first sure way of contacting SDC is through their official website. But since the quality of their website is not especially impressive, you can reach them through their mobile app. Their web mobile interface is another alternative too.
How effective is SDC?
SDC's success rate is topping the charts. With a large database of members and plenty of hosted parties, the community continues to expand daily. So yes, SDC is highly effective.
What regions does SDC operate in?
SDC is an online platform created for the whole world. However, most of its members originate from the USA. Another region that uses SDC popularly is the Netherlands.