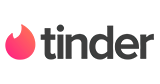 Tinder
Online per day
12 000 000
User friendly interface
9.0 or 10
Customer service
9.0 or 10
Number of members
9.0 or 10
Quality of profils
9.0 or 10
Saferty & Anti Scam
8.0 or 10
Value for Money
8.0 or 10
Application
Free Plan available
Premium plans
Tinder
Tinder is an online dating platform launched in 2012. It is headquartered in Los Angeles, California, serves a global audience, and holds a spot as one of the most established dating sites in the world. Tinder offers services in more than 40 different languages across 196 countries. With millions of members, Tinder can easily pair compatible members with relative ease which conveniently often leads to the most amazing relationships!
Tinder's swipe feature especially takes the spotlight when discussing the platform's innovative approaches to effective match-making. Here, you, as a member, are presented with the profiles of other members. If you're interested in a certain member, you're to swipe right on the member's profile. If you're not, simply swipe left. Members who swipe right on each other's profiles are then connected.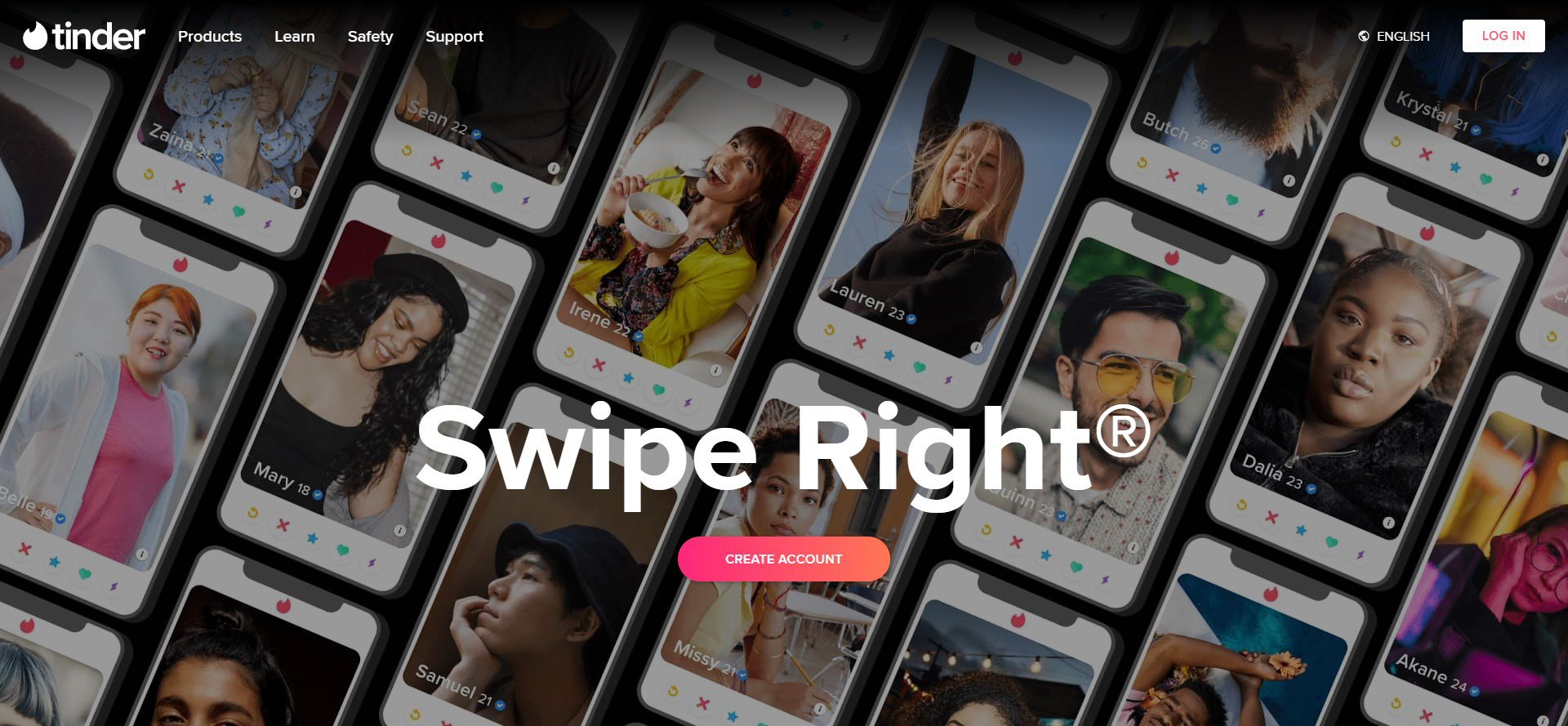 Tinder Review
Tinder is the modern idea of online dating thanks to a simple, convenient, and almost instant match-making process. Its large community also means you're likely to find a partner regardless of the kind of relationship you have in mind, be it casual sex or deeper commitments. This may be why the platform has a predominantly young demographic and why it registers millions of swipes per day.
Tinder also puts active effort to keep you safe within its community with intensive verification processes to keep any wannabe Tinder scammers away. Celebrities, in particular, have always faced the risks of being impersonated on online dating sites.
So Tinder goes the extra mile in authenticating celebrity accounts. Tinder also ups your social game by allowing you to integrate your Tinder profile with major social platforms such as Facebook and Instagram.
Visit Site
Member Structure
Members
10 000 000 from USA
Members activity
40 000 000 active weekly
Members join to find serious relationships or one-night stand
Majority of the members are aged 25-34 years old
The site claims to have members from all over the world
How does Tinder dating work?
Tinder works like you might expect; a fluid interface and interactive system that allows users to connect with one another with a few swipes and clicks!
Tinder allows users to swipe left or right on photos of other users. Depending on the direction of the swipe, a user is showing interest or disinterest. The platform is available in web, Android, and iOS versions for even easier access.
Signing up on Tinder
The only way to enjoy the main benefits is by joining the platform. The joining process is super easy and can be completed in only a few minutes. See the step-by-step sign-up process below:
Visit Tinder's official website here or download the mobile app;
On the site, you're to click on the "Create Account" button;
On the next page, sign up via Google or Facebook or with a mobile number. We advise that you use your mobile number because Tinder will still require it in subsequent steps;
Fill in the OTP code you received to verify that the mobile number is yours;
After that, you've got yourself a Tinder account. You'll be introduced to a summary of the major rules. Go through them;
Next, fill in your name, date of birth, gender, sexual orientation, and other basic info;
Add some photos to introduce users to your beautiful face;
And that's all. Welcome to Tinder!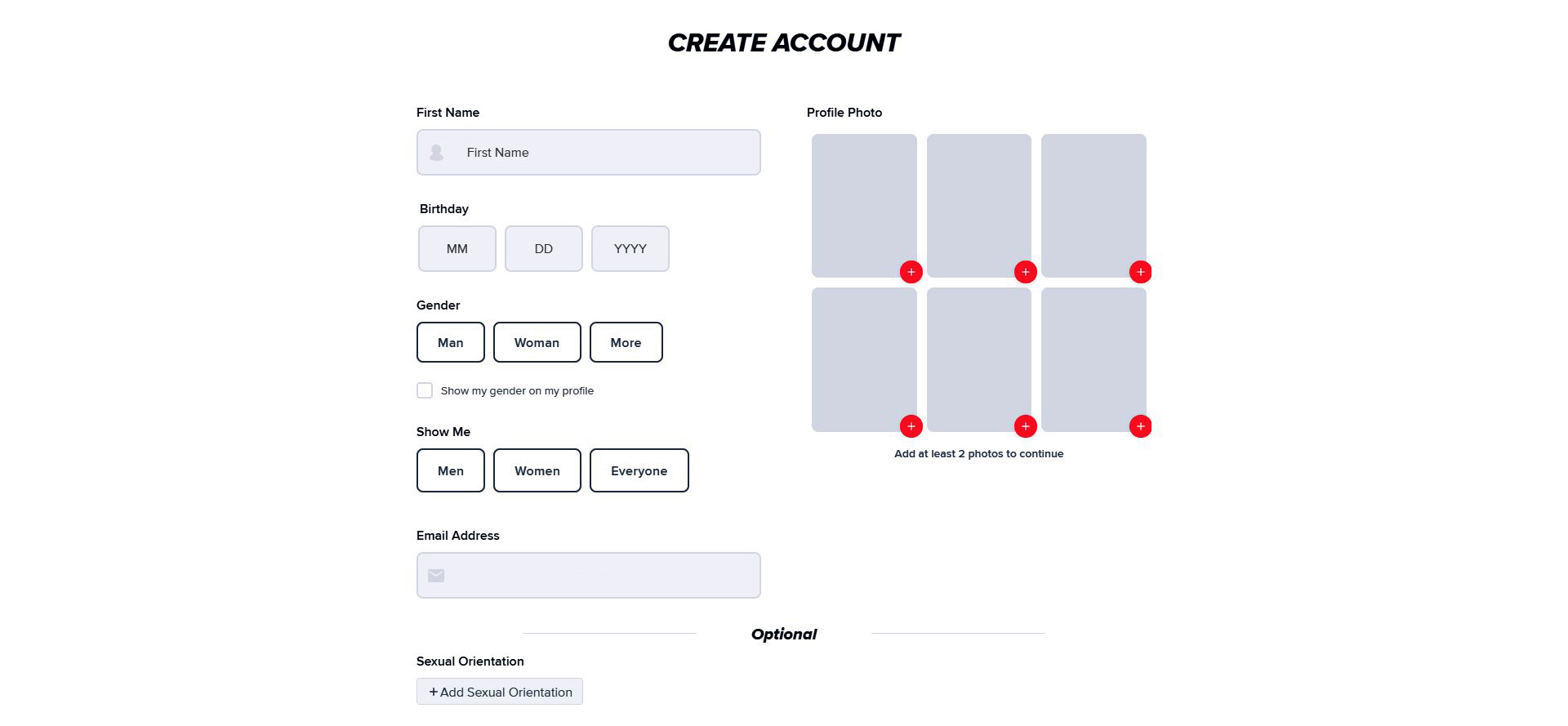 Quality of Tinder profiles
Tinder's detailed sign-up process results in quality profiles that contain all the relevant information you could need about a certain person. Then there's the verification process to ensure that Tinder profiles contain honest information only.
So, your quest for a partner gets much easier because you make educated guesses about a member you're interested in, at least before expressing your interests. Also, you get a good idea of what kind of conversations to hold, making it a breeze to break the ice.
Tinder app and mobile version
Tinder makes its platform easy to access with the release of its mobile app. This app is available for free download for both Android and iOS devices and would be installed in a few seconds depending on your internet connectivity. The app is available for you to download on the Google Play Store and the Apple App Store, depending on your mobile device. With millions of downloads on both these app stores, it's easy to see that people opt more for Tinder's mobile apps than the website, thanks to having just as much functionality.
General communications and sending messages
Tinder is packed with a ton of features that allow for effective general communications. And surely, effective communication has a major role to play in every "happily ever after" story.
The platform has multiple ways for members to express their interest in other members, including the traditional sending of messages. The Messages section is also loaded enough to compete with other major social media platforms.
Tinder Cost
Tinder is a freemium platform. This means you can use its basic features for free but would have to pay a premium for the more advanced features. Many Tinder users would agree that being a paying Tinder user is worth it and you'll see below what we think about this after considering the perks that come with it.
Is it free?
The basic version of Tinder is free while the premium version comes at a fee. The premium version is split into three packages – Plus, Gold, and Platinum!
Opting for Tinder's premium packages with:
Unlimited likes.
No ads.
Unlimited rewind.
Messaging a user before being matched.
See who "Likes You", and others!
The pricing options vary with each package and age group. See the comparison table below:
Tinder Plus (18-29 years)
Tinder Gold (18-29 years)
Tinder Platinum (18-29 years)
Tinder Platinum (30+ years)
Is it worth paying for?
You now know the perks that come with being a premium user. So if you want to up your game and increase your chances of finding a partner that wants what you want, then yes, the Premium package will come in handy.
Promo codes and other promotions
Tinder often offers promotions and discounts where non-paying users get the perks that come with being a paying member at a discounted rate or completely free. You can take advantage of these offers by using Tinder promo codes - so be on the lookout for them!
Pros
The highest number of users
The dating app has 37 gender identities
Quick sign-up process
Creative swipe trademark
Cons
Age-Biased subscription plan
Limited swipes for free users
Only available on mobile devices
Conclusion
Tinder has risen to be the most successful online dating platform in less than 10 years. The simplicity involved in finding a date with another user of whatever gender remains unrivaled.
Millions of users benefit from this and it could be your turn! Here's some quality assurance for you: the content in this review was assessed multiple times to ensure that it is accurate. It will also be updated regularly to ensure it remains relevant at all times! With that said, we draw the curtains on this video. Good luck!
FAQ
Does Tinder have a free trial?
Tinder is a freemium platform. That is you can use Tinder free of charge for as long as you want but only with access to limited features. For full access to all features, upgrade to a premium package.
Does Tinder have an app?
Yes, you have Tinder mobile apps at your disposal. The apps are available for both Android and iOS devices. To download the mobile apps, simply visit the app store for your device and get it for free! These apps have just as much functionality as the website.
Is it safe?
Yes, Tinder is safe! The platform would only require your identification data to enable them to confirm that you are who you say you are in a bid to curb Tinder scammers. This data isn't shared with any third-party platforms! This verification process doesn't involve the sale of data.
Where can I contact Tinder?
Feel free to contact Tinder's customer services with any questions you may have. They're available 24/7 via email with an impressive response time.
How effective is Tinder?
Tinder is as effective as you allow it to be. The platform effectively connects potential partners. Once that bit is done, it's up to users to find their chemistry and form a relationship that parties are interested in.
What regions does Tinder operate in?
Tinder is regarded as a global online dating platform. It operates in 196 countries around the world in 40+ languages. So, chances are Tinder dating is possible in your region.