AdultFriendFinder
User friendly interface
9.0 or 10
Customer service
8.0 or 10
Number of members
9.0 or 10
Quality of profils
8.0 or 10
Saferty & Anti Scam
8.0 or 10
Value for Money
9.0 or 10
Application
Free Plan available
Premium plans
AdultFriendFinder
AdultFriendFinder is not exactly what it sounds like, or it probably leaves some details out. It is one of the most popular websites for people to look for casual encounters with other users irrespective of their relationship status.
The site contains adult images, videos, and content. If you're signed up on AdultFriendFinder, there's only one reason, and it's to find people who are mature enough to go in bed with you and share sensual sexual moments without commitments.
AdultFriendFinder profiles are looking to get naughty, and the internet is the place to find people of such interests.
The website started as a response to user's needs. The founder, Andrew Conru, created FriendFinder.com in 1996, intending to help people interact from over the net. Not long after launching, he discovered that users were posting pornographic content and nudes and constantly looking for hookups for sexual meetups. AdultFriendFinder was created in response.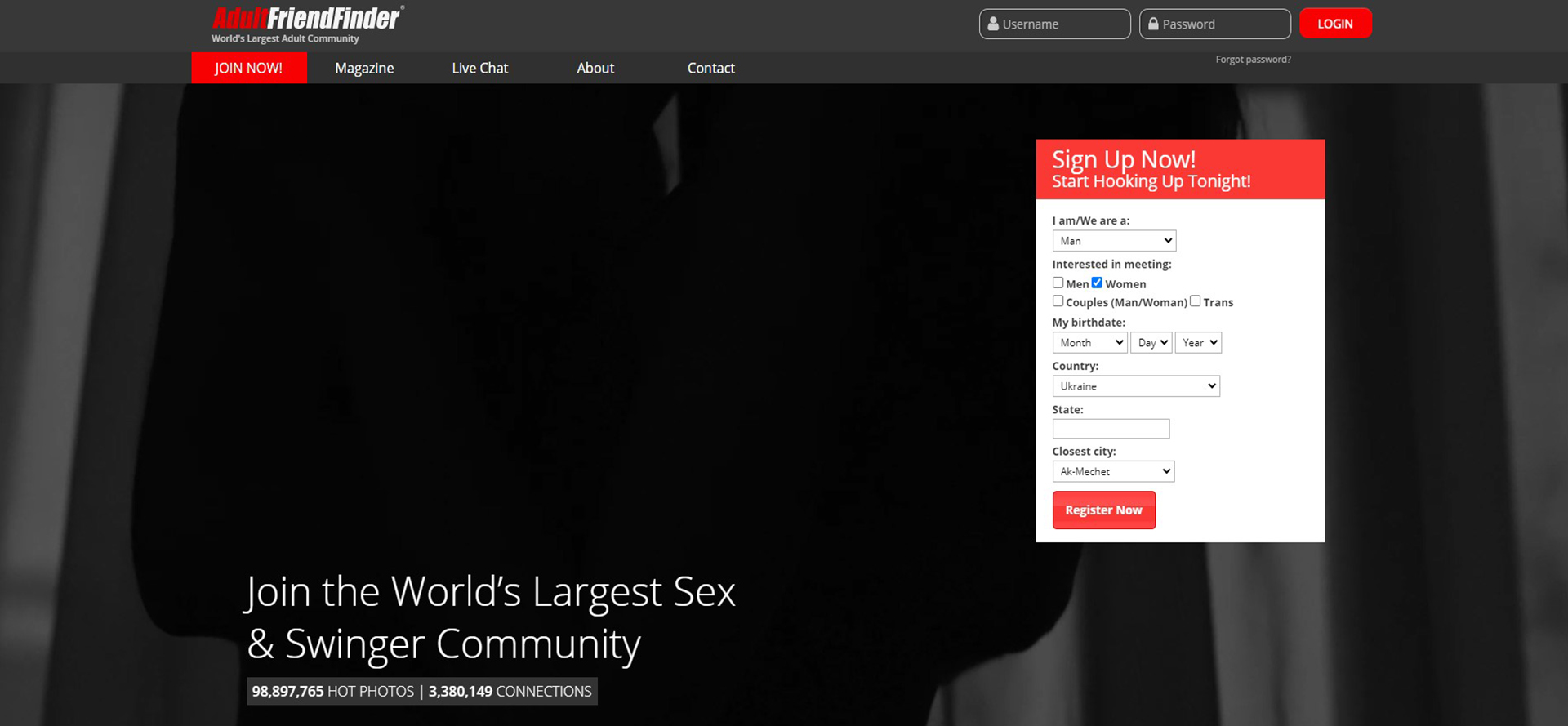 AdultFriendFinder Review
We explored AdultFriendFinder and found features or offerings that could be attributed to the popularity and growth of the site. It serves as an adult dating site, but its operating model is to help people link up for quick sexual encounters.
AdultFriendFinder has been around for about 20 years and claims to have registered over 91 million people. We cannot verify that claim, but we are quite positive the website has several millions of users. AdultFriendFinder has a blog section that allows members to create posts and share stuff with every other person. The blog section is active such that you'll find recent posts for each day, numbering up to over 30.
The website has a live webcam that allows AdultFriendFinder members to stream their activities that you can watch for your pleasure. The website has several chat rooms for various intercourse and communications that you'd find quite ecstatic. That said, there are various contests from time to time, and you can get sex lessons from the Sex Academy if you are not so confident about your bedroom game.
How does AdultFriendFinder dating work?
AdultFriendFinder is just about sex. It's a community of open-minded people and are in search of people who don't mind trying things out with them.
AdultFriendFinder dating means finding someone you're attracted to and meeting up. It is similar to other dating sites, but it exceeds dating for love or some commitment. You may even be a member without looking to meet anyone.
It hosts several activities that you could find interesting to participate in. Hookup stories are available in the community section, and you could roam the website for vast sexual stimulation.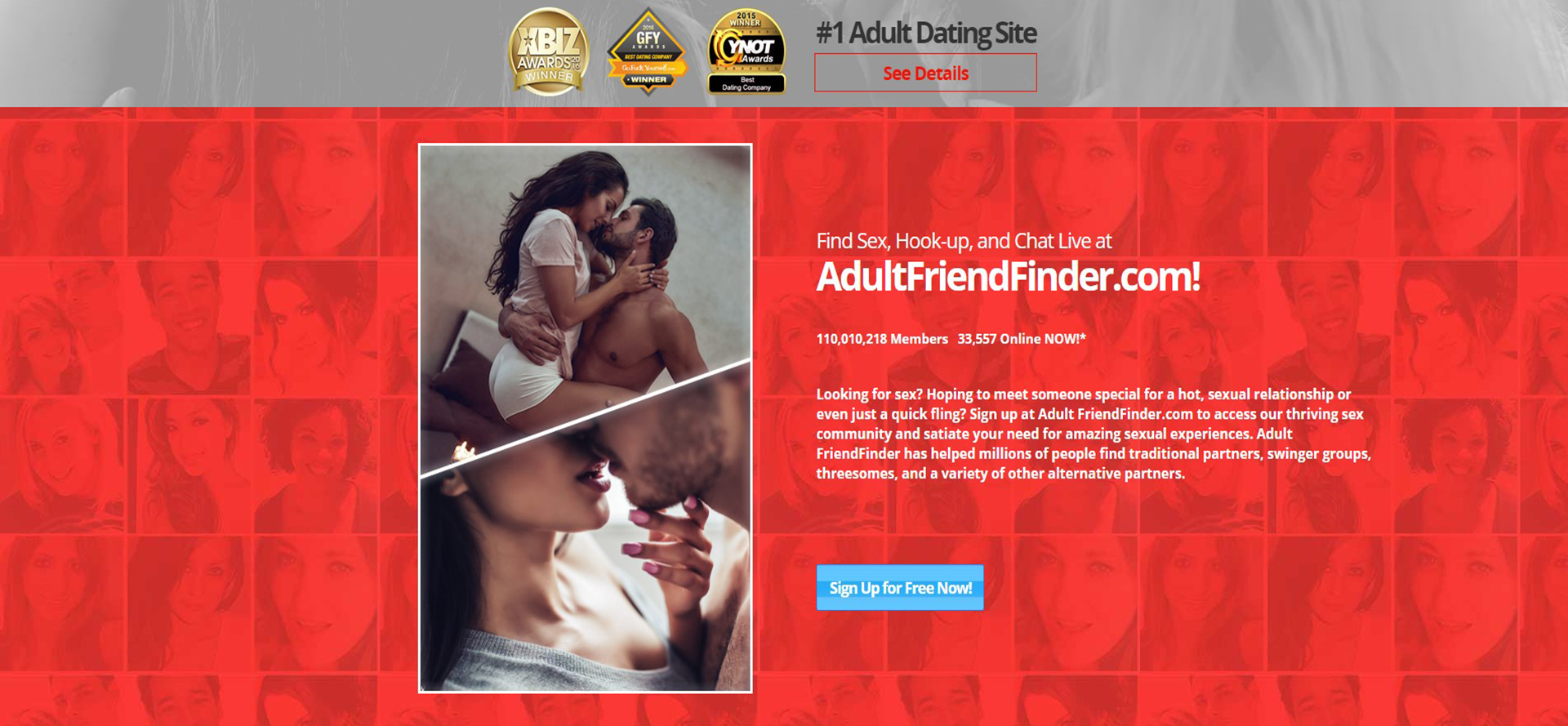 Signing up at AdultFriendFinder
AdultFriendFinder is easy to join. You'll be able to create an account in less than five minutes. There is no location or gender restriction and you register at no cost.
All it requires is a unique username, valid email address, and a password.You'll get a verification mail in your inbox as a way to establish that you own the email address.
You'll be required to answer basic questions and fill your profile after sign up. You'll answer questions about yourself, sexual preferences, orientation, and who you are looking for. You have the option of selecting as many sexual orientations as you like.
Once done, you can begin to search for people and find perfect matches for yourself. You can continue on the free account, but your activities will be limited. Before you can begin interacting and sharing posts, you'll have to create an account.
Profiles quality
AdultFriendFinder profiles are high quality and mature. They understand that the site focuses on sexual content.
Most people on the site are aged between 25 - 44. No under 18 and males occupy most of the gender distribution. A profile helps you understand who a person is and whether they have sexual traits or kinks that you fancy.
However, viewing their full profile and sending them private messages is not allowed on a free account. You'll need to pay for the premium plan to get the whole of AdultFriendFinder profiles.
Member Structure
Members
40 000 000 from USA
Members activity
7 000 000 active weekly
Members join to find casual dating and spice up their sex life
Majority of the members are aged 25-44 years old
The site claims to have members from all over the world
AdultFriendFinder app and mobile version
The AdultFriendFinder app is available for download on Android and iPhones. The features are available as it is on the website and even more convenient for mobiles. If you don't see a need for the app, the mobile version of the app may come in handy for your smartphone.
General communications and sending messages
You can only use the messaging feature on a premium account. You'll have to pay to be able to send messages to people who catch your fancy on the site.
Whoever you are messaging also has to be a premium member to enable chats. Without that, the most you'll get out of it is to drop comments on pictures and videos. AdultFriendFinder messages appear on a different tab as you have with conventional messaging apps.
AdultFriendFinder Cost
AdultFriendFinder costs a few dollars if you want to have access to its full features. You have to subscribe to the premium membership to get the full experience with the sexiest people who can give the most erotic encounters of your life.
Is it free?
You can use AdultFriendFinder for free, but you will be limited to certain features. Without paying a dime, you can create an account, explore the site, like photos and videos, make comments, search for people, join groups, read blogs, and watch only videos posted on the homepage. Sounds like there's nothing more to pay for?
Is it worth paying for?
We cannot decide for you if this is worth your money. You already get access to a lot of features on your free account. Paying puts on AdultFriendFinder premium and allows to add friends, view their complete profiles, send and receive messages and even see live stream videos of members where most of the erotic displays go down.
AdultFriendFinder Premium
Promo codes and other promotions
When you subscribe for 3-month of AdultFriendFinder premium, you get one month extra. You get six months extra if you sign up for the 12-month premium plan.
Pros
Live-streamed erotic video content
Fetishes, kinks, and alt lifestyles are all welcome
Robust privacy and security features
One of the first adult dating sites
Cons
Not a good site if you are looking for a long term relationship
Access to features is severely limited for free members
No matching system
Conclusion
AdultFriendFinder is a porn site with an avenue for you to interact with people and plan possible hookups.
So, if you're signing up there, you best know what you are looking for. It could be the number of users who are potential friends with benefits or just the several erotic activities on the website. Pick your poison wisely.
FAQ
Does AdultFriendFinder have a free trial?
AdultFriendFinder does not have a free trial. However, you get to sign up and create an account for free. You'll only be limited to some features that do not necessarily disallow you from enjoying the site.
Does AdultFriendFinder have an app?
The AdultFriendFinder app is available for all users on Android and iPhones. It makes it convenient to use the website even when you're not home with your PC. The mobile version of the website has a similar interface but will only be an option if you don't have the app.
Is it safe?
Data on AdultFriendFinder is encrypted and protected from external override. AdultFriendFinder manages user data with its network of other finder sites and prioritizes data protection. So, the site does not utilize user data in a way that violates the privacy policy.
Where can I contact AdultFriendFinder?
For inquiries and concerns about the use of their service, contact their help center. AdultFriendFinder customer service is responsive and can provide solutions to your worries. You can also reach out via their social media channels.
How effective is AdultFriendFinder?
AdultFriendFinder is highly effective and does pretty well as an adult social networking site. The website has served to satisfy people's sexual desires and find hookups. Once you sign up, you have access to the majority of its available features.
What regions does AdultFriendFinder operate in?
AdultFriendFinder operates worldwide. There's no restriction to location, and you can find hookups from wherever you live. All you have to do is visit the URL and sign up.