Badoo
Online per day
20 000 000
User friendly interface
8.0 or 10
Customer service
9.0 or 10
Number of members
10.0 or 10
Quality of profils
10.0 or 10
Saferty & Anti Scam
9.0 or 10
Value for Money
8.0 or 10
Application
Free Plan available
Premium plans
Badoo
Badoo is an online dating service that serves as a community for people of every race and nationality. The service connects people in various ways depending on what is required at the time. On Badoo, users are allowed to choose if they are looking for a relationship, a date, or a friendship. This way, people with similar interests find one another easily.
Badoo is the world's most widely used online dating service because it has users from 197 countries. So, you can meet individuals from any continent right from the comfort of their home simply by joining Badoo. Many people prioritize communication in relationships with other factors taking a backseat, and so with Badoo, these people now have access to over 500 million people.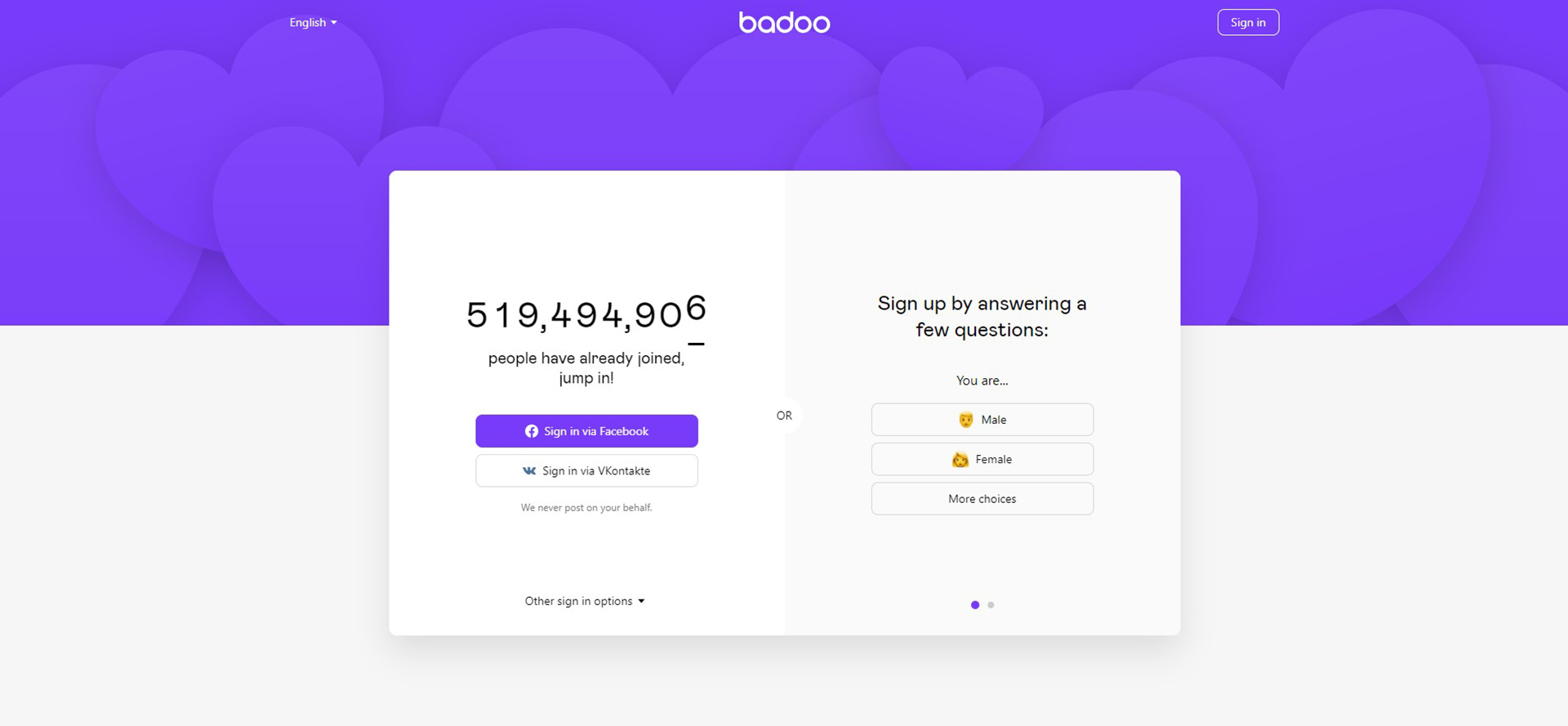 Badoo Review
Badoo's success rate in connecting compatible people is an impressive one. The service has effective features that have ensured that the graphs remain positive. Badoo, using its "People Nearby" feature, allows users to see other users living in the same area. The "Encounter" feature allows users to show interest or disinterest in other users.
If there are two yes-matches from two users on each other's profile, then Badoo connects them. These, combined with video chat features, have made Badoo a very effective online dating service.
Member Structure
Members
17 000 000 from USA
Members activity
80 000 000 active weekly
Members join to find serious relationships or hookup
Majority of the members are aged 25-34 years old
The site claims to have members from all over the world
How does Badoo dating work?
Badoo works using an interactive interface that's as simple to use as it is effective. The service has all the features necessary to enjoy the benefits of online dating today. You can access Badoo from your mobile phone or PC at any time of day.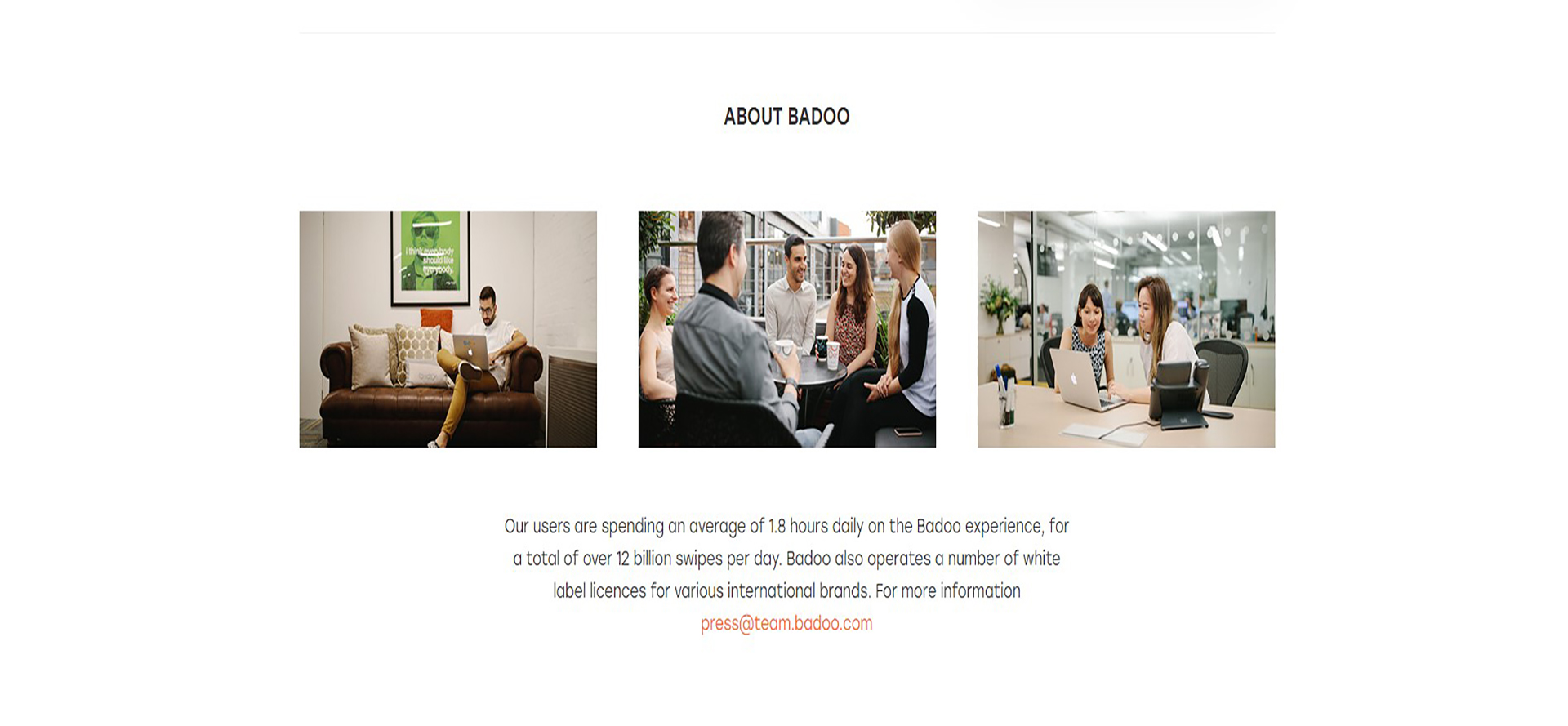 Signing up at Badoo
The Badoo signup process only takes a few minutes to complete. Once you've arrived at the Badoo site or launched the Badoo mobile app, you'll only need to submit some basic info regarding your identity, contact details, and sexual orientations.
Remember to fill the sign-up form honestly as Badoo would use data you submit here to match you with people you're likely to vibe with. So submitting the wrong data could result in ineffective matchmaking and no one wants that. You may also be prompted to upload a recent photo of you that would appear on your Badoo profile.
Quality of Badoo profiles
The quality of the Badoo sign-up process has a positive ripple effect on the quality of Badoo profiles. These profiles are well-detailed and contain all relevant information that could give insight into the characteristics of a person. The photo on the profile also does its bit by helping you put a face to this potential partner.
Badoo also takes profile verification with utmost importance so you can rest assured that the profile you're viewing belongs to the person in question. You're safe from Badoo scammers or impostors trying to rip you of your valuables.
Badoo app and mobile version
You can access Badoo via the website or mobile apps. These apps are available for both Android OS and iOS. To download, kindly visit your app store and search for Badoo using the search bar.
The apps are available free of charge and depending on if you're on a stable internet connection, would be installed in some seconds to minutes. The apps have been verified by both the Google Play Store and Apple Store as free of malware. So, the data stored on your phone remains secure.
General communications and sending messages
Badoo maintains effective communication all across the platform. Users can communicate with ease with other users and with Badoo's customer services. The Messages section of Badoo contains chatting features that can rival some of the biggest social media platforms.
Communication on Badoo isn't limited to the Messages section though; for instance, the swipe feature where users swipe left or right depending on whether they like a user is a great way to communicate interests without the use of a keyboard.
Badoo Cost
Badoo is a freemium online dating service. That is, you can access Badoo free of charge but would only be limited to the core features. To unlock the remaining features, you would have to pay a premium.
Is it free?
Depending on the features you decide to use, Badoo could be completely free for you. The basic version doesn't require any form of payment. In this version, you have limited access to Badoo's features though. If you would like to increase your chances of finding a partner by removing these limitations, you would need to opt for the premium Badoo version by paying a fee.
Is it worth paying for?
To know if the premium version of Badoo is worth paying for, you should assess the additional features that you would enjoy if you did. If these features would play a main role in your chances of finding a partner on Badoo, then yes, it's worth paying for.
The additional features that come with the Badoo premium version include:
Viewing people that "Like" you;
Seeing people that list you as one of their "Favorites";
Early access to chat with newly registered users;
Sending gifts, crush alerts, and use stickers.
Promo codes and other promotions
Ever so often, Badoo launches special promotions that give users access to special features for cheaper or for free. These promotions vary in the offer and there's no assurance that the previous would be the same as the next.
So whenever you discover a Badoo promotion that's been launched with exciting bonuses, do your best to grab it. These promotions are often accessible using Badoo promo codes.
Pros
Numerous free features
Video chat function
Secure platform with the profile verification system
The enormous and diverse member base
Cons
App has more free features than a website
You can only use the location function to find dates
Not enough detail in the matching process
Conclusion
Badoo has worked its way to being one of the most popular online dating services in the world today. This could only have been possible by constant innovativeness and development. The platform focuses on its core mission which is to connect people with one another for the most successful relationships.
So, if you're in search of that special one, Badoo is a service that you should definitely try out! And if you follow the details in this review, you're sure to find your partner in next to no time, like millions of other people before you. Good luck!
FAQ
Does Badoo have a free trial?
Badoo operates a freemium model. So you can use Badoo free of charge but with limited access to Badoo's features. To gain access to all of Badoo's features, you would have to pay a premium fee.
Does Badoo have an app?
Yes, Badoo has mobile apps. These apps are available for both Android OS and iOS devices. You can download the Badoo app from your mobile app store free of charge and instantly.
Is it safe?
Badoo protects its users from scammers and impostors. Badoo profiles have to be verified before they're given access to communicate with other users. The data that Badoo requests go into this verification process and nowhere else. That means the data you submitted to Badoo stays on Badoo till the verification is complete.
Where can I contact Badoo?
Badoo's customer services are available to respond to queries 24/7. You can contact them via the Badoo platform or via email, whichever you prefer. They also have a convenient response time.
How effective is Badoo?
Badoo has the primary aim of helping people connect with one another. Over the years, Badoo has successfully connected millions of people around the world. So, Badoo has proven to be very effective.
What regions does Badoo operate in?
Badoo currently operates in 190 countries. The platform is available in 47 different languages to accommodate this radically diverse group of people. If you would like to know if Badoo is available at your location, the answer is most likely yes.