CatholicMatch
User friendly interface
8.0 or 10
Customer service
7.0 or 10
Number of members
7.0 or 10
Quality of profils
8.0 or 10
Saferty & Anti Scam
8.0 or 10
Value for Money
8.0 or 10
Application
Free Plan available
Premium plans
CatholicMatch
CatholicMatch is a prominent dating site for people interested in having a date from a catholic background. The site is for members that share the same religious views to mingle. This site makes dating easy as both seekers already have one thing in common- the catholic faith.
The platform has grown over time to become the largest dating site for catholic members. The dating site is available for everyone to navigate and select from the vast features available. Whether you are from a local town or an urban area, the Catholicmatch can get you a perfect partner in no time.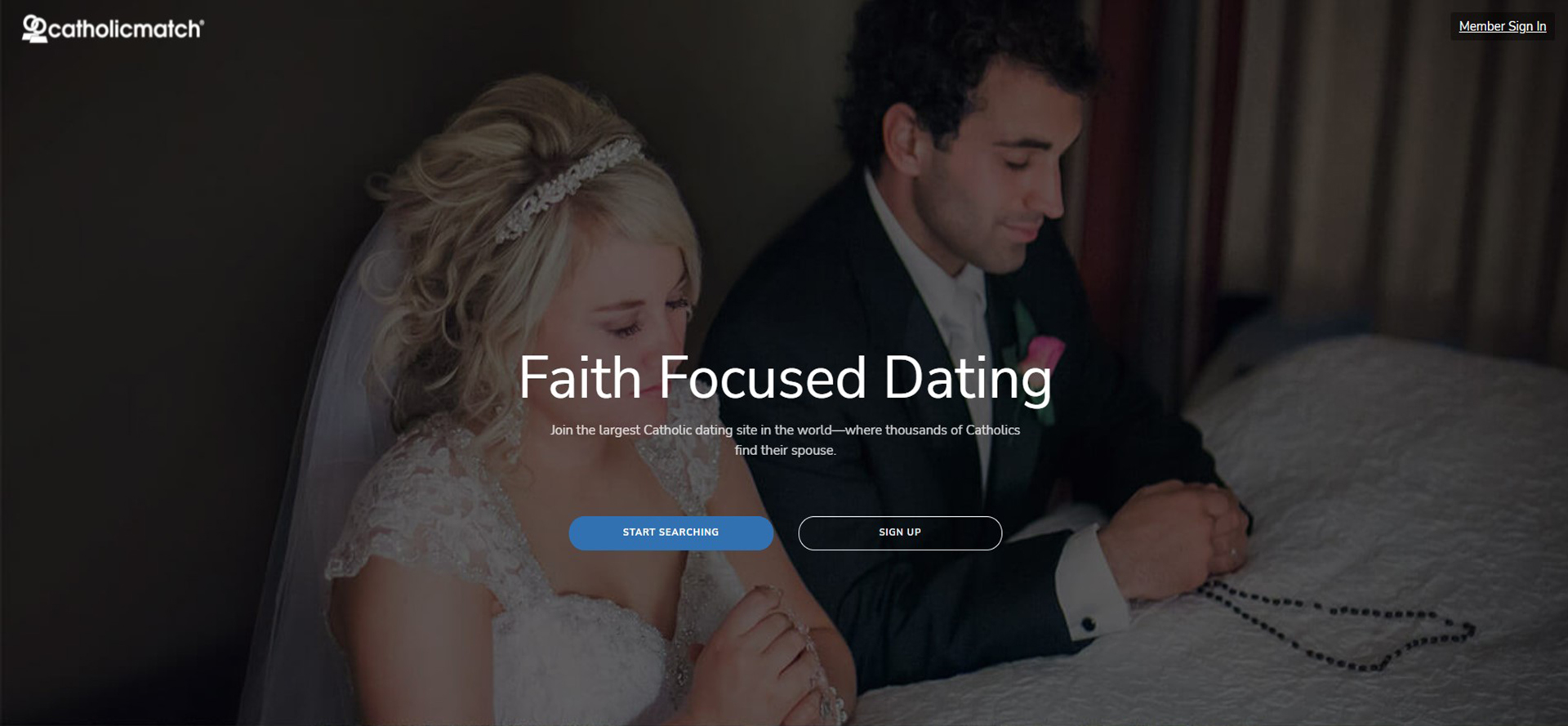 CatholicMatch Review
CatholicMatch creates a place for people with similar values and relationships with God to meet. This dating site gives over 27 million Catholics in the US a chance to grow in love with someone of the same faith. Their features focus on faith and family, intending to help match the interests and traits of members.
The dating site has a large fan base of 1.5 members. Out of this population, 1.2 members are from the US. The platform also records the daily logging of 16,500 people.
The dating site has an average of more women than men. The populace is split as 60% are women while 40% are men. And females are more active than men on this site.
Member Structure
Members
1 200 000 from USA
Members activity
500 000 active weekly
Members join to find serious relationships and singles who share their faith in God
Majority of the members are aged 35-44 years old
The site claims to have members from all over the world
How does CatholicMatch dating work?
Catholicmatch has many features that allow you to get acquitted to the site. Some of the distinct features include temperament tests to fill your personality, emotigrams- send messages using winks, kisses or emoji, and personal interviews where you get to be judged by other members.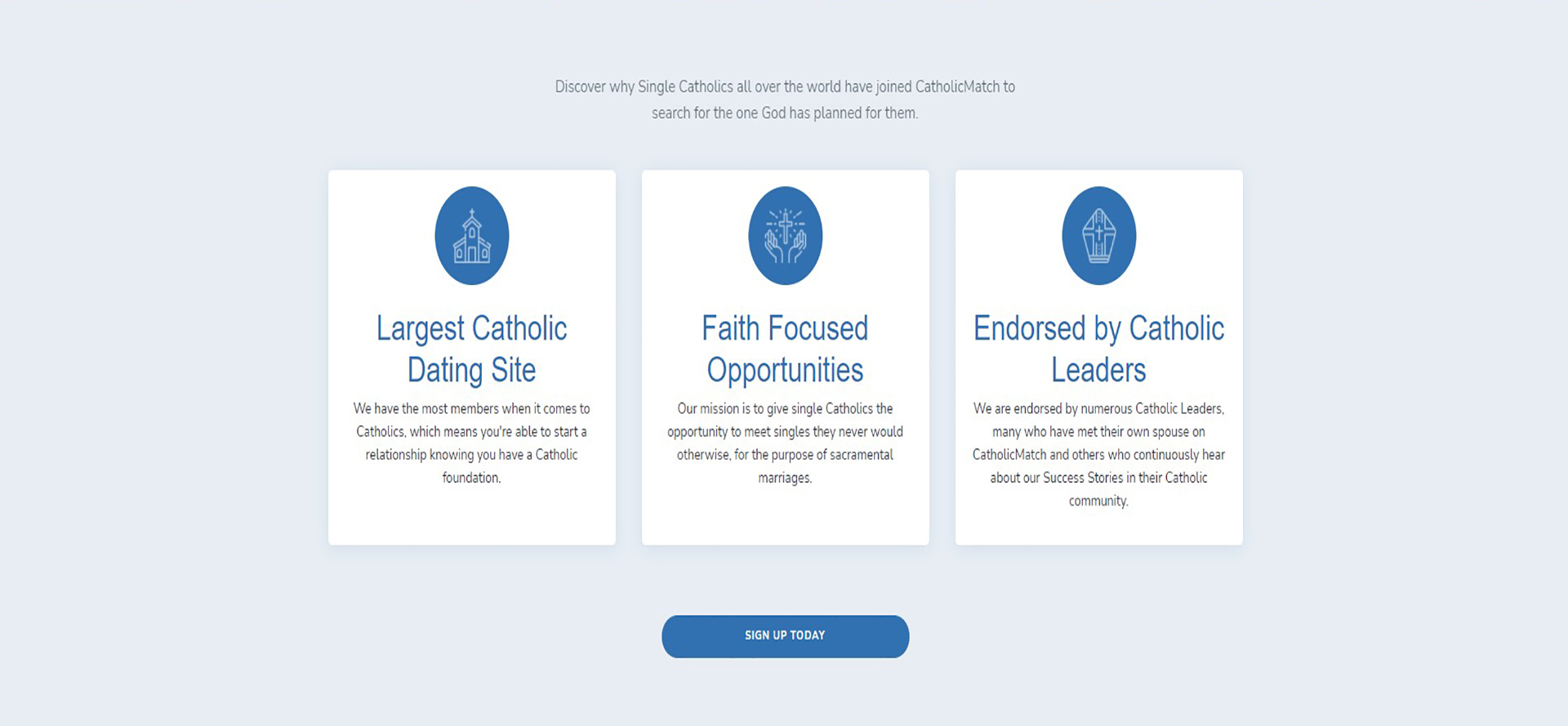 Signing up at CatholicMatch
The sign-up process is seamless, but the questions are tedious. However, it is simple to sign up on this site.
To sign up, you'll require an email or through your Facebook account. Then many questions are asked; these questions are mandatory. The site will require the usual information such as location, gender, date of birth, marital status, and diocese. Other questions will be asked concerning your appearance, lifestyle, faith, food choices, etc.
The about me section will require you to give detailed information of 150 to 2500 characters about yourself. This section is important as you get to search for a match using the provided information. This process is bound to take 20-30 minutes and requires thoughts and views on different topics. Don't feel discouraged by these questions. This process is done to fill your detailed personality, which will be needed in getting you a match.
Profiles quality
The profiles on Catholicmatch are well detailed. This can help interested users get to know you before sending you a message. The photos are viewable to both paid and free members.
The profile that receives more views is those with profile pictures. This image is seen as a sign of expression and authentication of an account. You can post up to 50 photos for everyone to view as they appear on the bottom page of users.
However, you'll need to verify your account using the link sent to your email by the platform. This step is required to authenticate your profile, or it will be seen as fake and deleted.
CatholicMatch app and mobile version
The platform had no app until 2019. This app was launched after compliance and suggestions from users. The app has similar functions to the desktop version, and it is compatible with Android and iOS devices. The app is straightforward in design.
General communications and sending messages
Most parts of the communication are available to paid members only. You can send messages to matches you like and tell them your intentions. If you are confused about what message to send, you can use the emotigrams feature, which lets you send an emoji, smile, or wink to your match. Like early said, these features are only available to subscribed members. But as a free user, you'll have to wait for ten days to be able to read messages sent to you
CatholicMatch Cost
This platform has two categories of members.
Free membership features:
Allows you to have a free profile;
It lets you use the search tab and view profiles;
You can show interest by liking three profiles each day;
You can receive messages and read them after ten days;
The emotigrams is available to free users;
You can read the forum posts.
Premium membership features:
All free features are available to you;
You can send, receive and reply to messages instantly;
You can personalize your messages with emotigrams;
You can view profiles of members that like you;
You can snooze profile;
Post in forums;
Customer support and coaching are available.
Is it free?
Catholicmatch has a free trial which has limited features. However, these minor features can help you reach your perfect match without stress. The free version lets you view profiles and use the emotigrams feature. But you need a paid plan to send a message.
Is it worth paying for?
Catholic match has been in existence since 1999. It was first called SaintRaphael.net. The website has led many Catholics into marriage since its creation. There are many reviews from members on how the platform instigated their relationship.
The platform has over a million users, which creates a pool for a quick potential match. To connect on this platform is easy as the users already have something in common.
Pros
The dating site has been legit for over 20 years
The questions asked make it easy to find a liked mind for you
Your interest is displayed on your profile for easy identification by other users
The site may be old, but the design is up-to-date and user-friendly
Cons
Limited access for free users
You cannot send messages as a free user
The subscription plans are expensive
Conclusion
For more than 20 years, the dating site has provided faith-focused for single catholic reading to marry. The site placed its priority on providing dates with the ultimate goal of getting a sacramental marriage. The site is successful with many users and positive reviews for those who have found love through this platform.
FAQ
Does CatholicMatch have a free trial?
Yes, Catholicmatch has a free trial version. But this version has limited features to navigate. You'll need a subscription plan to send and receive messages or wait for ten days to view messages.
Does CatholicMatch have an app?
Yes, Catholic match has an app. The app is compatible with Android and iOS devices. You can get the app on the play store or apple store, respectively.
Is it safe?
The site has all profiles encrypted with secure algorithms. There are also other measures taken to monitor and track fake profiles on the platform.
Where can I contact CatholicMatch?
You can contact them through their customer survive or send an email to [email protected]. You can also call toll-free Number: (888) 267-8885.
How effective is CatholicMatch?
The platform has recorded several successes in finding the right partners. Many catholic marriages in the US began from this platform.
What regions does CatholicMatch operate in?
Catholicmatch is a worldwide dating platform for people in the catholic faith. However, the platform is populated with many people from the US.