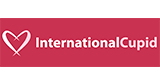 InternationalCupid
User friendly interface
8.0 or 10
Customer service
8.0 or 10
Number of members
7.0 or 10
Quality of profils
7.0 or 10
Saferty & Anti Scam
7.0 or 10
Value for Money
7.0 or 10
Application
Free Plan available
Premium plans
InternationalCupid
InternationalCupid is a popular social dating platform that helps match users worldwide for a good love life. The dating site prides itself as the best platform to match several people from all continents. It boasts thousands of users and a wide membership base. Most matches on InternationalCupid will not be in the same country as you.
InternationalCupid is in the foreign brides' category, and it is a perfect fit for people who don't mind being in long-distance relationships.
Most people you'll find on the InternationalCupid dating site are looking for deep commitments and serious relationships, and they like to date people from other nationalities. So, if your dating interest is in line with the mentioned options, InternationalCupid may be pretty decent for you.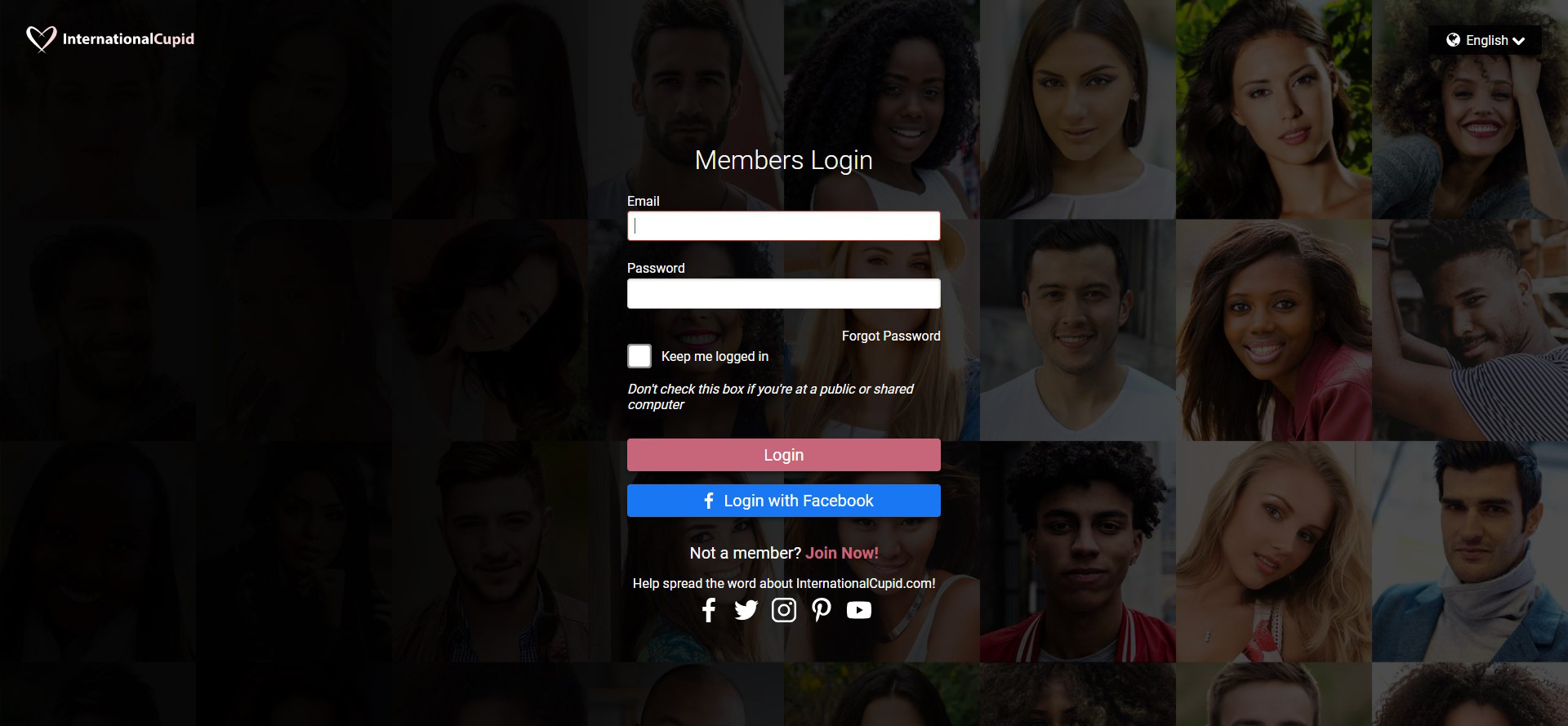 InternationalCupid Review
InternationalCupid started in 2004 out of the Cupid Media Pvt Network. Cupid Media Pvt Network is a big name for niche dating websites, and they are behind popular dating sites like FilipinoCupid, PinkCupid, Filipino Cupid.
InternationalCupid is one of their products that only seeks to connect people worldwide to find love and solace in each other. It is quite easy to use— signing up, creating a profile, finding someone, and planning the meet-up— it's as convenient as it sounds.
We examined the website to figure out the pros and cons of the website by creating an account and exploring it for days. On the positive side, the decent user interface and wide range make it easy to find people worldwide. The home page does not contain adult images; the website supports multiple languages as you'd expect of a site that accommodates users from around the world. The search option allows you to set criteria to filter your search results.
InternationalCupid was created to enable international matchmaking, but a lot of people need more convincing than partners from other countries. Everybody from the other country cannot be a fit, so users need to be able to know their potential matches better. InternationalCupid allows for easy exploration of profiles to even know people a bit more before deciding to message them.
Member Structure
Members activity
1 000 000 active weekly
Members join to find serious relationships with foreign nationalities
Majority of the members are aged 35-44 years old
The site claims to have members from all over the world
How does InternationalCupid dating work?
Using InternationalCupid is a breeze from start to finish. There are only a few basic steps to becoming a member. It is simple, quick to navigate, and appropriate for people of various ages above 18.
After you've created an account, you can begin exploring the platform by looking through profiles and viewing photos. The free plan is useful for learning about the platform and how it works, but membership is recommended to reap the full benefits.
To enjoy the functionality of connecting with the people you desire, we recommend upgrading to a premium membership. The action button is located directly above the contact's profile image.
Signing up at InternationalCupid
Signing up on InternationalCupid is straightforward. On the signup page, fill in the necessary details, which include names, age, gender, email, and password. That's all you need to create an account; it does not require you to verify your account via email. You'll need to provide some additional information to verify your account, but all of that can wait if you are not ready for that yet.
One thing to note is InternationalCupid does not allow you to use a nickname or username; it uses your real name (first name and last name). However, the signing up process makes it so that you're able to explore the site and see if you'd like to continue using it before filling in your verification details.
InternationalCupid also allows signing up with your Facebook credentials. That way, you'll be importing important information from Facebook that can enable better matchmaking for your profile.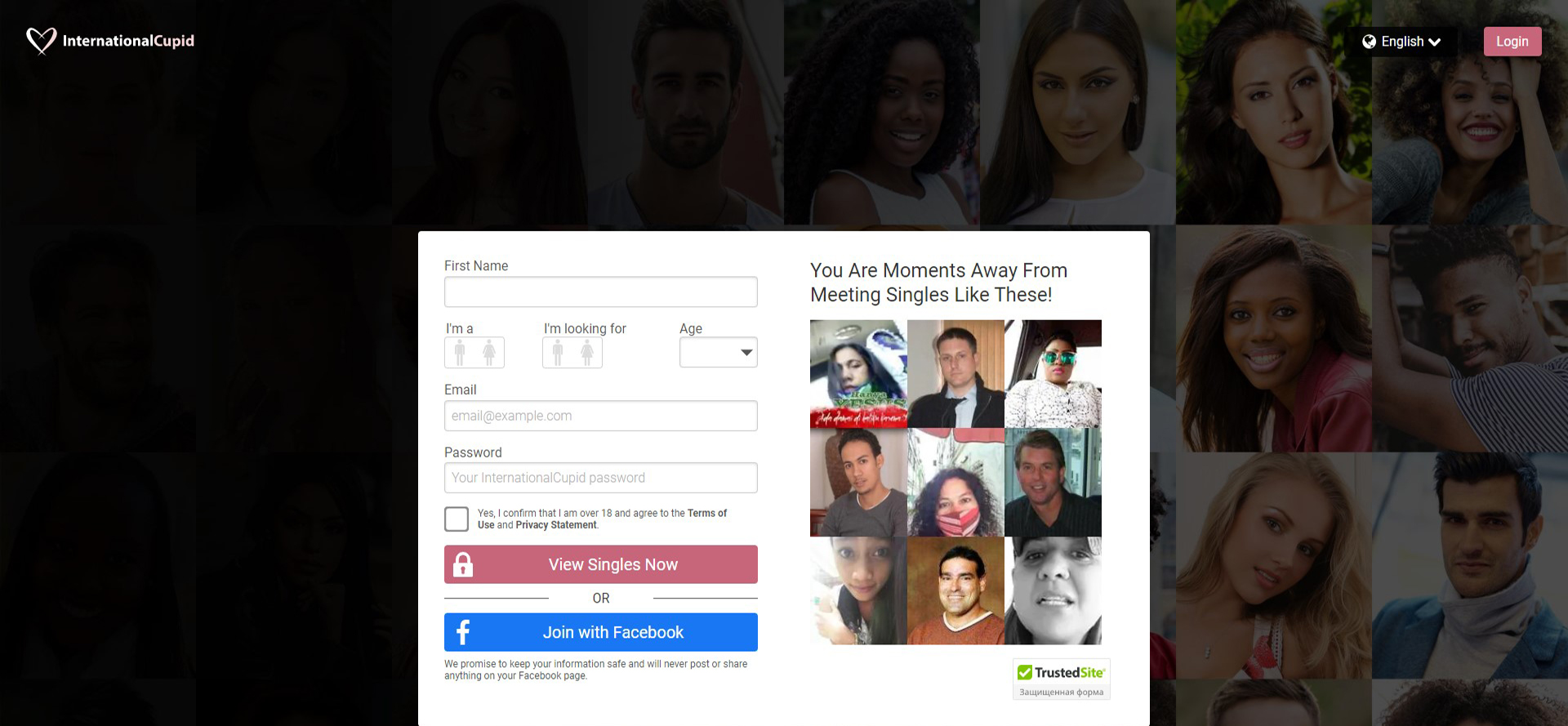 Profiles quality
InternationalCupid profiles are from around the world, but American and European countries have a larger audience. African, Asian, and Latin American countries occupy a significant number of users as well.
You get to explore all profiles, see the pictures, and the extra details whether you are a paid member or not. But we'll advise you to only interact with verified profiles as we found a lot of profiles whose authenticity cannot be verified.
InternationalCupid profiles include a few tabs of information that may differ from another profile depending on how much information the user provided.
An interesting feature is the match indicator— it shows a green circle or a red x to demonstrate how compatible your profile is with the profile you're viewing. In filling up your profile, InternationalCupid convinces you to fill a questionnaire having up to 40 questions. To strengthen the legitimacy of your profile, we recommend that you complete all the questions. It helps the match indicator to be more accurate and helps the site to help you find better matches for you.
InternationalCupid app and mobile version
The InternationalCupid app makes the site available in a more convenient fashion. You can easily access all app features from the menu, and the chat interface looks decent.
The search page provides you new suggestions to explore, and for every profile, there are two buttons that you can utilize to send hearts to users and show your interest in them. The app is only available on Android.
General communications and sending messages
InternationalCupid messages are limited to only hearts if you're not a paying member. Only premium subscribers are allowed to use direct messages and chat rooms for communicating with other members. Free users can however reply to texts; say, you receive a message from a premium member.
InternationalCupid Cost
InternationalCupid dating site offers various membership options. The free version and the premium version offer two options with varying costs and features. You can barely get anything out of a free account other than just roaming the site. The premium plans also vary, but the expensive plans provide a better chance of finding a partner on the website.
Is it free?
InternationalCupid allows users to create an account and explore the website for free. The available features include the basic matchmaking algorithm, replying to text messages, and specifying interest. All other basic features for using the website come on a paid plan.
Is it worth paying for?
You'll have no choice but to pay if you really want to use InternationalCupid, as the features available on the free plan are as good as being a non-member on the site. InternationalCupid costs vary with the premium plan you are going for.
Below is a table of the available plans:
InternationalCupid Platinum
Promo codes and other promotions
There are currently no available promotions for InternationalCupid. You can subscribe to our platform to get updates on available coupon codes and ongoing discounts.
Pros
You can find members all over the world
Available in more than twenty languages
Very detailed profiles
Translation Abilities
Cons
No app for IOS users
Messaging isn't free
The standard membership plan has a limited feature set
Conclusion
InternationalCupid is a popular dating platform for finding people in diverse nations. The site grew into popularity due to increasing reviews from users that suggest it has helped with matchmaking. It looks like a decent website, considering the membership pool and the available features it provides to facilitate dating across countries.
FAQ
Does InternationalCupid have a free trial?
The free trial on InternationalCupid is different. The page says try it for free now and allows you to proceed with a free account. There's no expiration on the account as you're not getting any premium features.
Does InternationalCupid have an app?
Yes, the InternationalCupid app makes it easy to use the site. It is only available on Android, and we may expect an iOS app in the future. Using the features available on InternationalCupid is convenient on the app.
Is it safe?
InternationalCupid has some measures that help to ensure safety and security. On the user's side, you can report and block accounts to ensure you keep yourself. On the platform's side, user data is kept safe from theft or attacks.
Where can I contact InternationalCupid?
You can contact InternationalCupid on their various social media and support platforms. The customer service is highly responsive and can attend to all your issues. Find the contacts on their website.
How effective is InternationalCupid?
Several reviews online testify to how effective InternationalCupid is in finding partners. The website also allows you to explore profiles and see for yourself. You can decide for yourself at that stage if it's fit for you before making payments.
What regions does InternationalCupid operate in?
InternationalCupid operates from Australia, but they accommodate users from all over the world. The website even allows you to find people from specific nationalities with the search filter feature.