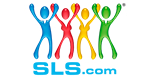 SwingLifestyle
User friendly interface
9.0 or 10
Customer service
8.0 or 10
Number of members
8.0 or 10
Quality of profils
7.0 or 10
Saferty & Anti Scam
7.0 or 10
Value for Money
8.0 or 10
Application
Free Plan available
Premium plans
SwingLifestyle
As the name suggests, it's all about the swing lifestyle. Swinging is a popular culture that's getting adopted in the modern world. It's the site for people who are looking for casual hookups and erotic adventures. In most cases, couples are looking for a couple swap or threesome. SwingLifestyle deals with alternative lifestyle dating and helps people explore sexual experiences with other people, such as threesome, orgies, partner swapping, and the lights.
Even in a world that's beginning to adopt this trend, there's stigma around issues concerning sex, so online may be the best place to hook up and find people to have sex with you for fun. SwingLifestyle is not the place to look for serious relationships. People who use SwingLifestyle are often couples who want to have an outsider for greater fun.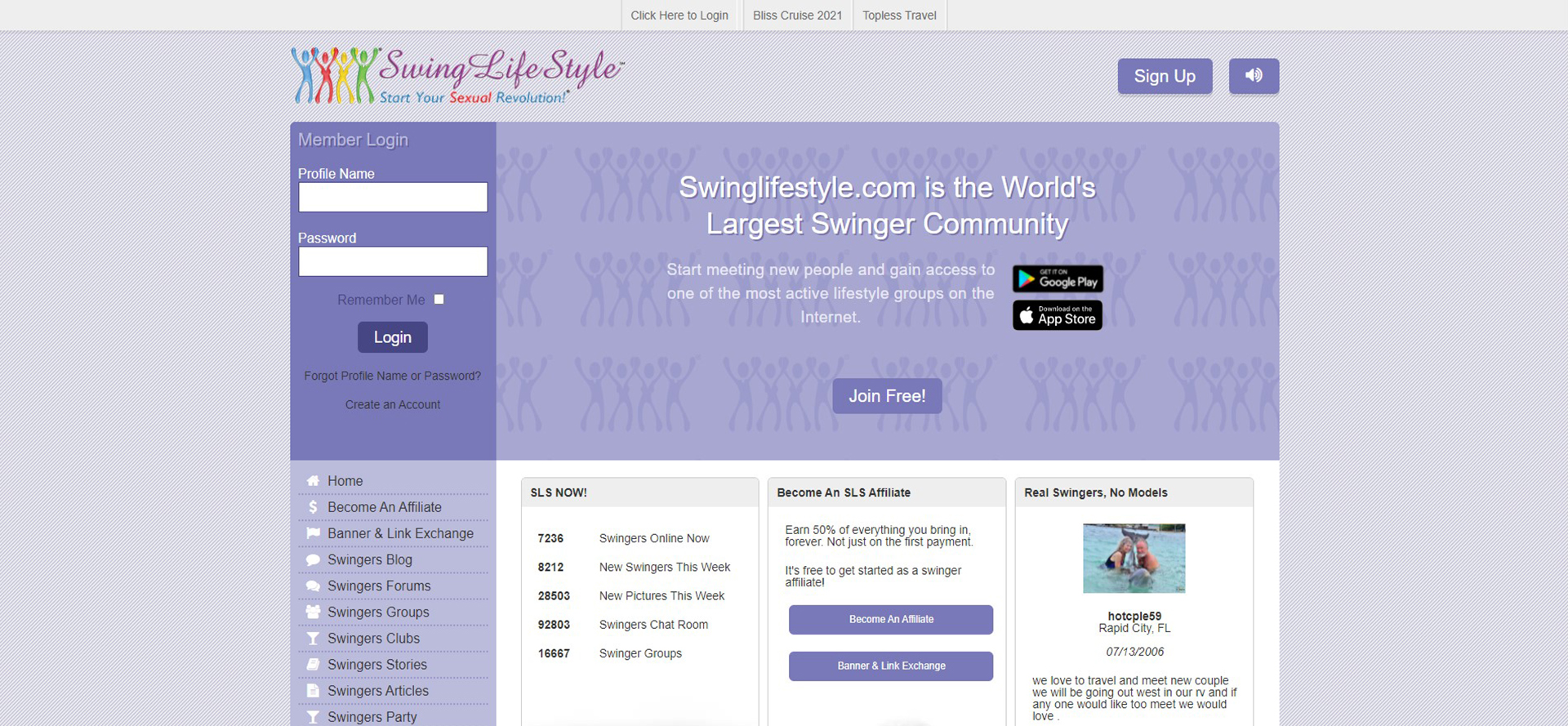 SwingLifestyle Review
SwingLifestyle is a niche website that started in 2001 for people who are into swinging. It's safe to say the membership community has grown since then, and the site is great at what it does. Although the membership is still small, SwingLifestyle is popular amongst people of interest in swinging. The site's tagline says "Start Your Sexual Revolution," and it's a testament to the website helping people break the yoke around sexual activities and the way it's carried out.
On examination, the website looks pretty decent. The interface is user-friendly and easy to understand. And at any point in time, there are thousands of users online. You get the chance to explore profiles, send and receive messages, over 300 chat rooms and forums, and an official mobile app for the convenience of use. However, messaging is not entirely free, plus several features that you can obtain from conventional dating sites are unavailable.
Member Structure
Members
3 000 000 from USA
Members activity
5 000 000 active weekly
Members join to find sexual adventures and casual dating
Majority of the members are aged 25-44 years old
The site claims to have members from all over the world
How does SwingLifestyle dating work?
SwingLifestyle helps people who are interested in non-traditional dating to connect. Users are allowed to make arrangements and find other users easily. The search feature has a filter to find users based on gender, age, and location. Advanced features provide more options to help you find your perfect match.
It offers special features like HotDate that help you create a public calendar to highlight your free days and may be up for a date. There is also a US map where you users can find and get access to clubs in their area that supports swingers' lifestyle. SwingLifestyle also has its own Travel Agency that makes swinger meet-ups and cruises very easy to set up.
Signing up at SwingLifestyle
You can sign up on SwingLifestyle without paying a fee. On the signup window, the process is straightforward, and you can easily decide what to do from there. You'll fill in your username, location, age, email address, gender, and password. You'll receive a confirmation link in your email. As soon as you confirm it, you have become a member, and you can safely store your SwingLifestyle login.
It registers only users above age 18 and does not allow registration with social media accounts. You can change some of the details you provided later, including your password. But the username cannot be changed. You'll have to open another account if you wish to use another username.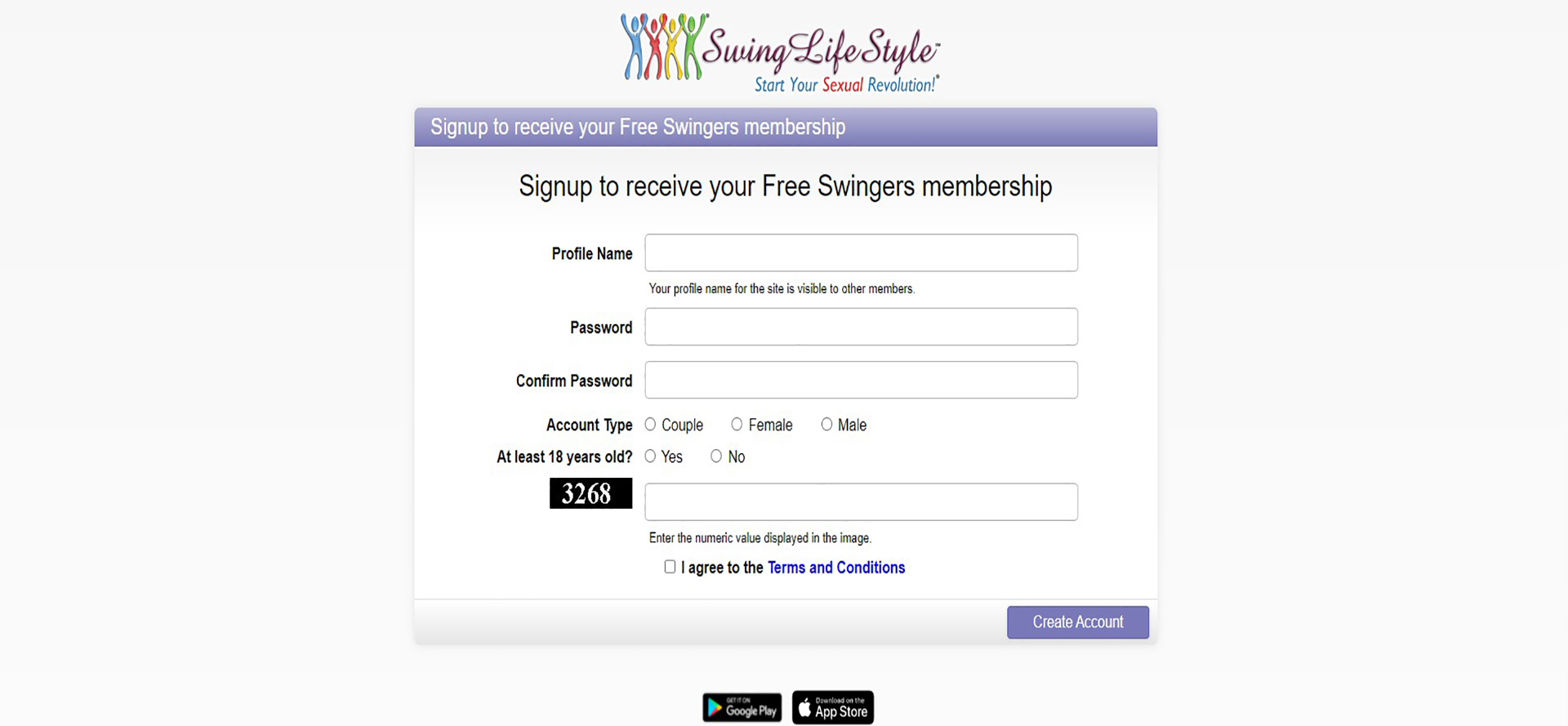 Profiles quality
SwingLifestyle profiles are very detailed, and you can get to explore as many profiles as you want with a free account. Male users dominate the site, and most users are around age 25 and above. You get to see and connect with free and premium members, but some premium members can restrict free members from viewing their profiles. Nudes are also blurred from free members.
Features like free member restriction help a profile to be found only by serious users. SwingLifestyle has mods who check and delete fake profiles. It helps to keep the site safe for users. On your SwingLifestyle profile, there's a lot to fill in; you can fill in many details to help your potential matches understand you better. You can set visibility to however it suits you and how you'd like to manage your privacy.
SwingLifestyle app and mobile version
The SwingerLifestyle app recently became available on Google Playstore and iOS AppStore for Androids and iPhones, respectively. Before the app, users could not use the site at their convenience. The interface of the app is colorful and user-friendly. However, there is that, and there is also the mobile version of the site.
General communications and sending messages
SwingLifestyle messages are fully available to premium users. It gives you a pop-up like regular messaging platforms. These features are limited, and free members can only send a specific number of emails..
Communication is a way to know if you're chatting with a premium member. So in a way, it's a sign that it's a real account, and the person may be serious about hooking up with you.
SwingLifestyle Cost
SwingLifestyle costs no fee on a basic account, and it could be what you need to start with. Before you pay any amount, create an account and see if the site looks promising for you. You can get some decent features on a basic account, and it should not be hard there to know if you want to explore the premium features.
Is it free?
SwingLifestyle costs no fee to create an account, fill your profile and use the site to some reasonable extent. However, you are limited to a free account. As a free member, you get to send five messages and only check 50 profiles per day. You cannot access adult images, and some of the things you can do in chatrooms may be limited.
Is it worth paying for?
After some moments of using a free membership, you should tell if it's worth the payment. If you have the money to spare, a premium account gives you unlimited access to SwingLifestyle's features. Here's a table of SwingLifestyle costs for premium membership.
Promo codes and other promotions
We currently do not have details of an ongoing promotion for SwingLifestyle. You can subscribe to us here to get notified when there are available discounts and coupon codes.
Pros
One of the largest and trusted website for swingers community
Ability to block members
Regular trips and swinger cruises
Lifetime membership option
Cons
Free members can't messaging
Absence of video chat
The website design looks a bit old fashioned
Conclusion
If you and your partner are looking to explore swinging or have another person join you for some sexual exploration, SwingLifestyle is a safe place. The site offers a lot of features that allow matching to the meet-up so seamlessly. It's meant for everyone, and you can find just that person that spices up your sexual experience with or without your partner.
FAQ
Does SwingLifestyle have a free trial?
SwingLifestyle does not have a free trial. It only allows users to create an account for free and use its features on the free membership. You can be on free membership as long as you wish.
Does SwingLifestyle have an app?
The SwingLifestyle app recently became available for smartphones. It provides a convenient medium to access the site regardless of where you are. You can find the app on Google Playstore and iOS store.
Is it safe?
Yes, SwingLifestyle is safe to use. The site uses an encryption system that protects users' data from cyber-attacks and does not use data in a way that violates the privacy policy. Mods on the site also help to eliminate fake users who may steal an identity.
Where can I contact SwingLifestyle?
You can contact SwingLifestyle from their available channels; The customer services are always available for support. You could also reach out casually to their social media pages.
How effective is SwingLifestyle?
SwingLifestyle reviews online suggest that the site is effective at helping people find matches. Some reviews also say it is not. What's important is to see for yourself and find out if it's worth it before making payments.
What regions does SwingLifestyle operate in?
SwingLifestyle operates everywhere around the world. The site is dedicated to helping you find matches from around and even far away. It has a travel agency that can help you sort the aspects of meeting up for dates.