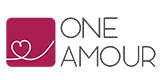 OneAmour
User friendly interface
9.0 or 10
Customer service
7.0 or 10
Number of members
7.0 or 10
Quality of profils
8.0 or 10
Saferty & Anti Scam
8.0 or 10
Value for Money
9.0 or 10
Application
Free Plan available
Premium plans
OneAmour
OneAmour is an international dating site that helps connect millions of people looking to find true love. Categorized as a personals online dating service, it was designed and constructed for those that want to create deep and long-lasting relationships. Many of its audience are youngsters from the age of 24 to age 35. It is also notable to mention that the website has a goal to suit everyone`s need. On the other hand, LGTB users might not find this dating service profitable. However, this dating site has intarface in various languages, such as French, English, Greek, Hebrew, German, Italian, Russian, Spanish, etc. Find out more about OneAmour in our detailed dating site review below.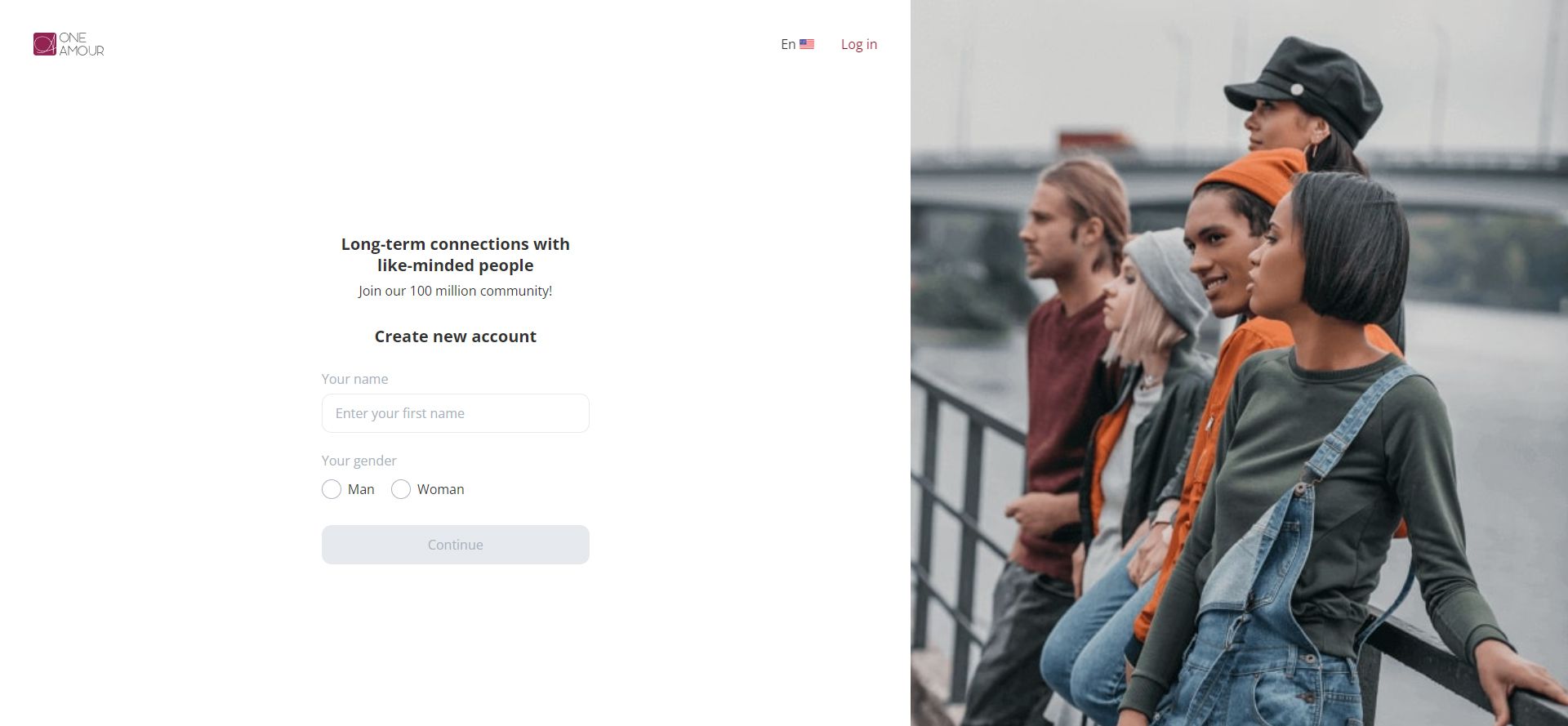 OneAmour Review
OneAmour is a paid dating service on the internet with a global presence, serving as a dating platform for millions of active users from Latin America, Italy, Russia, Germany, France, and countless other countries. Though most members are male, the margin between both genders is only by a little. Also, the main goal of the OneAmour dating app is to connect one man to woman for a serious relationship. Hence, those looking for more short-term commitments like hookups and one-night stands might not find OneAmour helpful. The same goes for LGTB community. However, OneAmour contains some addictive features soon to be discussed within this review.
Visit Site
Members Structure
Members
1 000 000 from all over the world
Members activity
100 000 active weekly
Members join to find serious or casual dating
Majority of the members are aged 25-34 years old
The site claims to have members from all over the world
How Does OneAmour Work?
The platform is somewhat similar to many other online dating sites with only a few differences. After loading the site on any mobile or desktop device, the homepage of the dating site opens up with an indication to sign in either as a new or an existing member. After filling in the required credentials, users will be allowed to open the OneAmour messages to chat with other users of the opposite sex, look for possible matches using the OneAmour match search tag.
Signing Up at OneAmour
Registration is restricted to only those above the age of 18, and it takes about 3 minutes. The sign up process begins with filling out your gender; then followed by forms to fill out your name, birthdate, educational status, occupation, whether or not you have/want kids, whether or not you smoke/drink, beliefs, likes, and spoken language. You also will be asked to pick the preferred height of your match and age range. Then finally, you would have to provide your email address for it to be verified, upload your photo (it can be skipped), and that's all there is to it. Though you would be able to access the OneAmour login as a registered member, you might not be able to access many of its features unless you pay for a OneAmour premium membership.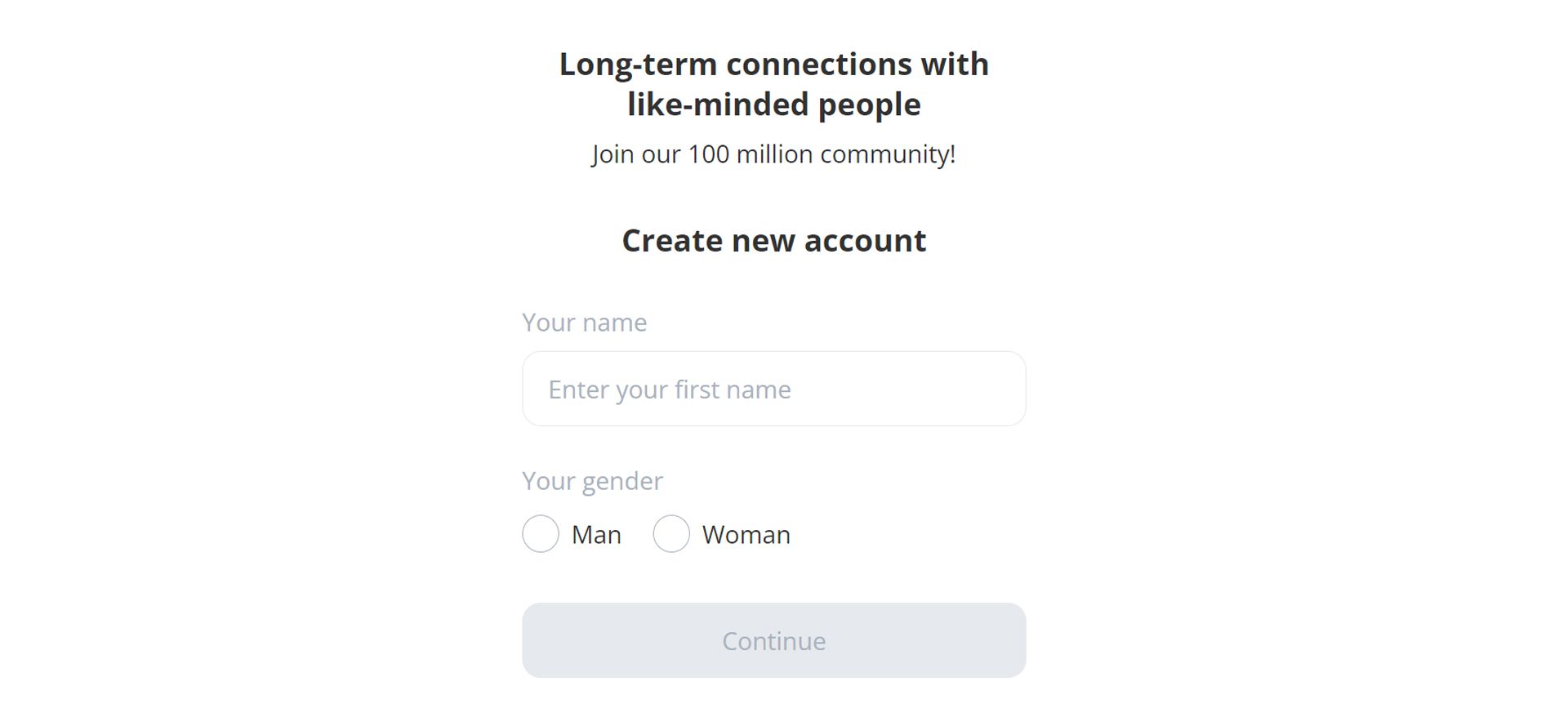 Profile Quality
One thing that makes OneAmour profiles authentic for many users is that most of the required information is included during the sign-up process. There is also a compatibility score on other accounts. OneAmour match search tool helps you rate how many details are similar to other members. If you desire to attract more users to your form on OneAmour, one way is to add more information to what has already been provided.
OneAmour App and Mobile Version
Unfortunately, OneAmour does not have an official app available for download. The OneAmour mobile is compatible with mobile devices. Also, its version is accessible through IOS and Android devices for free.
General Communications and Sending Messages
OneAmour offers a lots of features for communication like direct messaging, sensing of stickers, showing interest in another user's form, and so on. Though the direct message is the fastest way to communicate, it can only be done by premium users. However, OneAmour trial, users can show interest in another user by sending notifications to gain attention, pre-compiled greetings to others, or stickers.
OneAmour Costs
OneAmour has a payment plan that encourages members to subscribe for more features.
Is OneAmour Free?
OneAmour is a premium dating site. Some features are avaliable for free, especially for those looking to first scan through the dating service before investing. The OneAmour free features are:
Signing up: Users can register at the website for free.
Search Filter: It can be accessed without payment, and it allows users to scroll through numerous profiles under several search filters like location, gender, and age range.
Is OneAmour Worth It?
Since OneAmour is a premium dating site, it has more paid features than free. In most cases, the dating site is more fun and functional when it is paid for than when it is not. This is because more features can be accessed and communication with other users becomes less difficult. The following features are what come with the premium version:
Sending direct messages.
Sending real surprises to other users.
Profile boosting to attract more real profiles.
Private chat with support manager in case of any enquires.
See who liked your profile.
See all profiles and private photos.
To access these profits, check plan options you can choose from:
OneAmour
3-day trial membership
2.99$
Oneamour Promo Code and Other Promotions
As of the time that this review was collated and written, OneAmour does not run any ongoing promotion or have any promo code
Pros
There are options to block other users in case they are being annoying
Options are available to send virtual gifts or invite users for private chats
Profile pictures and user emails are manually approved and confirmed to prevent explicit images, fake and fraudulent accounts
Cons
It only caters to heterosexuals
No privacy mode for free registered members
You will have to make payments in order to use some features, for example, sent virtual gifts
Conclusion
OneAmour is an efficient dating site that helps connect people all over the world. Though it is not for OneAmour hookups, those looking for true love can find this site helpful. OneAmour success rates are also impressive with good profile quality and many tools for communication. To sum up, the OneAmour dating site has some cons but it is still an effective service with minimal OneAmour scammers.
FAQ
Does OneAmour have a free trial?
No, it doesn`t. OneAmour trial is available for users to try out the services before investing in a membership plan. The trial period lasts three days and costs $2.99. During this period, all the paid features will be available for use.
Does OneAmour have an app?
OneAmour currently has no mobile app. However, users can still access OneAmour using any mobile device.
Is it safe?
OneAmour takes the privacy of its users seriously. By verifying email addresses, it reduces scammers to a minimum.
Where can I contact OneAmour?
OneAmour customer service is avaliable through different mediums. It includes their support email address and live chat. Premium users can also chat with the support team privately through private support chat.
How effective is OneAmour?
OneAmour is an efficient dating platform with good profile quality and tools. It is easy to match and connect people with like interests.
What regions does OneAmour operate?
Though OneAmour is famous in Peru, Russia, and Ukraine, it operates across various countries. Some of the them include Germany, Greece, France, and Spain.