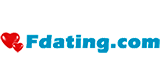 Fdating
User friendly interface
8.0 or 10
Customer service
5.0 or 10
Number of members
7.0 or 10
Quality of profils
7.0 or 10
Saferty & Anti Scam
8.0 or 10
Value for Money
7.0 or 10
Application
Free Plan available
Premium plans
Fdating
Fdating.com is one of the major free dating sites where you can meet and connect with people across the world. It is a multilingual platform that supports various languages like English, Chinese, Spanish, French, Polish, Romanian, Greek, e.t.c. The platform is available to residents in all countries throughout the world.
The website's primary aim is to make it easy for singles worldwide to connect without paying a fee. This particular feature of free services makes it stand out amongst every other dating site on the internet today. There are no restrictions to all provided features, and all users can enjoy the website freely.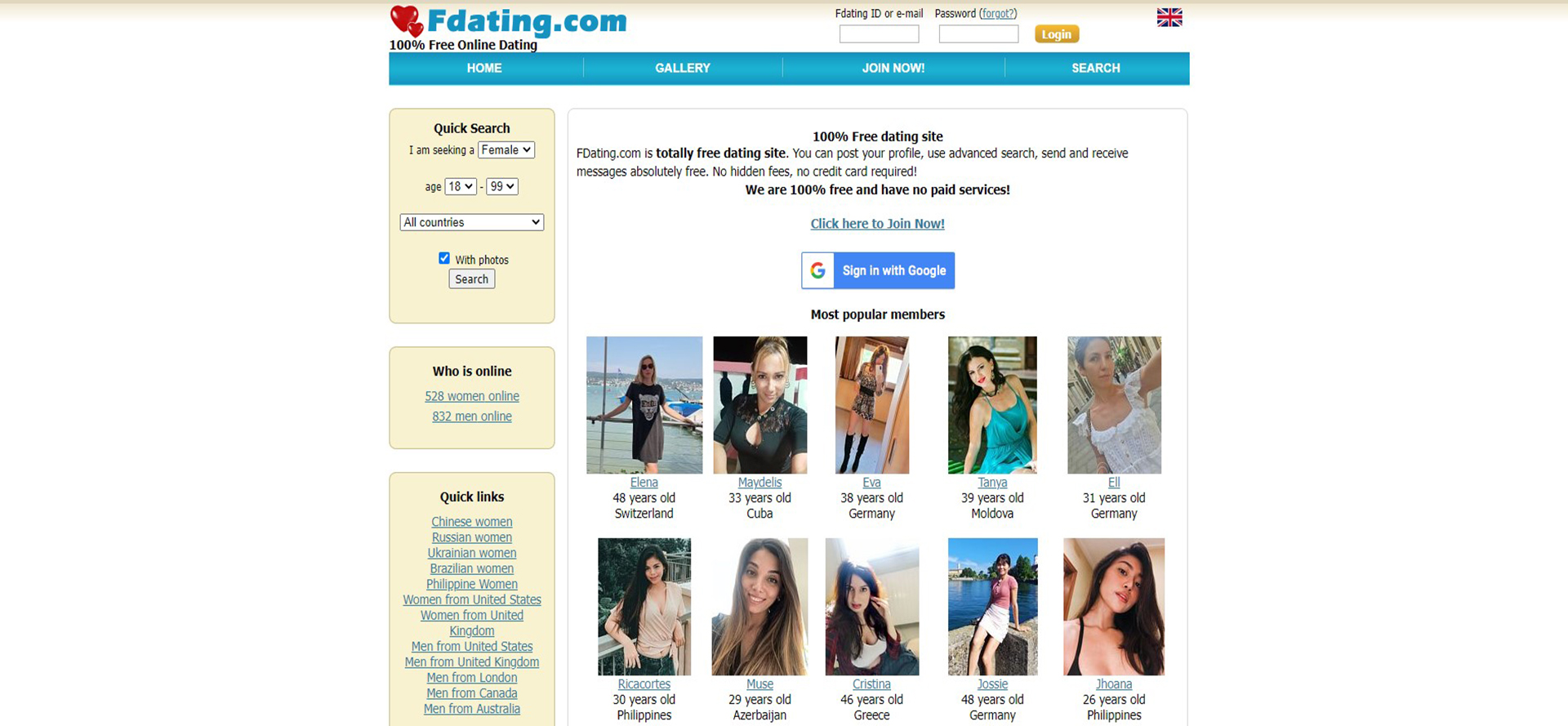 Fdating Review
Although the Fdating site does not have as many exciting features as most dating sites, the platform has unique features that would surely boost your experience. The platform has an extensive user base, making it easy to find the right person with ease. Although most of the female users on Fdating are Russians and Ukrainians, the platform operates worldwide with unlimited access.
The majority of young people cannot access some dating sites due to high expenses and credit rates. With Fdating, such issues do not exist as messaging and other features are free of charge.
The Fdating website does not operate under a lot of restrictions. However, you have to be at least 18years before you can sign up on the website—fdating membership cuts across all age groups above the age of 18.
The gender proportion is a mixture of both sexes. However, there are more female members than male members on the Fdating site.
Member Structure
Members activity
1 000 000 active weekly
Members join to find serious relationships or hookup
Majority of the members are aged 35-44 years old
The site claims to have members from all over the world
How does Fdating work?
Fdating has a relatively simple and easy registration process; you can easily create your Fdating account on your mobile device. All you need is a fast network connection and your device to access the website.
Signing up at Fdating
To register on Fdating, all you have to do is visit the Fdating homepage. You can decide to sign in using the homepage or the mobile app. When you start the registration, you'll need to input some personal information that will be used to create your profile for you. Some of this information includes name, gender, country, username, the email address. After which, a confirmation code not less than six digits will be sent to your email address for verification purposes.
Input the 6digits code, and read through the terms and conditions before you proceed. Once you click on continue, follow all guidelines listed on your screen to set up your profile.
The process of registration is not lengthy and should take you a maximum of 10minutes. Individuals cannot be eligible for Fdating membership without registering. Additionally, users below the age of 18 are not qualified to register on Fdating. According to Fdating reviews, the website is compatible with all browsers, making the sign up process much easier.
After signing up, to verify your account, link your email address to your already registered account.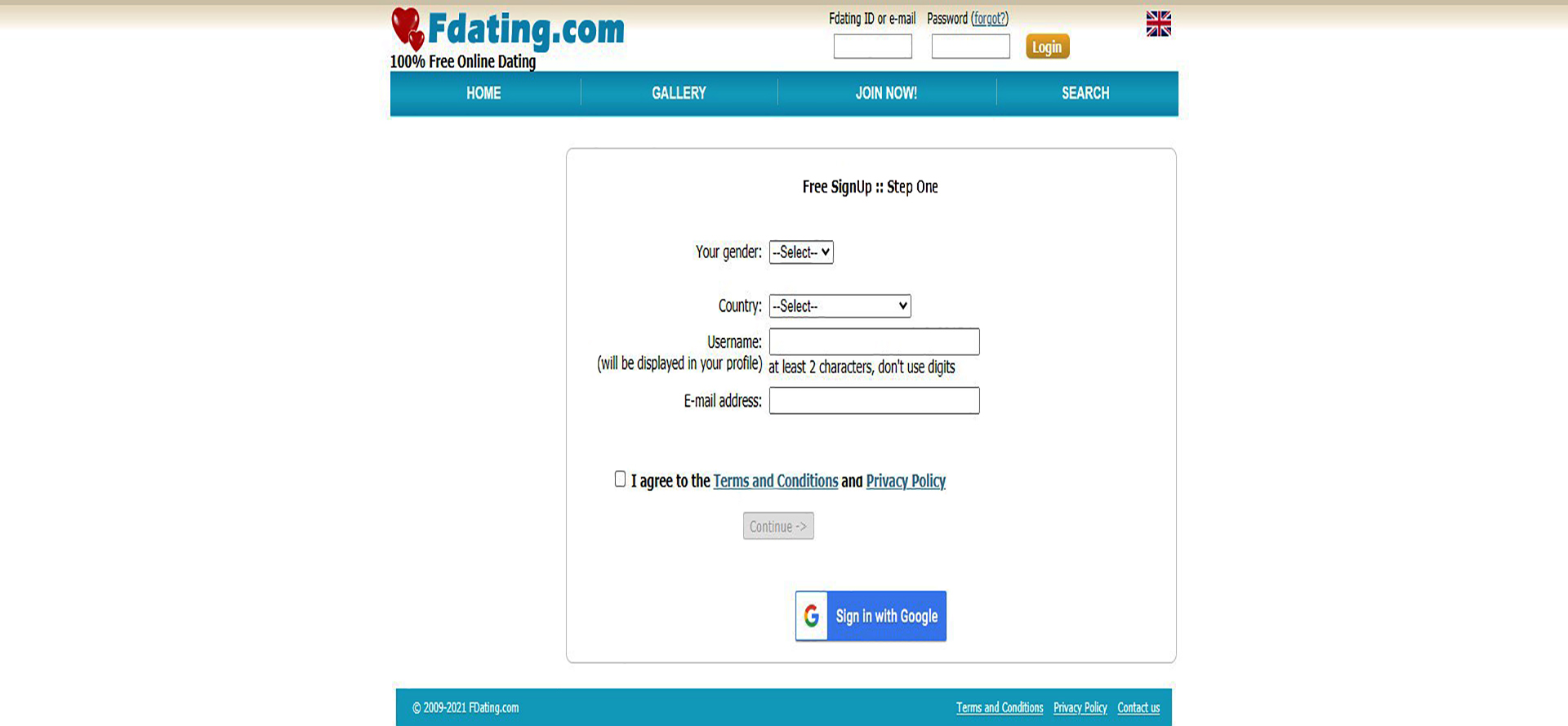 Profiles quality
Fdating is not entirely like every other dating site, as it contains less exciting features. However, members are still guaranteed a smooth experience while using the platform.
The Fdating site has a unique feature that allows you to favorite members you like and start reaching out to them whenever you want. This particular feature is helpful in times when you see the profile of a member you'd like to connect with, but you're occupied. Saving the user's profile will make it easy to visit them at any time you're ready to.
Mail filters are another element of interest on Fdating. It allows you to filter your messages by country, age, and other parameters of interest. This feature allows you to arrange your messages exactly how you like them. Also, on the Fdating site, you can choose any language of your choice at intervals while you enjoy smooth communication with no restrictions.
Fdating app and mobile version
Fdating has both the app and mobile versions. You can decide to sign using the mobile or download the app. The mobile version is compatible with almost all browsers, and the mobile app is available on the Google play store.
Both platforms are great ways to explore all provided services of the Fdating site. You can choose the best option that works for you, depending on your preferences.
General communications and sending messages
Sending messages on Fdating is not challenging at all. All you have to do is visit the user's profile you're texting and click on the "send message button." The process of sending messages costs ultimately less, and you do not need to be bothered about the expenses.
The Fdating website sends you a notification whenever you get a message. If a user doesn't want to receive such information, some modalities or changes can be made on the site. To get started, click on the link "mail forwarding" located at the top of the page, and follow the next set of instructions provided for you.
Also, the website has a "block" feature that helps you restrict users that send unwanted messages. You can choose to use the block button on any user sending you unwanted messages.
Fdating Cost
The Fdating website does not have any paid features. So you do not need to spend money before meeting your dream partner. All members have equal rights to access the available services, and it is not fee-based.
Standard membership is free of charge; there are no extra charges on the Fdating website. Features attached to every standard membership includes:
Registration;
Setting up a profile;
Using the search filters;
Browsing all user profiles;
Sending messages;
Adding selected members to your list of favorites;
Blocking unwanted users.
Promo codes and other promotions
Currently, there are no available details on Fdating promo codes and promotions.
Pros
Accessible in many languages
Simple and easy sign-up process
Good balance of men and women
You can see how many members are located in your city
Cons
There is a chance of fake profiles
User interface and design are very outdated
No app for mobile users
Conclusion
The variety of online dating sites nowadays is wide, and many of these platforms all have exciting features. However, there is always a limitation to these features as most of them have to be paid for. With Fdating, exploring a list of global connections has been made easy and accessible for you.
Making lifelong connections doesn't have to be a hassle. Fdating is an easily accessible dating site where you can meet people from every region, at zero cost.
FAQ
Does Fdating have a free trial?
Fdating doesn't only have a free trial; every other feature on the website is free. I know it sounds a little unreal, but that's how baffling the offer is. Sign-up is free, so is setting up a profile and connecting with many beautiful users on the site.
Does Fdating have an app?
Fdating does have a mobile app that works. The app is available for download on the Google play store. However, it is uncertain whether there is a version made available for Ios users. There is no information given as regards that.
Is it safe?
Like every other dating site, users are not 100% safe on the website, as users often complain about fake accounts and bots. However, the administration ensures that all user information is confidential. Your data is safe with Fdating, and there are no risks whatsoever to your personal information.
Where can I contact Fdating?
The Fdating website doesn't list any contact information, and there are no details of how they can be contacted. There is no email address, and it's unsure whether they have customer care representatives you can reach out to.
How effective is Fdating?
While some people have positive reviews about Fdating, some users have many negative remarks concerning how effective the platform is. You can never be too sure of how effective the site is until you start using it yourself.
What regions does Fdating operate in?
Fdating is available in every region of the world, and the website operates worldwide. However, the majority of the female users are Ukrainians and Russians.