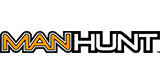 Manhunt
User friendly interface
8.0 or 10
Customer service
7.0 or 10
Number of members
8.0 or 10
Quality of profils
9.0 or 10
Saferty & Anti Scam
8.0 or 10
Value for Money
8.0 or 10
Application
Free Plan available
Premium plans
Manhunt
Manhunt is a dating service that offers gays a one-time affair and casual relationship. The site features are incredible and enjoyed by over 6 million people. The dating site kicks off in 2001 as a telephone dating service. So far, it has gained more attention due to its explicit features for gay hookups.
It would help if you kept in mind that the site contains a fraction of pornography. If you are looking for a one-night experience with a gay buddy, then this is the site for you. This article spells out Manhunt prices, the registration process, and more.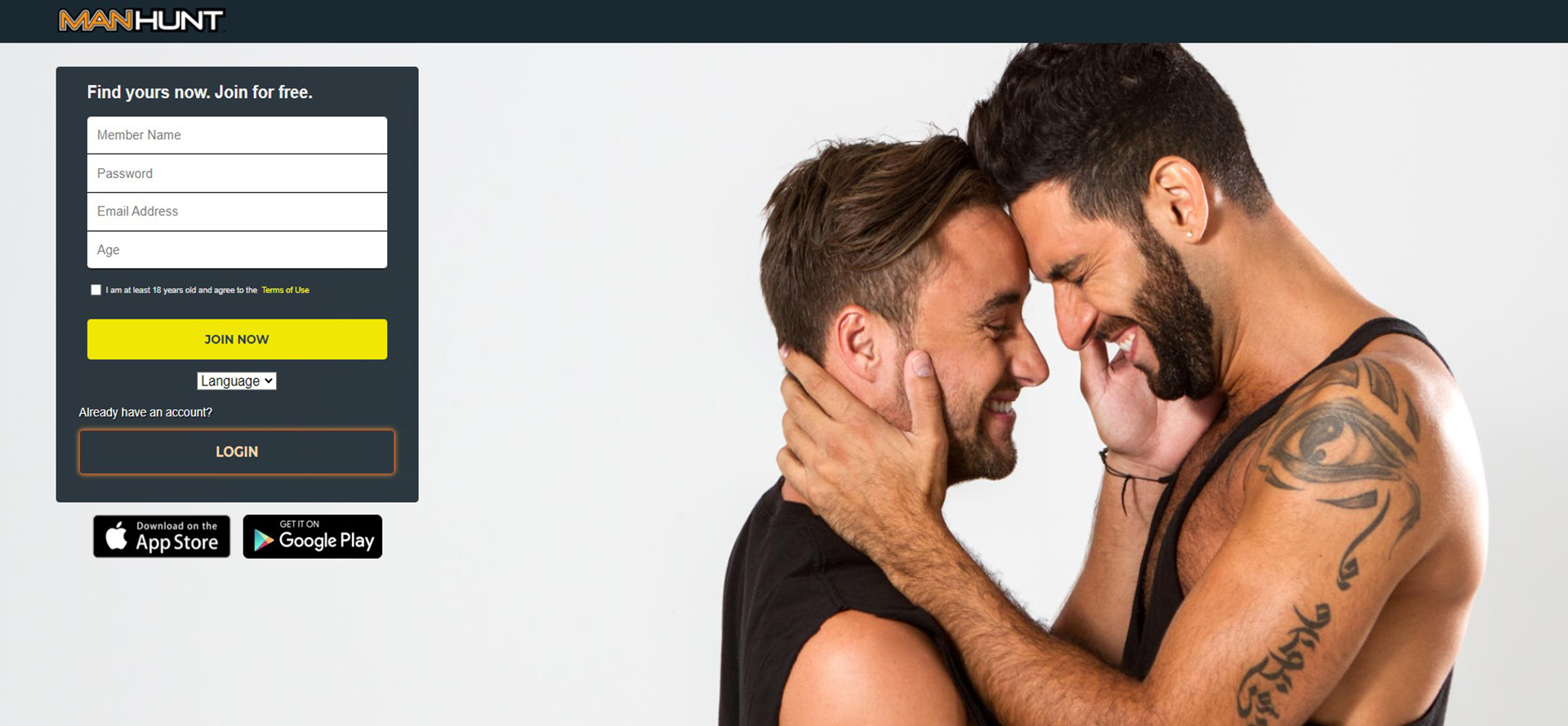 Manhunt Review
The site is more focused on casual dating as specified during registration. The site is mainly for one-time flirting and hookups. The site is primarily for those interested in such types of relationships. However, you can also get into serious dating through this site.
Manhunt comes with unique features. Although the exclusive features are enjoyed mainly by premium plan members, the free plan also comes with some basic features to meet your perfect match. Manhunt is a bit different from another site in its details; to give you all the experience you are getting into. Manhunt can get you a global or local relationship with access to a broader community.
How does Manhunt dating work?
Manhunt has more than 400,000 members in the US. About 80% are looking for a casual relationship giving a world of opportunity for gay members. The site has users from above 18 to over 50 years of age. The app accepts members of all ages.
Some of the main features of Manhunt include:
The site grants access to search for singles close to you;
The site offers a friend list to members for free compare to other dating sites;
Fake profiles on Manhunt are easily fished out due to its algorithms.
Signing up at Manhunt
Registering on Manhunt dating site is quite simple. The website asks specific questions such as the size of your *Ahem* parts, circumcision status, and many other appealing questions. The type of questions depends on the category of interest. Manhunt has tons of filters to quickly match you with your partner and provide you a one-night stand of your dream. You can start your Manhunt after a 5-10 minutes sign-up.
The registration process is free and clear. After filling in the crucial details, you can start searching for your match and complete the profile later.
Signing up

The registration will require your username, valid email address, your present age, and rememberable password. You can manually fill in your location or allow Manhunt to find your location automatically.

Uploading your picture

A beautiful and clear profile pic will be required. You can upload a profile picture and later add 15 other photos to your profile.

Building your profile

After creating a profile, you can start looking for a match. But you'll be more successful if you provide short detailed information about yourself such as your height, weight, hair and eye color, and your exciting kinks.
Profiles quality
The information required may be tedious to the user. However, you should know that the site needs this information to sort out your match quickly. It is advisable also to include your sexual preferences, which will impact the type of match you attract.
Member Structure
Members activity
1 200 000 active weekly
Members join to find one-time affair and casual relationship
Majority of the members are aged 25-34 years old
The site claims to have members from all over the world
Manhunt app and mobile version
Manhunt is compatible on desktop as well as the mobile platform. The desktop version has a dark color customized to your taste, and many members mainly use it.
You can also use the mobile version to communicate. However, the app needs to be downloaded to your Android or iOS device. The features on both do not differ much. You can easily navigate through the mobile app using the icons on display. These categories include:
Searching;
Favorites;
Notifications.
Other features can be searched in the icon named toolbox on the page. The app has one setback, which is that you cannot turn on notifications. Thus you have to log into the app to check your messages constantly.
General communications and sending messages
Manhunt has easy ways of communication either through direct messaging or through GIFs. You can also call your interlocutor via the web camera. However, you can't send a message while on call. The app allows free and paid members to send messages. Still, the video call is only available to paid plan members.
Contacting a user on manhunt is easy. Locate the profile and use the message, wink, or add a buddy to your contact list. Click on send a message or any of the options to start a chat with a user.
Manhunt Costs
There are free and fee-based services; the free service, of course, comes with limitations, the fee-based service doesn't come with restrictions. It also comes with additional unique features that ensure premium user experiences.
Is it free?
Manhunt has a lot of free features for members to find their suitable match. These features include texting, winks, upload 16 pictures, and a basic search. You can also post and comment on blogs and forums.
Is it worth paying for?
Manhunt is easy to use and can quickly get you an interlocutor. The website has millions of users in the world, creating a vast opportunity to connect. You can make casual friends, serious friends, and get support from friendly people on this website. The developers took a lot of time to secure the site from scammers and the protection of information. A member can only know you if you choose to share your information.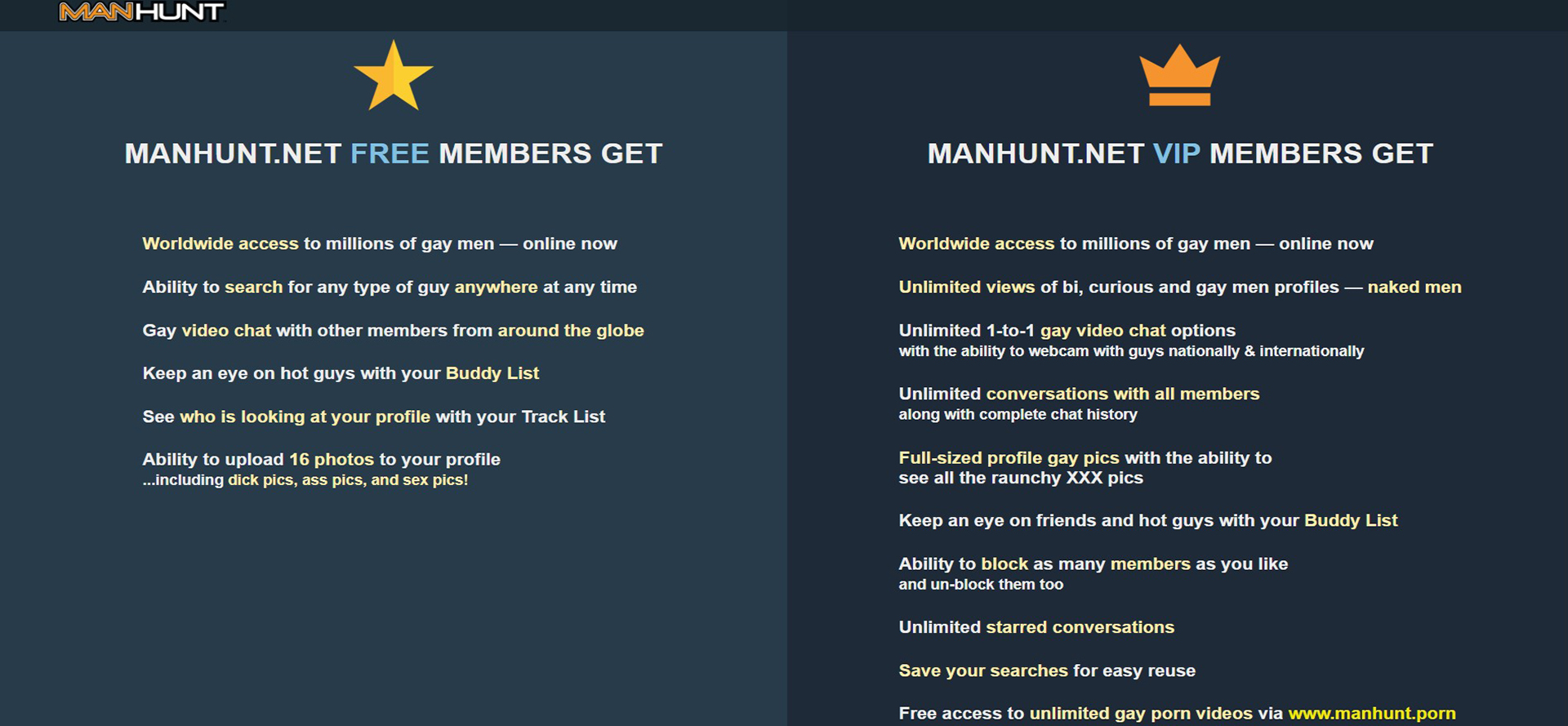 Promo codes and other promotions
Currently, there has been an average of $5 for Manhunt users. The platform also offers 15 days of free trial to new users while regular users can use two free coupons maximum.
Pros
The biggest database of gay men
A lot of features for searching and communication are free
Worldwide active
Members can video chat before meeting
Cons
The free members can't use all features
Some profiles contain nude photos
Distance between users
Conclusion
Manhunt is a gay dating site that reveals many gay singles around you. You can have an exotic chat with a friendly interface and security protocol.
The site is mainly for people in the US. Manhunt has many positive reviews from its users about the website's success in getting partners and has recorded a considerable number of users each day. You will get easily matched up with the partner due to the million number of users available. Suppose you are a gay single looking for another member to have a casual or long-term relationship with. In that case, this site is for you.
FAQ
Does Manhunt have a free trial?
Yes, Manhunt has a free trial version. You can use this version to test the app before upgrading to a subscription plan. However, the free trial version lacks some significant features, unlike the paid version.
Does Manhunt have an app?
Yes, Manhunt has an app that is compatible with Android and iOS devices. The mobile app needs to be downloaded to the device. This app comes with some shortcut features to help you navigate.
Is it safe?
Yes, the website is safe. Manhunt requires proper verification before allowing a user to contact other users on the website. The website also has an email verification to secure your provided detail from third parties.
Where can I contact Manhunt?
Manhunt can be contacted through a live telephone on 866-424-9999 (the US or Canada) or 1-617-424-9999 (other countries) between 8 am-11:59 pm EST, Mondays through Fridays. For members living in the. If you're living outside those locations, you can contact them 247 through their emailing service at [email protected].
How effective is Manhunt?
The website has recorded a large number of successes in hookup gay singles. It is for this reason that many other gay singles are rushing into the website.
What regions does Manhunt operate in?
Manhunt operated mainly in the US and Canada. This is the reason it has over 400,000 members in the US. However, this website is also available for gay singles in Europe and other parts of the world.