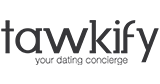 Tawkify
User friendly interface
9.0 or 10
Customer service
8.0 or 10
Number of members
6.0 or 10
Quality of profils
8.0 or 10
Saferty & Anti Scam
8.0 or 10
Value for Money
7.0 or 10
Application
Free Plan available
Premium plans
Tawkify
Tawkify is a popular online matchmaking service that believes finding love should not be complicated. And, it provides a service that matches people and helps them find other users who could be possible fits for them. The website social platform operates unconventionally and matches people manually. Other websites build algorithms and models that evaluate profiles and find fits in the dating pool using the compatibility of the profiles as a score. Tawkify does not do that; the website claims to have a team of people who match users manually.
If you happen not to trust machines or technology, this is probably the option for you. You could see it as yourself getting advice from a friend based on what they know about you and your potential match. There are thousands of people on this website, but you cannot explore profiles for yourself to find people who might catch your fancy. The matchmaking procedure ensures you don't have to do anything before you find people you could text.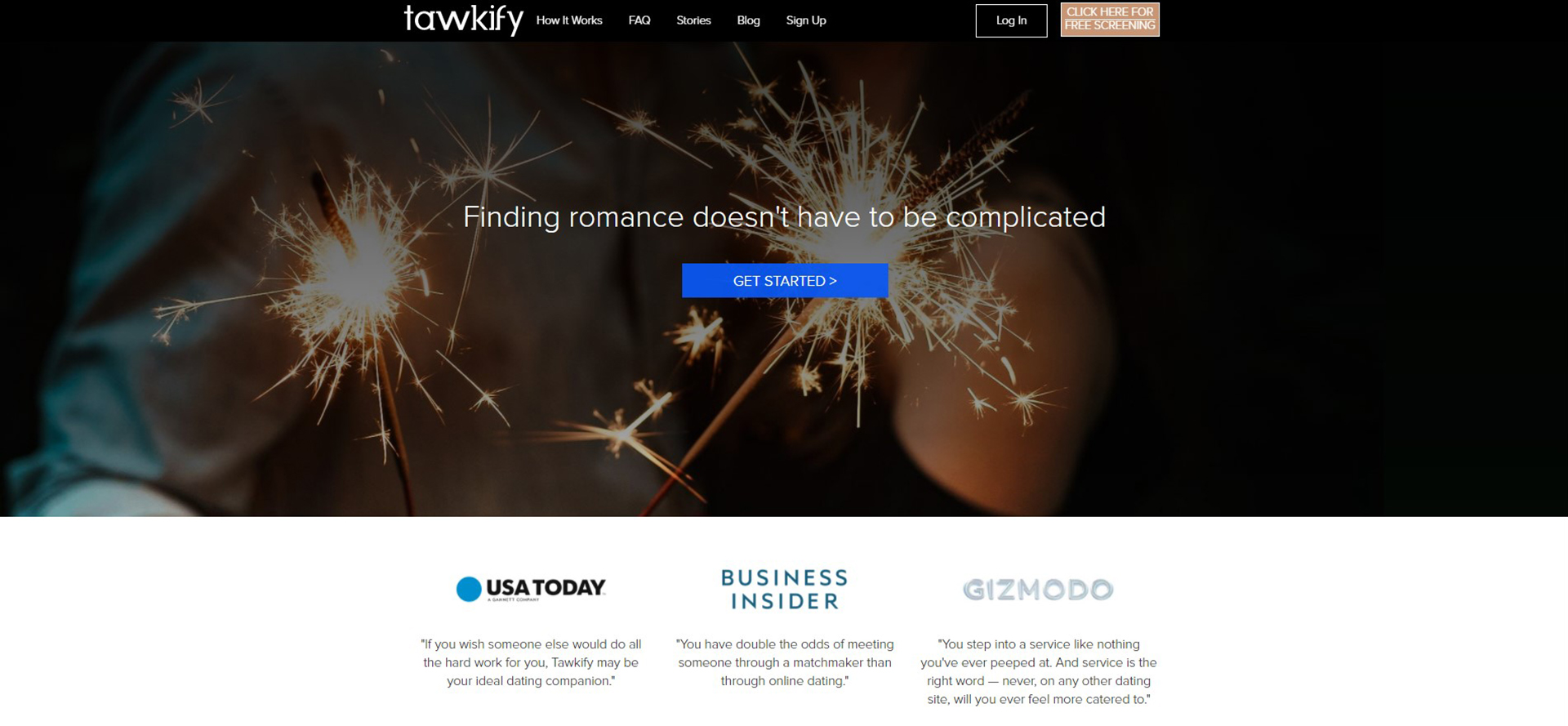 Tawkify Review
Tawkify's operation is decent but might not seem great to people who like to do things for themselves. The website calls itself so your dating concierge, and you're not allowed to do anything except wait for your matchmaker to provide you with match suggestions.
Your matchmaker is the one you talk to as soon as you sign up on the website, so there are not a lot of people back-end with your information. The matchmaker will take your information and use it to provide you with matches. It is secure, saves time, and the website claims an 80% rate in finding love partners.
One intriguing feature we found on the website is that after you've got a match, your matchmaker plans your physical date and suggests where to go for the date.
It's unsatisfying that the user gets no control over the matchmaking process, and there's a limited number of dates. As a member, you're not guaranteed to get dates, but you get one date per month as a client. Tawkify may not be the best place to use if you need to find dates soon. Users can go months without finding a date.
Tawkify operates a blind date operation, which is jarring for people who don't buy things without thorough research. However, people on Tawkify are usually looking for serious relationships and deep commitments and feel they can wait and hope for long if they have to.
Member Structure
Members activity
70 000 active weekly
Members join to find serious relationships or some fun
Majority of the members are aged 25-34 years old
The site claims to have members from the USA and Canada
How does Tawkify dating work?
Using Tawkify is convenient and straightforward. The interface is direct, with no use of technical knowledge. Signing up to become a member or client is easy, and you can go on to experience handpicked matches for yourself. All you'll have to do is fill out your profile and wait for your matchmaker to find you a match.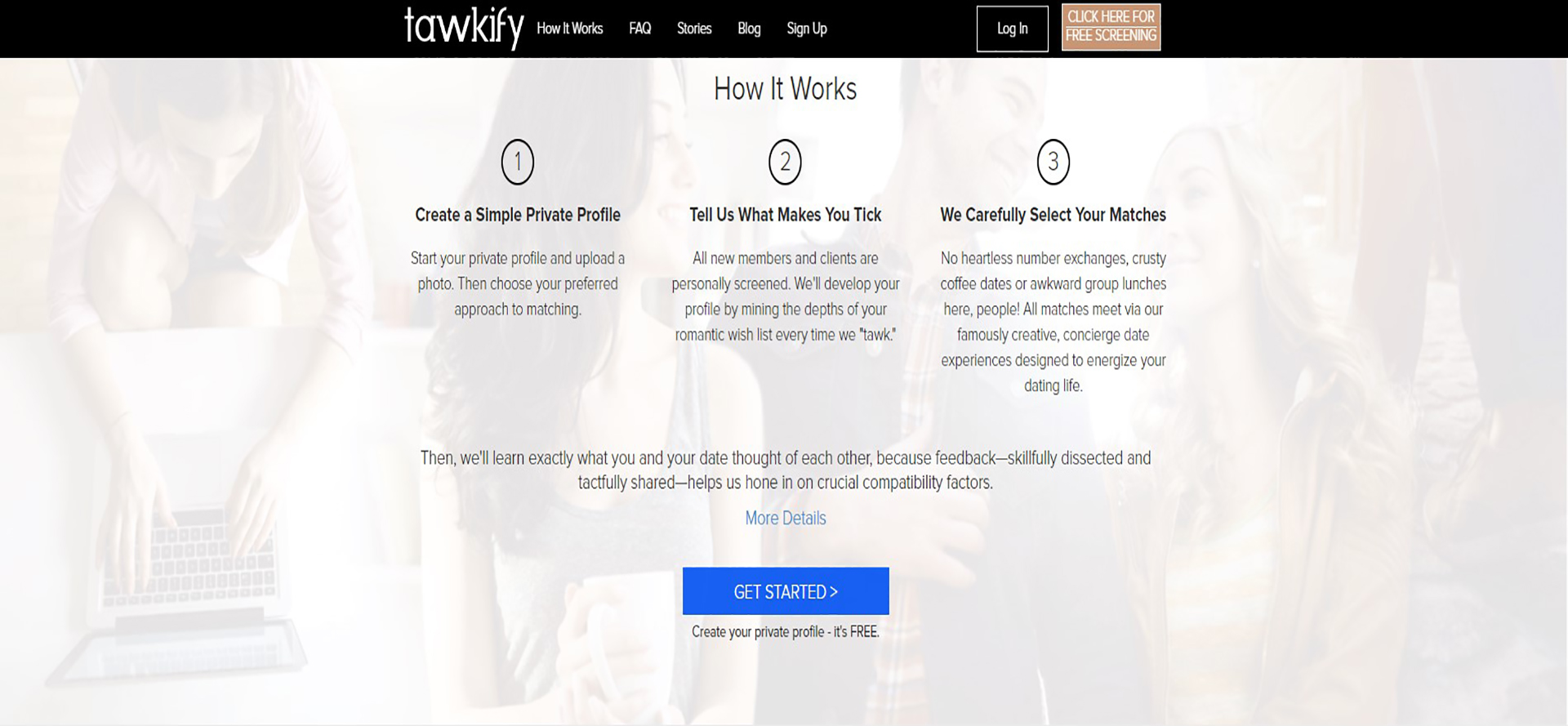 Signing up at Tawkify
Signing up on Tawkify takes a couple of minutes, and you'll have to answer some questions. The questions are not so complicated, but you cannot skip any of them. All questions (which include name, gender, age, relationship status, location, ethnicity, sexual preferences, income, occupation, physical appearance, etc.) must be answered.
Your answers make the job of finding you a perfect match easier for the Tawkify staff, who is your dating concierge. You'll be required to verify your account via a call to your provided contact number. You can then store your Tawkify login information.
When signing up, you'll be asked to state how you think they may be of help explicitly. We recommend you provide true answers that may relate to what kind of people you're looking for exactly or the main problem you hope Tawkify can solve for you. Describe your ideal matches, and matching becomes easier because humans better understand these details than machines.
You will also be required to provide two pictures of yourself. The picture will be for internal use only, and your potential matches cannot see them.
Profiles quality
Another unpleasant feature about the site is you're not allowed to explore Tawkify profiles. So, it's a bit hard even to give deeper details on the profile quality of the website. The website has no search function, and you cannot view the profile or pictures of other users. When Tawkify matches you with another user, you don't get to know what they look like until the day the real date is scheduled. However, once your profile is filled with the necessary details, you should get more accurate matches and promising love life.
However, Tawkify profiles number over 70,000 users, with about 50,000 users from the USA. The gender proportion slightly tilts to the male side. The demographic consists of mostly younger people when compared to other websites, and it's mostly filled with straight people as the mode of matchmaking seems more convenient for them.
Tawkify app and mobile version
The Tawkify app is currently not available. You can use the web page or the mobile version to get what feels close to a Tawkify app. We could probably see an app in the future, considering the growth of the website.
General communications and sending messages
General communications and texting on Tawkify are unavailable. Regardless of what membership plan you're on, the website does not support communication between users. All you have to do is sign up, provide the necessary information and wait for your personal dating concierge.
Tawkify Cost
Tawkify's costs are not explicitly stated on the website, but it was specified that pricing might differ considering your location. So prices are subject to change, and they can often offer promotions and discounts.
The pricing and membership plans will be discussed below so you can see which one fits your budget and if you're willing to spend it on finding a love partner.
Is it free?
Tawkify is not free. You can have an account without paying, but that's almost like not having an account. You don't get to do anything other than creating an account, verify it with your phone number, and fill your profile up with details and pictures. To get matches and a personal matchmaker, you need to be a paying member.
Is it worth paying for?
Tawkify premium should be worth it because you're indirectly not a member if you're not paying for its premium service. Tawkify premium also splits subscription types into two. You could be a member or a client. You pay $99 a year as a member, so your profile gets included in the database. You are not assigned a personal matchmaker, and you'll have no guaranteed dates. This plan only makes you available as a possible match for others who may need to find people.
As a client, you pay up to $500 per month. You will be paired with a matchmaker, and you're guaranteed one date per month.
Promo codes and other promotions
We have no Tawkify promo codes for you or any details of an ongoing promotion or discount. If we happen to get it, we'll keep you posted. You can subscribe to us for updates.
Pros
A team of matchmakers
High success rate
In-depth sign-up process
Hands-off way of dating
Cons
It can take a long time to find a match
No free trial
Expensive dating service
Conclusion
Tawkify reviews from users and available online, and alongside this article, you should be able to determine if this website is a perfect fit for you. The site is expensive for matches that are not guaranteed or that you may not eventually like. The system of matchmaking and blind dating may seem interesting to some, and others may find it dissatisfying.
However, human matchmaking is a feature that helps Tawkify stand out in the crowded space of online dating sites.
FAQ
Does Tawkify have a free trial?
Tawkify does not provide a free trial. You can, however own a free account, but the features are limited. To enjoy all the available features, you'd have to pay for a premium plan.
Does Tawkify have an app?
Tawkify does not have an app yet. We could expect to see an app in the coming years. But the most you could get now as a user is the mobile version of the site that makes it easy to access Tawkify from your smartphone.
Is it safe?
Tawkify is a safe website for finding love matches. Members registering on the website are screened and verified. It's important to do that as it's almost a blind date service and the security of users has to be verified.
Where can I contact Tawkify?
You can contact Tawkify via their various social media channels. The customer service is highly responsive, and you can reach out to their official contact channels. All questions and inquiries can be sorted.
How effective is Tawkify?
Tawkify reviews from users are available online, and they can help you decide if Tawkify is a fit for you. The app's effectiveness may have to do with how appropriate the app is for you and the love life you are searching for. Tawkify has proved helpful to some users who have shared their reviews online.
What regions does Tawkify operate in?
Tawkify operates from the USA and Canada. However, they have physical matchmakers in over 30 cities. So Tawkify may be effective if you stay around these regions.