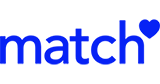 Match.com
User friendly interface
9.0 or 10
Customer service
9.0 or 10
Number of members
9.0 or 10
Quality of profils
8.0 or 10
Saferty & Anti Scam
8.0 or 10
Value for Money
8.0 or 10
Application
Free Plan available
Premium plans
Match.com
Match.com is an online dating service with the same goal as any good dating service - to create couples. Match.com is available in 12 different languages and operates in 50 countries. Its success is thanks to innovative approaches to helping compatible people connect and a very diverse community.
Match.com allows users to connect with anyone of interest irrespective of sexual or romantic orientation, including but not limited to the LGBT communities. This level of inclusiveness and diversity means Match.com might be the only platform you need to find companionship with anyone from around the world.
Match.com then improved this diversity by integrating MSN Dating and Love@AOL via partnerships with MSN and AOL, respectively. Next, they developed an event service, known as Stir, which offers local events for users to attend each month. Stir speeds up the talking stage and helps individuals become couples in a shorter-than-average period. 2014 saw Match.com update their mobile apps with the "Stream" feature where the app matches people based on location with an algorithm similar to that of the world's largest online dating platform, Tinder.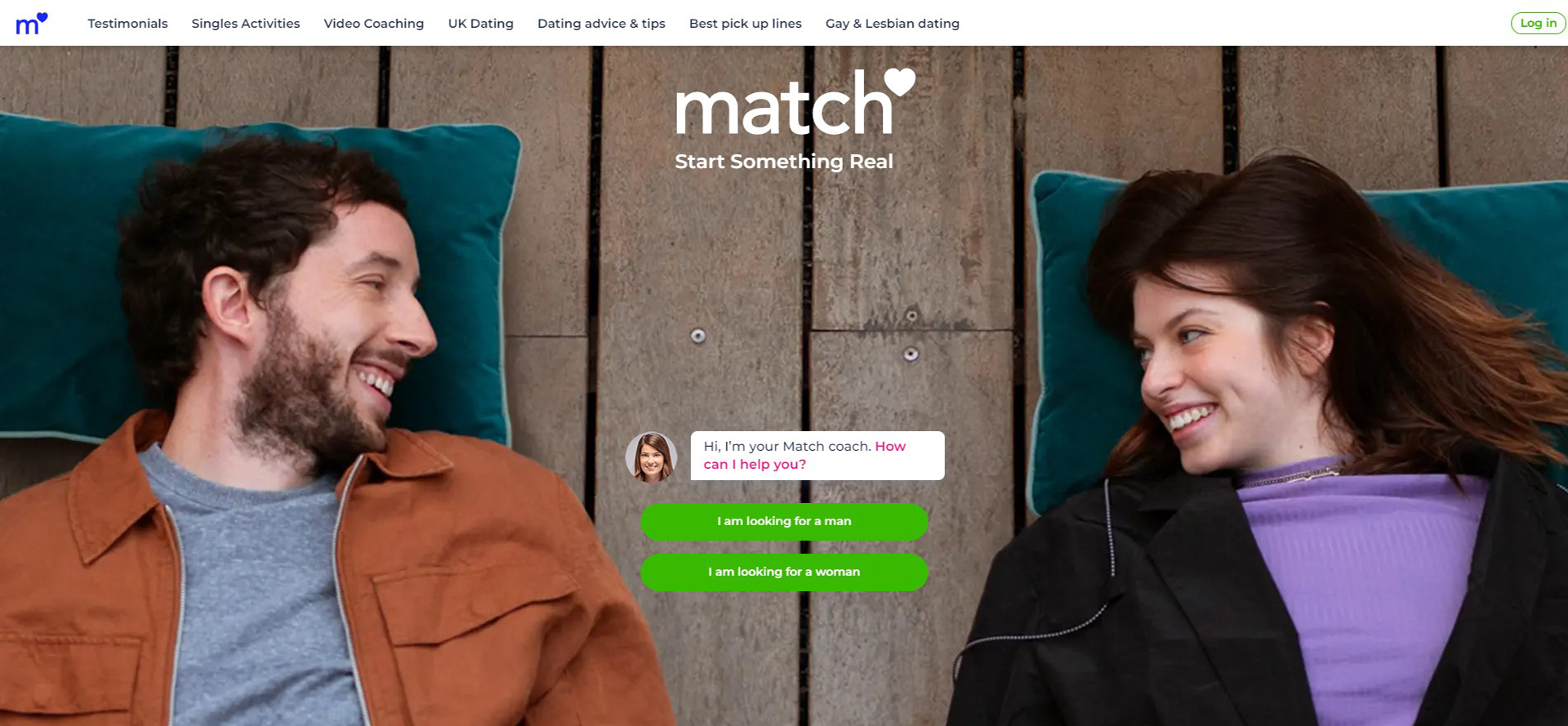 Match.com Review
Match.com is packed with features that make the entire dating process easy - from the first contact to a first date. Its success rate remains at an impressive high. Some of these features include the "Stir" service which brings Match.com users together each month.
Then there's the AOL and MSN integration that allows for a highly diverse community. Match.com also screens new users to ensure original identities and keep registered sex offenders at bay. Users can also be matched based on their location using the super-effective "Stream" feature.
Member Structure
Members
3 500 000 from USA
Members activity
20 000 000 active weekly
Members join to find serious relationships and casual dating
Majority of the members are aged 25-34 years old
The site claims to have members from all over the world
How does Match.com dating work?
Match.com uses various factors to determine the compatibility of two users and once compatibility is determined, pairs them up! The algorithm in use considers all the interests that the user had submitted and scans its database for other users that fit the description.
Some level of intelligence is also involved as the platform would keep track of seem-like interests and then scan its database for people that match the description. So, for instance, if you stated that you're interested in under 25-year-olds but constantly keep checking website profiles of people older than 50 years, the platform would take that into consideration and share suggestions that encompass both groups.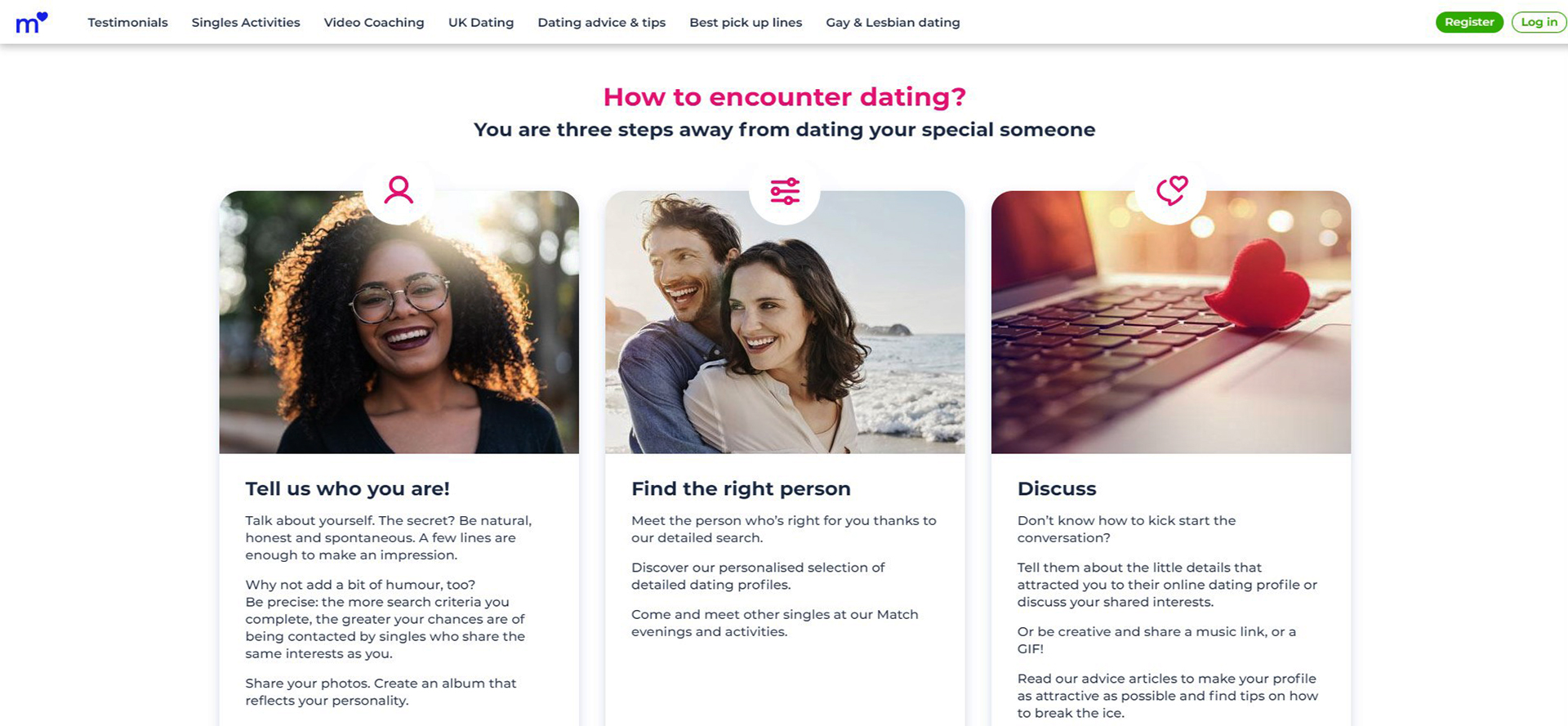 Signing up at Match.com
It doesn't bore you with forms before you're allowed to join the community. To sign up on the platform, you would only be required to submit basic info that helps them and other Match.com users to understand your interests and orientation.
This sign-up process is one where you're on your way to finding a partner almost immediately you visit the site or download the app. To keep all users safe, including you, Match.com screens new users to confirm that they're submitting honest data about themselves and their reasons for joining the platform.
Quality of Match.com profiles
Website profiles are detailed, thanks to a signup process that gathers all info you could require to make a rough decision about someone. So, with a person's Match.com profile, you can easily decide if you would like to take things one step further, like going on dates. The verification and screening process also works to improve the quality of its profiles.
Match.com app and mobile version
You can also access Match.com on your mobile phone via their interactive apps. These apps have all the features you could need to continue your search for a partner on Match.com, with the bonus of being instantly available to you whenever, wherever!
Match.com's mobile apps are available for both iOS and Android devices. They can be downloaded for free via the respective app stores of these two mobile platforms.
General communications and sending messages
On this dating site, users have all they could need to exchange messages from anywhere in the world with an internet connection. Thus, you would never be disconnected from people that catch your interest and would only need to focus on creating good chemistry while it handles the rest.
Match.com Cost
It operates as a premium platform. That is, you can access the platform completely free of charge but with limited functionality. To gain full access to all site features, you would have to pay a fee.
Is it free?
Depending on what platform features you aim to use, the platform can be free of charge. If you however wish to use more advanced features, you would need to pay for this access or use Match.com promo codes.
See below for Match.com's price table:
Is it worth paying for?
Users can use Match.com without paying a dime. So, the question remains, "is it worth it to pay for some additional features?" For many users, the answer to this question is yes.
For one, Match.com allows only paying users to exchange messages - a core part of meeting new people, wouldn't you agree. Some might say this is a bit too restricting for non-paying users but it does have a major upside.
Since only paying customers can respond to messages, you can be sure that you'll be communicating with serious people that are interested in relationships. Their seriousness has been proven by their willingness to spend money to communicate with you. This, combined with an effective screening process, means that Match.com scammers if they exist, will never succeed in their dubious attempts.
Promo codes and other promotions
You could also benefit from Match.com's promotions and promo codes that are launched ever so frequently. With these, you could enjoy premium benefits that you didn't pay for. So be on the lookout for these exciting offers!
Pros
Daily matches based on personal compatibility ratings
Satisfactory matchmaking success rate
Local Match Events help singles to meet new people not only online
Many ways to interact with other members
Cons
Limits on a trial membership
Only premium members can send and reply to messages
Incognito mode is only available to paid subscribers
Conclusion
A dating site has been operating for 26 years and is owned by Match Group; a company with the largest portfolio of online dating sites including OkCupid and Tinder.
With such proven efficient management and all the features that users could possibly need, Match.com remains the route to go if you're interested in a relationship with anyone from the next street or the other side of the planet. Good luck!
FAQ
Does Match.com have a free trial?
Match.com is a freemium platform. This means you can use the platform for free for as long as you want but with limited functionality, which is better than a free trial. If, however, you would like to use all Match.com features, upgrade your membership plan.
Does Match.com have an app?
Yes, Match.com has a mobile app. This app is available to you whether you're using Android or iOS mobile devices. You can get this app instantly and for free from the Google Play Store or Apple Store, depending on your mobile device.
Is it safe?
Match.com has put efforts to keep fake profiles and sexual predators at bay. The platform's business model is also set up in a way that only serious people would thrive. In terms of data that Match.com uses to verify profiles, rest assured that they're used for verification purposes only; your data remains private and secure.
Where can I contact Match.com?
Match.com customer services are at your service every second of every working day. Even on weekends, you can contact them but might need to wait longer to get a response. They are available via the Match.com platform, email, and social media channels.
How effective is Match.com?
Match.com connects compatible people and facilitates communication between them. These have proven to be effective in making couples and millions of Match.com users would agree with that. Hence Match.com is an effective online dating platform.
What regions does Match.com operate in?
Match.com currently operates in 50 countries, with expansion plans to more countries. So irrespective of where you currently live, you can rest assured that Match.com would be most welcoming to you.