Mingle2
User friendly interface
9.0 or 10
Customer service
8.0 or 10
Number of members
8.0 or 10
Quality of profils
8.0 or 10
Saferty & Anti Scam
8.0 or 10
Value for Money
8.0 or 10
Application
Free Plan available
Premium plans
Mingle2
Mingle2 is an online dating platform with about 30 million users worldwide. This large community is home to people of various ethnic groups, nationalities, and sexual orientations.
Having a dating profile comes with access to everyone in this community since the site gives you free unlimited messaging to anyone on the platform. This way, you can instantly begin chatting with anyone that catches your eye without having to pay a dime.
Mingle2 prioritizes compatibility and thus has several methods to match people together. For one, it allows you to see which other dating website users checked out your profile. This way, you'll know which people might be interested in you and then you can break the ice by sending a cheesy, funny message.
You'll also get daily recommended matches which are based on compatibility factors that the Mingle2 algorithm had assessed. Then there's also the ability to find the profiles of singles near you; meet with them, chat, hang out, or date.
Mingle2 also allows users to add filters and find people based on certain factors of interest such as age, ethnicity, orientation, and so on.
The web page allows for limitless interactions, which isn't a common attribute among established online dating platforms. The platform is also as safe and secure as convenient, with photo verification processes to ensure that users are who they say they are.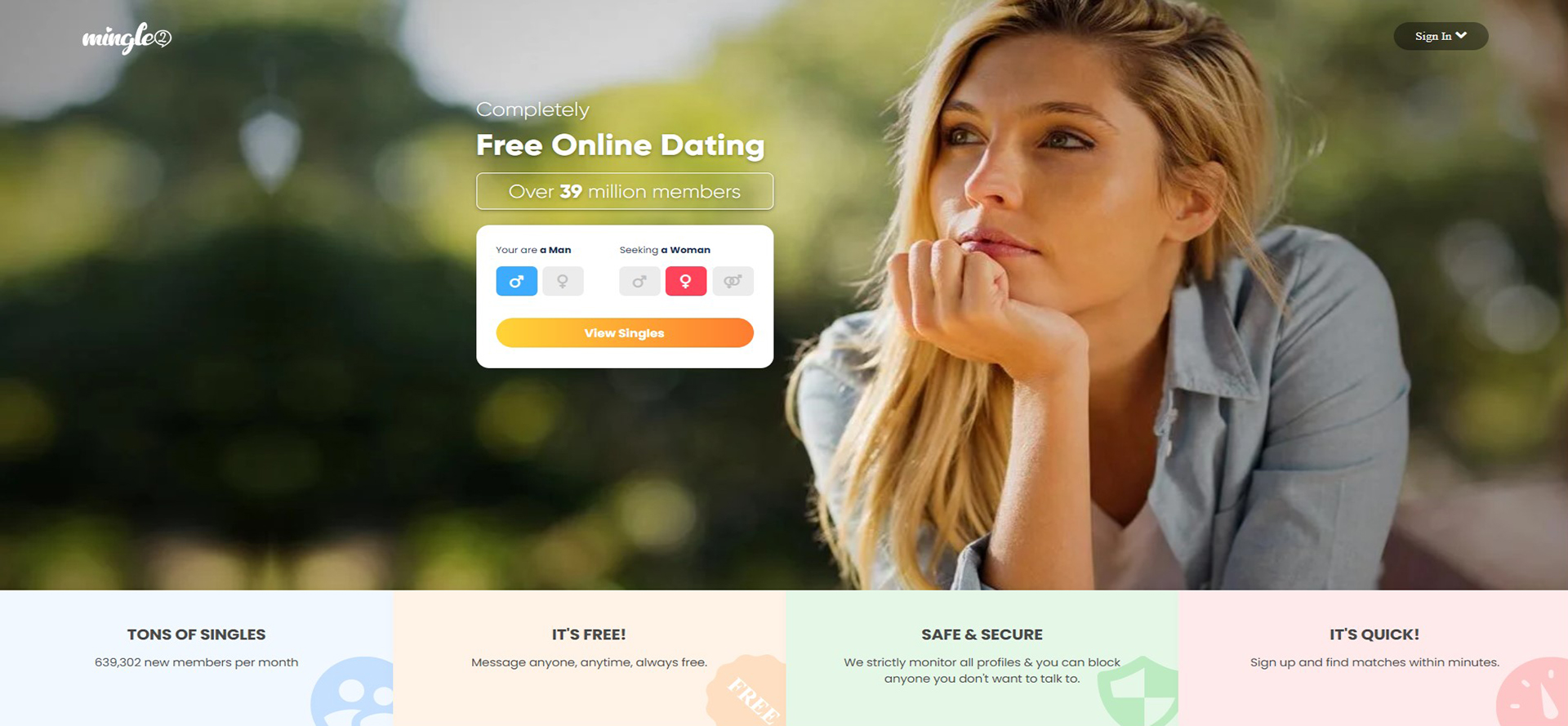 Mingle2 Review
Mingle2, like any effective online dating platform, has one main task -to connect people. To execute this task, the platform is packed with features that help people meet and communicate seamlessly. From daily recommended matches to unlimited messages, the platform has drawn up a template for users to follow. Thus, its success rate in achieving its task remains at an impressive high.
How does Mingle2 dating work?
Mingle2 begins its match-making process right from the sign-up. The info that you're asked to submit goes a long way in helping the algorithm determine your interests and orientation.
Once that bit is determined, Mingle2 allows you easy access to profiles of people with characteristics that you would find interesting. Next, chatting begins, and hence the start of a "Happily Ever After" story.
Signing up at Mingle2
A website has a simple sign-up process that, on paper, can be completed in under a minute. The process only requires you to submit only relevant information about yourself to enable the algorithm to do its job.
Surely, you'll have you submit your email, mobile number, sexual and romantic interests, and so on. In a bid to keep the platform safe and secure for all users, Mingle2 requires users to pass a photo verification process.
This way, platform scammers do not exist. Once done, you can get on to finding your significant other with no limitations.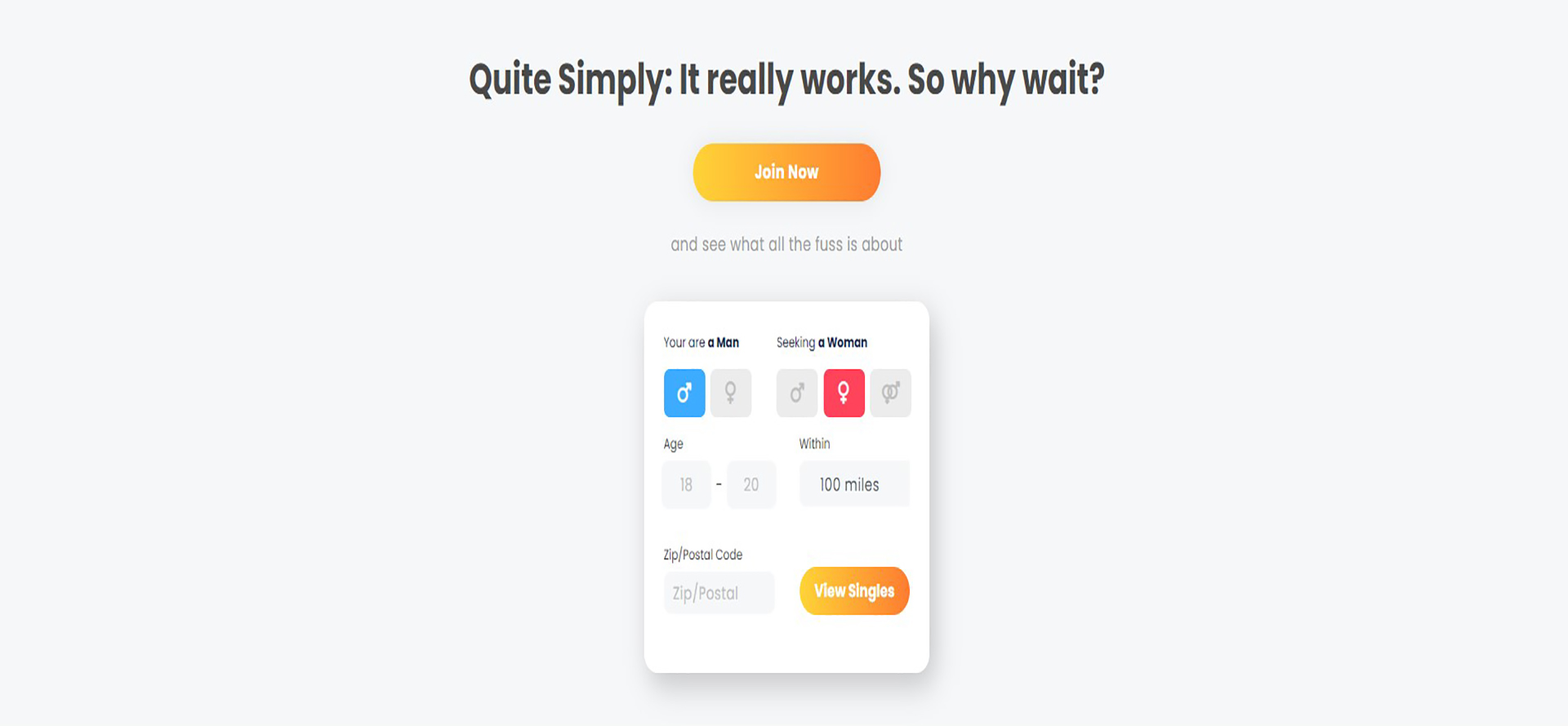 Profiles quality
Mingle2's sign-up and verification process combine to result in detailed Mingle2 profiles that contain all the relevant information you could need to know about a person and what you might have in common. This way, breaking the ice comes easy because you know what approach would likely work best. And if you have great game, you'll be going on dates in next to no time.
Member Structure
Members activity
3 000 000 active weekly
Members join to find serious or casual relationships
Majority of the members are aged 25-34 years old
The site claims to have members from all over the world
Mingle2 app and mobile version
Mingle2 has interactive apps that you may download to your phone. These applications include all of the tools you'll need to continue your Mingle2 partner search, plus they're always available to you, no matter where you are! Both iOS and Android smartphones are supported by their dating mobile apps. They're available for free download on your app store.
General communications and sending messages
Mingle2 gives users everything they need to send and receive messages from anywhere in the world, as long as there's an internet connection. As a result, you'll never be disconnected from people who pique your interest, and you'll focus only on building strong rapport while the website takes care of the rest.
Mingle2 Cost
It is a freemium platform like many other online dating sites. So, the site costs can either be free or at a fee depending on how many features you would like access to.
Is it free?
For the most part, Mingle2 is a free platform that gives users access to most of the features. In fact, many users successfully find dates using the platform free of charge, especially since there are no limitations on exchanging messages. However, Mingle2 does have special features that you would have to pay for. This premium membership is known as MinglePlus.
Is it worth paying for?
MinglePlus comes with some extra features. It's up to you to decide if these features are what the costs, which we'll also discuss here. For many Mingle2 users, however, it's worth paying for. With MinglePlus, you can:
See people that like you via the Mutual Match feature;
Anonymously browse other dating profiles;
Read receipts;
Permanently store messages instead of the not-optional monthly clearing of messages on the free package;
Your profile appears early in search results, giving you three times more profile views.
Take a look at Mingle2's price list for MinglePlus:
Promo codes and other promotions
A site promo codes are often launched as users' access to discounts and other promotional offers from Mingle2. So, if you would like to enjoy premium features for free or at a lower price, keep an out for these Mingle2 promo codes.
Pros
Plenty of free options
Profile pics visible to everyone
Live chat feature and active forum
Ability to personalize your search
Cons
Annoying advertisements
No verification of profiles
Many incomplete profiles with little detail
Conclusion
It is a large community of people with similar interests as you. So, with the right amount of effort, you're sure to find yourself a partner that fits into our lifestyle like a glove.
Mingle2 plays its role effectively in connecting interested parties with one another and this goes on to serve as proof of the cause of platform success rate that keeps soaring.
This review aims to answer any question you could have about the website. If you still have some unanswered questions, check out our FAQ section or contact Mingle2 customer service via its local, email, or media channels!
FAQ
Does Mingle2 have a free trial?
You can say that Mingle2 has a free trial but in fact, the platform is free for you if you're satisfied with the basic functions. If you would like to go pro, there are premium fees to pay. Check for these premium fees in the review above.
Does Mingle2 have an app?
Mingle2 does have an app for both Apple and Android and Apple mobile devices. The app is available on both the Google Play Store and Apple App Store, for free. Download time, depending on your internet connectivity should take only a few seconds.
Is it safe?
Mingle2 has a track record of being a safe platform and keeping scammers at bay. They have a photo verification process set up to ensure that no fake profiles are registered on the site.
Where can I contact Mingle2?
You can contact Mingle2 via their customer care services. They are available to you 24/7 and usually have a favorable response time. Most users contact them via their email and social media channels.
How effective is Mingle2?
Mingle2 successfully connects compatible people with one another. Combined with limitless interactions and some icebreaking features, we can say the platform has put in intentional effort to make users' quest for love a success. So Mingle2 is quite effective.
What regions does Mingle2 operate in?
Mingle2 operates internationally, with its main presence in the United States, Canada, Australia, and the United Kingdom. To know if Mingle2 supports your country, you might have to begin the sign-up process or check their complete list of supported countries.