Twoo
User friendly interface
8.0 or 10
Customer service
6.0 or 10
Number of members
9.0 or 10
Quality of profils
8.0 or 10
Saferty & Anti Scam
8.0 or 10
Value for Money
9.0 or 10
Application
Free Plan available
Premium plans
Twoo
Twoo is a social media platform that connects users and helps them interact with other users across the globe. It is available in about 38 languages, having over 180 million users in nearly 200 countries.
Twoo has an algorithm feature that links people up based on their likes, dislikes, and personal interests. Let's say you're looking for that soulmate whose personality matches yours, then Twoo is the right place to be.
The Twoo platform is user-friendly, providing you with unlimited options of like minds to connect with. All you need is a mobile phone or your PC and internet access to limitless connections worldwide.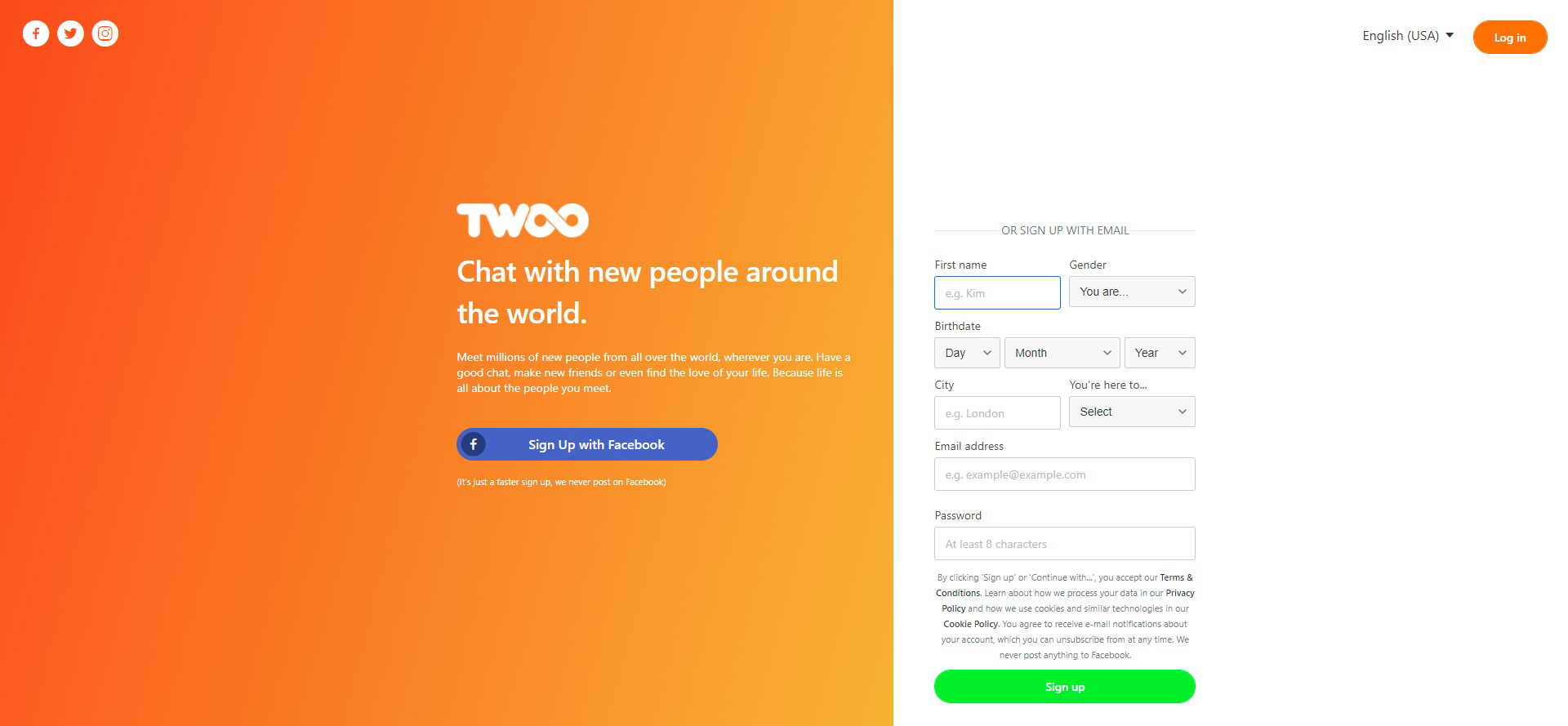 Twoo Review
Twoo is one of the largest online chat networks globally, owing to its large number of users from every region in the world. The ease of navigation is one of the critical factors that increased Twoo success rate. It provides easy access for users to connect and build significant human relations without going through so much hassle.
Online dating has been the most common way to find dream partners, as traditional ways of meeting new people have declined. Millions of young people now subscribe to meeting people online, not just romantic partners but also friends and like minds. Twoo is a platform that makes that possible through their websites and mobile apps.
The gender proportion of Twoo members is a combination of both the male and female gender; 60% female and 40% males, with a large percentage of these individuals being young and single. Membership cuts across all age groups, including the old folks that are still looking for love.
Member Structure
Members
2 200 000 from USA
Members activity
15 000 000 active weekly
Members join to find serious relationships, hookup and frienship
Majority of the members are aged 25-34 years old
The site claims to have members from all over the world
How does Twoo dating work?
The Twoo dating site is relatively easy to navigate; users claim to have a smooth experience right from the point of signing up to making connections. All you need is a fast internet connection, your mobile phone or PC, and the essential information to set up your account.
Signing up at Twoo
Signing up on Twoo doesn't take too much time, usually an average of 10-15 minutes. The only thing you have to do is provide certain basic information needed to create a profile for you. Some of these might include your name, gender, birthday, city, purpose of joining, and a valid email address for verification purposes.
The first step is to click on the signup button. After which, two text boxes will be provided for you. One is to input your email address, and the other is to input your desired password. A disclaimer is provided on the site, notifying you that by clicking "sign up or continue with," you agree to all terms and conditions. After clicking sign up and verifying your email address, your registration is complete. It is impossible to have access to the platform without registration.
After complete registration, the user can go on to verify their account. The verification procedure is a two steps process:
Upload a verified photo: this is done by posting a picture of you putting up your hands, doing the "V" sign. It is expected that you put up an image that clearly shows all your facial features.
Link your twoo profiles to other social media accounts: linking your twoo account to any of your other social media accounts will help you get verified.
The specific age limit for users to sign up on Twoo is 18, and most of the users on the site are within the range of 18 and 55.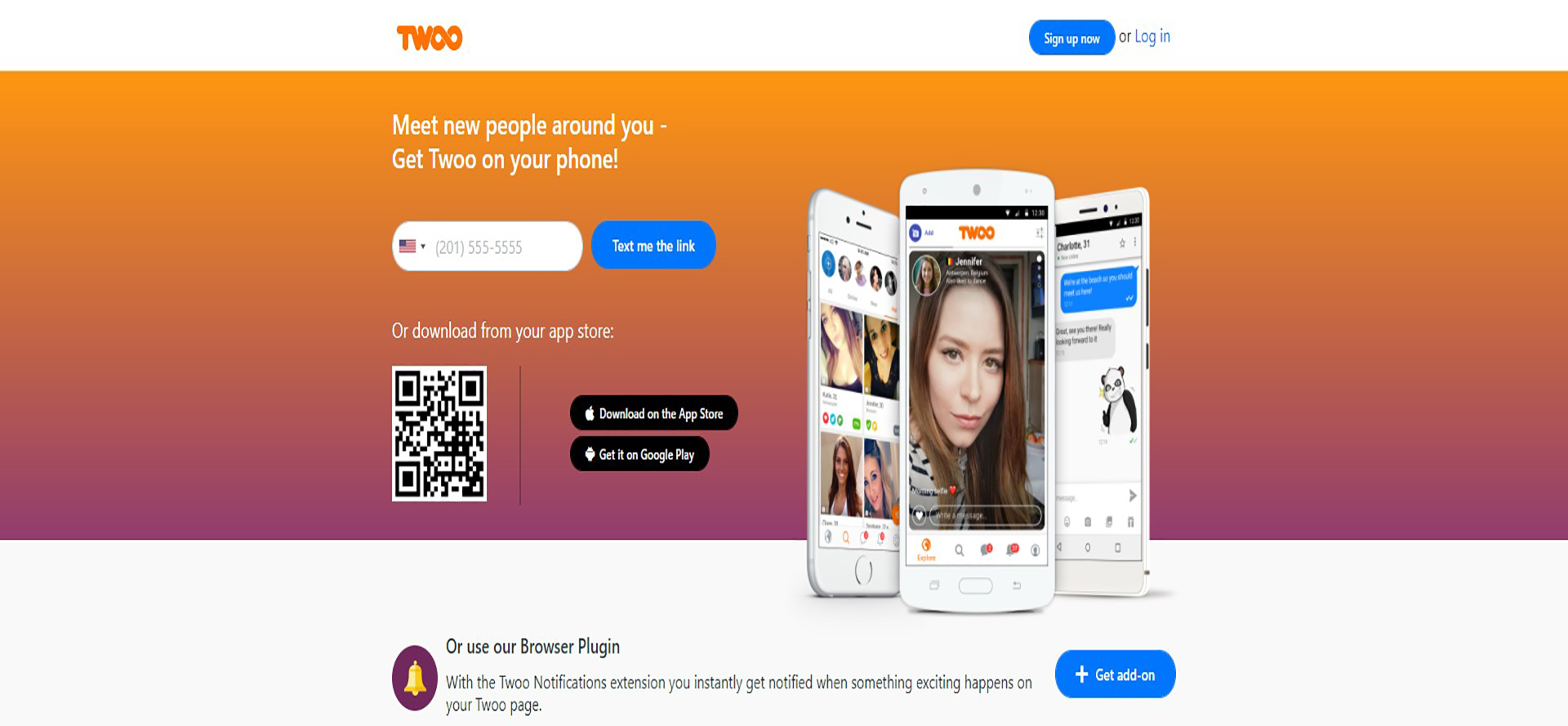 Profiles quality
All twoo profiles are like the usual dating site profiles we see on other platforms, the about you box, the primary user information, uploaded photos, and a summary of the user activities. The additional unique factor in the twoo site is the "answers" and "verification" sections.
The question portion of the profile has a total of about 100 questions that you may choose to answer or not. Answering those questions makes it easy to match users with similar answers to you. This doesn't mean the site does matchmaking; it only means that people with similar values and interests will appear in your Twoo match search. The verification portion is for the site and other users to ascertain that you're not a twoo scammer but an authentic user.
Twoo has an active community of over 12 million monthly active users in over 200 countries.
Twoo app and mobile version
Twoo has both the app and mobile versions, providing more options of easy access to users. The app is available for both android and Ios users, while the mobile version is accessible on any mobile phone with an internet connection.
Although the app is more convenient and most people prefer it to the mobile version, the website still works and performs its essential functions.
General communications and sending messages
The general model of communication on twoo is through text messages. To send a message to another user, you need to visit their profile and click on the "chat" button. You'll get a text box where you can type in the messages you want to send.
Twoo Cost
There are free and fee-based services; the free service, of course, comes with limitations, the fee-based service doesn't come with restrictions. It also comes with additional unique features that ensure premium user experiences.
Is it free?
There is a free service on twoo, but it comes with lesser user features. The free service allows you to create your profile, connect and chat with only the users that are in public. You'll get to explore the search features, answer questions and get your match and trade blogs of other users' profiles.
Is it worth paying for?
Yes, it is worth paying for since you'll be getting a lot more yummy features than the free service features. With a Twoo premium account, you'll get to monitor who views your profile, connect with as many as 25 users daily. Another feature also helps you filter your searches to the hottest users and view profiles invisibly.
Promo codes and other promotions
Over the past year, there has been an average of 0.6 discount codes for Twoo users. Usually, there are two new coupon codes on twoo every five days.
Pros
Very few fake profiles
A large member base means a good chance of finding a match
The premium membership price is not expensive
You can upload unlimited photos and videos
Cons
Search features are limited for free members
Doesn't suggest a potential match
Shows your social media contacts
Conclusion
While Twoo hookups and sexual encounters might not be the platform's primary purpose, there are no restrictions regarding these aspects. Twoo is a platform that allows you to make lifelong connections, meet potential dates, start romantic relationships, and connect with people in every region of the world.
FAQ
Does Twoo have a free trial?
Sometimes, Twoo allows you to register for a free trial but only for a short period. You can also connect with people and enjoy some of their features. However, there is a limit to available features, and after the free trial period, you'd have to subscribe to continue enjoying their services.
Does Twoo have an app?
Twoo has a mobile app that is available on iTunes and googles play. You can download the app wherever you are, and it works exactly how mobile apps work. The Twoo app is majorly compatible with newer generation smartphones.
Is it safe?
Twoo is not entirely safe for use, although all user information is confidential. Users sometimes complain about scammers and fake profiles. However, the company ensures that all user data is completely safe and classified.
Where can I contact Twoo?
You can contact twoo via their customer service details on phone and email. Twoo emails are available on their website. For any complaints, queries, and feedback, the best way to reach their customer service is by sending mail.
How effective is Twoo?
Twoo had a relatively low rating, which shows that most users are dissatisfied with their services. Consumers sometimes file complaints about fake profiles, bots, and frauds. It ranks 239th among dating sites.
What regions does Twoo operate in?
Twoo is available in 38 different languages, and it operates globally with over 50 million users and approximately 17 million visitors monthly. It is majorly popular in South America and Europe but is known by people worldwide.