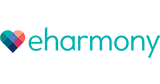 eHarmony
User friendly interface
9.0 or 10
Customer service
8.0 or 10
Number of members
8.0 or 10
Quality of profils
8.0 or 10
Saferty & Anti Scam
9.0 or 10
Value for Money
7.0 or 10
Application
Free Plan available
Premium plans
eHarmony
eHarmony is an online dating site that was launched in the year 2000. It boasts 29 million members across 22+ nations. About 19 million members are active on the platform every week, which says a lot about how much trust eHarmony has managed to maintain in its community.
Founded by a clinical psychologist, the online dating site knows all the right approaches to connecting hearts successfully. This includes a personality-test questionnaire that users can fill which gives a surprisingly detailed insight of each user and which people would likely be compatible.
Then there's the algorithm that's also tasked with finding the best possible matches by accessing data either from users' profiles or the questionnaires filled. So, eHarmony is an online community, unlimited in diversity, allowing you to find love!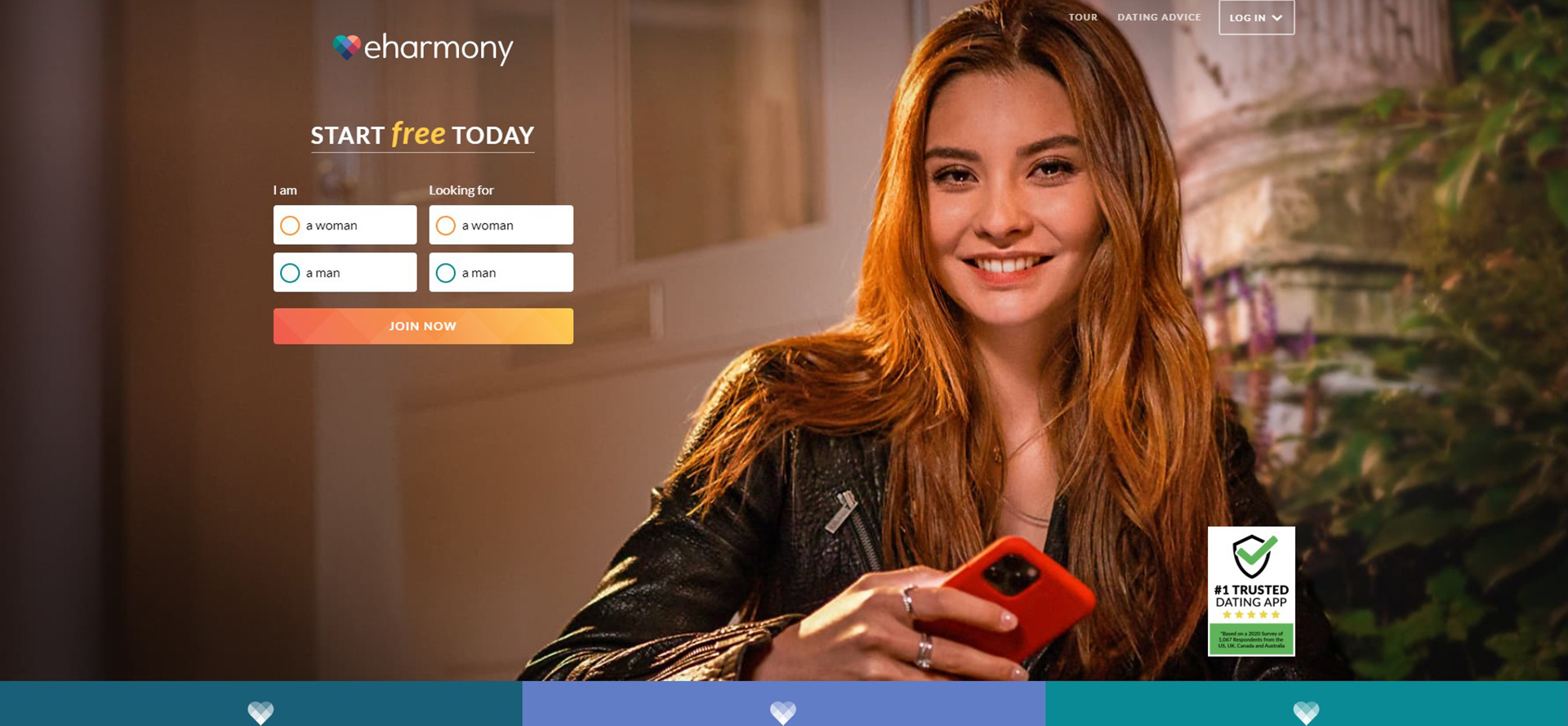 eHarmony Review
eHarmony is one of the most popular dating services that has managed to be a household name, especially when parents tell stories of how they met to their kids. eHarmony's success rate in match-making compatible users is virtually unrivaled! And for multiple reasons, dates that happen on eHarmony tend to last longer – hopefully, a lifetime – than the competition. eHarmony dating is a result of effective questionnaires, a personality-compatibility, matching system, detailed eHarmony profiles, among others.
So, if you're out in search of something more than a fling, this platform would most likely work wonders for you. As long as you're honest and clear when you sign up to the platform, the rest is pretty much passive, at least that's until the eHarmony messages start flowing in! And you can rest assured that these messages are from real people because eHarmony scammers are not a thing – or at a minimal level – thanks to intentional measures that the platform put in place. The platform's verification processes start as early as when you fill the questionnaire till after successfully creating an account.
So before sending out or after receiving messages, you can check the eHarmony profiles for users that might interest you. And thanks to the detail in each user's profile, you would have enough data to decide on whether or not the user in question is in line with the characteristics you seek! And if you're not entirely satisfied with the first batch of profiles, eHarmony match-search is your go-to! With it, you can apply filters that narrow down your search to people with specific characteristics, features, or desires that you specify. With the level of convenience that this platform brings to the table, it's no wonder that eHarmony success rates are through the roof!
Now, in the rare case that you aren't satisfied with some feature of the platform or have some complaints, or even have questions that the intuitive platform doesn't seem to answer, you can easily contact eHarmony's customer services via the platform itself or via mail. They're known for quick responses and they instantly provide solutions. Don't just take our word for it though; a single eHarmony trial is all it takes to see why eHarmony membership count is on a constant rise. You'll see what you stand to gain from joining this platform that has both the experience and facilities to facilitate the strongest of relationships with people from all over the world!
Member Structure
Members
12 000 000 from USA
Members activity
19 000 000 active weekly
Members join to find a long-lasting relationships or casual dating
Majority of the members are aged 25-34 years old
The site claims to have members from all over the world
How does eHarmony dating work?
eHarmony is an intuitive, easy-to-use platform with clearly defined goals. To benefit maximally from this platform, there are only a few basic steps to take – the first of which is signing up!
Signing up at eHarmony
The sign-up process at eHarmony is understandably thorough. After all, you must know a great deal about someone before opening the doors to your heart and life. So follow the steps below to register on this online dating service:
You can sign up with either your email or Facebook profile, whichever you prefer.
A now-optional personality-test questionnaire should be filled. This way, other users will have an honest idea of you at the sight of your eHarmony profile!
Next, attach a face to the profile by uploading a recent photo of you.
That's all! You're good to go!
Profiles quality
eHarmony, as a result of a simple yet detailed sign-up process, has managed to maintain quality in users' profiles. This means you're not burdened with fill-in-the-gap situations where you have to assume certain aspects of a person. Neither would you need to hit a person up first just to know some basic details – that would be a little weird especially if no deep conversations are born from it.
eHarmony app and mobile version
You can access the eHarmony site via your PC or mobile phone. With your Android or iOS mobile phone, you can also make use of eHarmony apps. These apps are available on both the Apple Store and the Google Play Store. You can do just as much with the eHarmony mobile apps as with the website as they have the same functionality!
General communications and sending messages
eHarmony has taken all measures to ensure the most effective communication on the platform. The platform makes it easy to determine which profile would excite you. eHarmony also shares with users why the algorithm had determined compatibility with some other user. With this level of assurance, you'll feel comfortable exchanging some eHarmony messages on your PC or mobile phone.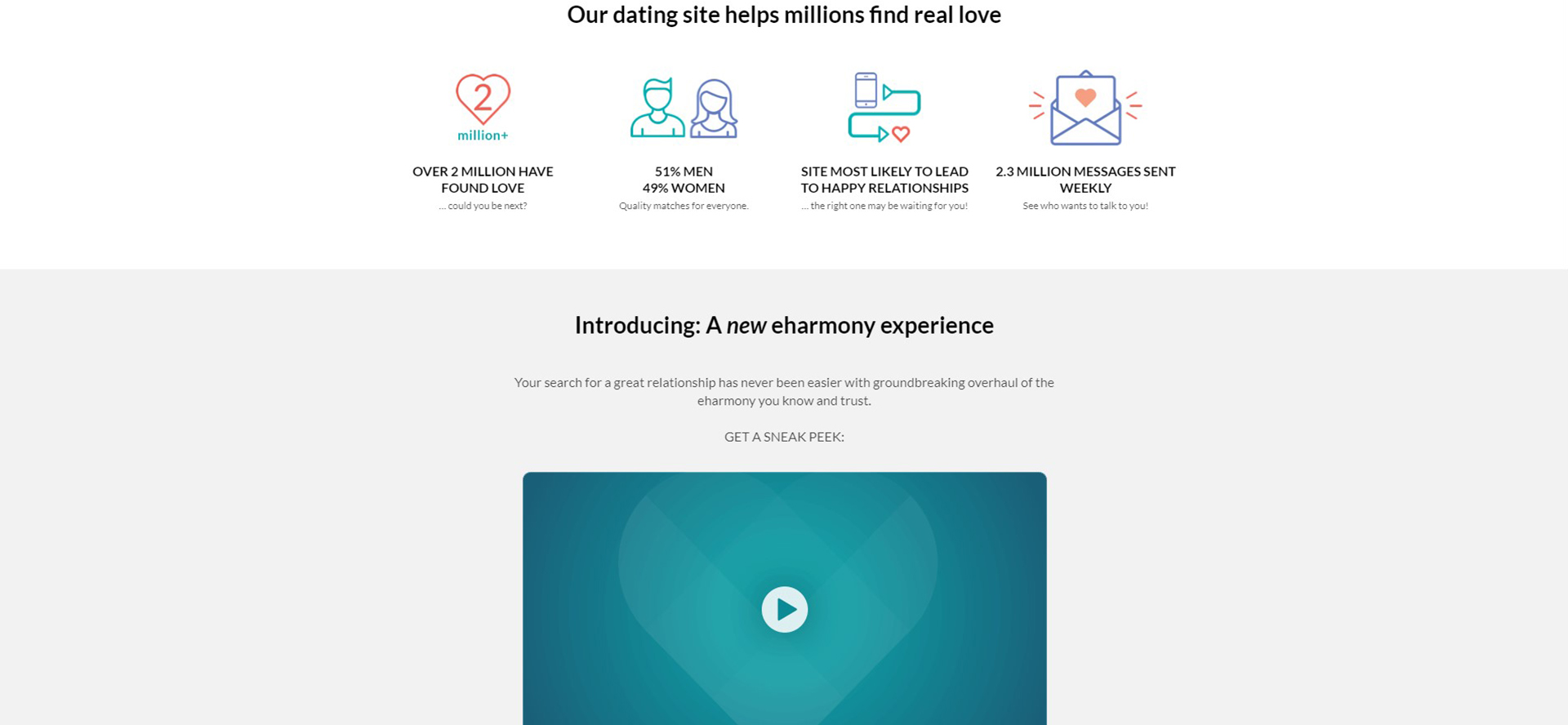 eHarmony Cost
eHarmony membership is free by default. This is known as the Basic Membership and it comes with features that many have used to find partners. The Basic Membership allows users to exchange icebreakers and reply to their first messages. As a user under the basic membership plan, you would also be able to see people who've recently viewed your profile. All of that comes for free!
Then there's the premium membership! Here, you gain full access to all eHarmony features. These include:
Enhanced search features;
Exclusive dating content;
Unlimited matches;
Unlimited messages;
View the photos of all your matches;
Your comprehensive personality report.
Is it free?
Based on the information above, you'll see that eHarmony can be free if you're satisfied with the features that come with the Basic Membership. If you want to take things to peak level though, you would have to upgrade to the Premium Membership package which comes at a fee. The Premium Membership has three divisions, each varying in price. See table below:
Is it worth paying for?
The Premium Extra sits at an average of $35.90 per month. For this amount, you, as a user, get all the tools you could need to find and meet "the one". So it's up to you to decide if finding a long-lasting relationship is worth the dime it'll cost you.
Promo codes and other promotions
eHarmony promo codes are the company's way of coming through for customers. eHarmony is tasked with making it stress-free to match lovebirds and would cover as much of the premium expenses as they can, whenever they can. So be on the lookout for eHarmony promo codes and other promotions; they're never too far away!
Pros
Detailed sign up process increases chances of matching
Video date
You can add people to favorites list
Few fake profiles and scammers
Cons
The premium membership plan is expensive
Limited search tools
Doesn't have LGBT-friendly sign up options
Conclusion
eHarmony is the first-ever algorithm-based dating site and can be said to have paved the way for many rival companies today. It took eHarmony only nine years to exceed the $1 billion cumulative revenue mark and average annual revenue of $250 million. By 2012, eHarmony accounted for 14% of the US online dating market!
These only serve as proof of the dominance that eHarmony managed to attain in the industry and how effective of an online dating platform it is! So if you've been looking for an effective approach to finding a date, eHarmony is definitely for you!
FAQ
Does eHarmony have a free trial?
eHarmony is available for free or at a fee, depending on what features you would like to use. So you can use eHarmony for free for as long as you like until you're ready to up your game.
Does eHarmony have an app?
Yes, eHarmony has mobile apps. These apps are available for both the Android and iOS platforms. You can download the eHarmony app from the Google Play Store or the Apple Store for free!
Is it safe?
eHarmony is completely safe. Data is stored securely and is only ever requested for verification purposes. There have been no cases of eHarmony selling data and there never will be, judging by the level of integrity that the company maintains.
Where can I contact eHarmony?
eHarmony's customer services will cater to every question you have. So if you need help with the platform or have any questions, don't hesitate to contact them. They're available via the eHarmony platform or by mail.
How effective is eHarmony?
The results speak for themselves! eHarmony has helped thousands of people find love and you won't be an exception. So, if you're interested in a relationship and ready to put in the effort it takes, eHarmony will be as effective as you need.
What regions does eHarmony operate in?
eHarmony operates in over 20 of the world's major countries! The company's intercontinental embrace has resulted in over 19 million users. And these numbers keep rising!